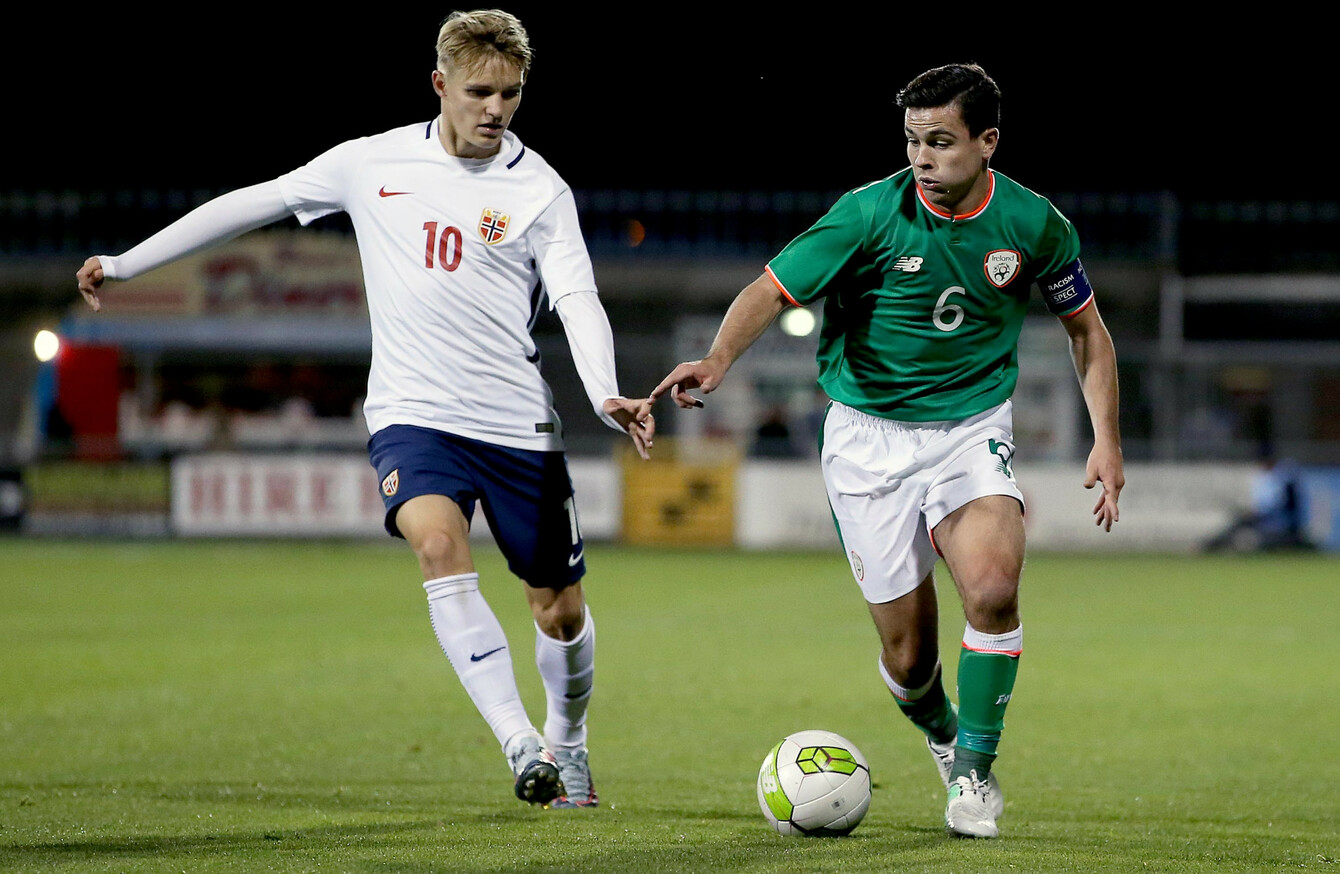 Ireland's Josh Cullen (right) with Martin Odegaard of Norway.
Image: Tommy Dickson/INPHO
Ireland's Josh Cullen (right) with Martin Odegaard of Norway.
Image: Tommy Dickson/INPHO
LOOKS CAN BE deceiving and it is as true in football as it in life.
A glance at Ireland U21 captain Josh Cullen might lead you to believe that he is a skillful, creative type whose main job is to unlock the opposition defence. And while the 21-year-old was among the most technically accomplished players on the field at Tallaght Stadium last night, as Ireland kept their unbeaten start to the 2019 Uefa European U21 Championship qualification round intact with a 0-0 draw against Norway, Cullen on a number of occasions demonstrated the grittier side of his game.
In one particular instance, as Morten Thorsby got set to pull the trigger on the edge of the box, Cullen intervened with a perfectly timed sliding challenge to deny what would have been a great goalscoring opportunity.
It epitomised a committed performance from the Essex-born midfielder and from the Irish team in general. All too often, the wrong decision was made in the final third, meaning clear-cut chances were at a premium. Nevertheless, a well-organised Irish side compensated for their attacking flaws with no shortage of endeavour and defensive solidity.
And man-of-the-match Cullen, who has made nine appearances in the Championship with Bolton this season, having gone there on loan from West Ham, drew high praise from manager Noel King after the game.
I'm always impressed with Josh, he's our captain, he leads by example," King said. "He's technically very good, tackles everybody, he's going to make a big career in football and we're delighted to have him."
King also reserved praise for Manchester United youngster, Kieran O'Hara, who made more than one important save during the match to secure a hard-earned clean sheet, capping an encouraging week in which he spent time training with the Irish senior squad.
It's great that (O'Hara is) able to get the experience with the senior team. I like the way Martin does that, he brings the lads through and gives them a sample. He had young (Declan) Rice with him last season. He took (Callum) O'Dowda up (from the U21s). Kids don't become international players overnight.
"To give the feeling that there's an opportunity for him is great. The boys in the dressing room are delighted that (O'Dowda) went forward, because it says that it's a chance for them. (Martin O'Neill is) watching the team, he knows who is who. We keep him informed as best we can. We don't want to lose anyone, but if we lose them, that's part of the job.
We're a bigger, stronger, more physical team. The teamwork and the desire among them is very good. They take ownership of their roles and of their jobs. They're focused and they want to win. They'll do whatever they have to do to get back and recover tomorrow."
Overall, King felt his side were well worth a point at least. It took them until 62 minutes to register a shot on target after a disappointing first half from an attacking perspective, but the Irish team grew in confidence from there and went close through Ryan Manning's free kick and Reece Grego-Cox close-range near miss after the break.
The first half was a bit dead and they had chances, but overall we certainly deserved a draw.
"Had we scored, I don't think anyone would have complained.
It's a bit disappointing (to only draw) when you see the effort, the commitment and the organisation that went into it. But that's seven out of nine (points in the group). How could you be unhappy with that?
"Israel is now the next target. If we could do something positive, it would be a string of results like we've never had before."
Kind also felt his side were unlucky not to be given a penalty, when Ronan Curtis went down under pressure from Andreas Hanche-Olsen.
I never discuss referees, because they do their best, I know that. We all make mistakes. That the way it goes. I thought it was a penalty, the ref didn't. He's the only one that counts."
The most high-profile member of the Norwegian side was undoubtedly Martin Ødegaard, the 18-year-old who was signed by Real Madrid amid much fanfare in 2015. Nonetheless, Ireland did well to keep the talented attacker relatively quiet — O'Hara made a decent save to deny him in the first half, while Shaun Donnellan made a brilliant last-ditch tackle as he sprinted through on goal after 57 minutes.
Other than those brief moments of danger though, Ødegaard was well marshalled by the hosts' backline.
We tried not to give away too many free kicks around the penalty area, though near the end we did," King said.
"The players are all aware of him, when he comes in and out of the areas.
We know all about him and he's a nice talent, but we've some nice talents too."
While disappointed not to get the win, Ireland won't be too downhearted overall, given that they have still yet to lose a game in Group 5.
Had the game gone on another 10 minutes, I think we'd have won," King added.
"When you get off to a good start, the confidence builds, and I think we should get confidence from that today."
Subscribe to The42 podcasts here: