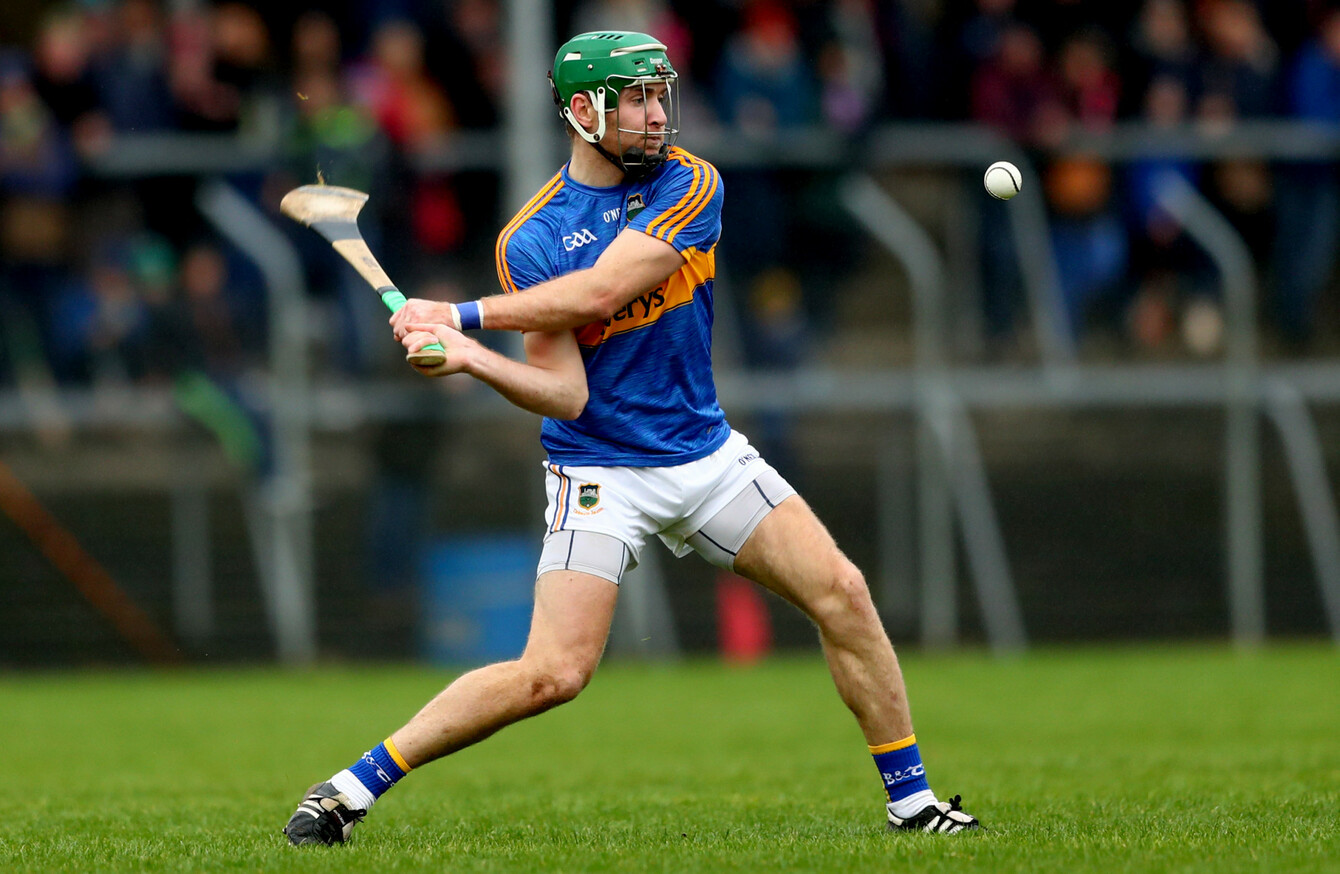 McGrath in action for the Premier County earlier this year.
Image: James Crombie/INPHO
McGrath in action for the Premier County earlier this year.
Image: James Crombie/INPHO
NOEL MCGRATH IS one athlete who doesn't take his health for granted.
Back in 2015, the Tipperary hurler was at the top of his game when he underwent surgery after being diagnosed with testicular cancer at the age of 24.
Given a real scare in the prime of his career, McGrath put everything into making a full recovery and, remarkably, returned to action for the Premier County in an All-Ireland semi-final just four months later.
"The illness opened up my eyes to how quickly things can change," McGrath says. "It doesn't matter how fit you are, you can get sick. That said, the best way to prevent that, if at all possible, is to be as healthy as you can at all times.
"That will keep the sicknesses that you can control away. You can't control everything and sometimes you're just unfortunate, as I was to be in that situation. Luckily enough, I came out the other side of it and I was back fit, healthy and able to play my sport again."
McGrath went through some dark moments during the treatment, but luckily, he had a good support system around him.
"Just having friends, family and team-mates giving support was the main thing that helped me," he explains. "I had people who were willing to visit me, take me places and just get me out of the house. That support was massive for me."
The Loughmore-Castleiney forward uses diet and nutrition to give himself the best opportunity of reaching his full potential on the pitch.
When you're hurling and you want to play sport at a high level, you're trying to get the most out of yourself fitness-wise and in terms of your performance," he says.
"In order to do that, you need to be looking at what you're eating and drinking. Alcohol is something that affects your performance, your hydration and how your muscles work. So most intercounty players will stay off drink for long parts of the year in order to get themselves in the right shape to play, and I'd be no different.
"When you're going out to play, you want to be in the best shape possible to give yourself the best chance and that's all part of it."
He adds: "For me, I always wanted to be the best I could as a GAA player and that was there from a young age. It came from my family and the way I was brought up. I always wanted to play for my club and my county."
Endless hours have been spent honing his talents on club and intercounty panels, and the 27-year-old feels his participation in hurling has allowed him to form lasting relationships.
"Playing sport has helped me make friends that I would never have had if I wasn't hurling with my club or Tipperary," he tells. "You come in contact with people who are in the same mindset as you who want to do the same things as you do.
You can enjoy yourselves as team-mates and friends on nights out but it can be done in a good manner, and it's about how well you want to look after your own body. I've made loads of friends through hurling and some of my very good ones are from the GAA."
Many of us lead increasingly busy lifestyles these days, and juggling work, family commitments and hurling can be especially tough for an intercounty player.
"The balance is difficult at times, but it's about how you organise yourself and prepare yourself," says McGrath. "Some people find it tougher than others and it depends on the situation you're in."
Looking after your mental well-being is just as important as keeping physically healthy and, for McGrath, doing what he loves most is the key to happiness.
"I think a lot of it is about how you prepare yourself and getting your timing right in relation to training, going to the gym, work and family. It's about putting a plan in place to get the best out of yourself. It's just about being happy with what you're doing.
"We all know the effects alcohol can have on your body and on your mental health when you overindulge. For me, my biggest enjoyment is sport with my club and county. That's what really drives me and keeps me motivated, but everybody is different I suppose."
Noel is an ambassador for HSE's AskAboutAlcohol.ie and GAA Health and Wellbeing Theme Day in Croke Park on 11 August. The partnership aims to raise awareness of the impact of alcohol on players and fans health and wellbeing – on and off the pitch. At AskAboutAlcohol.ie, you'll find trusted advice, a drinks calculator and plenty of other helpful resources.