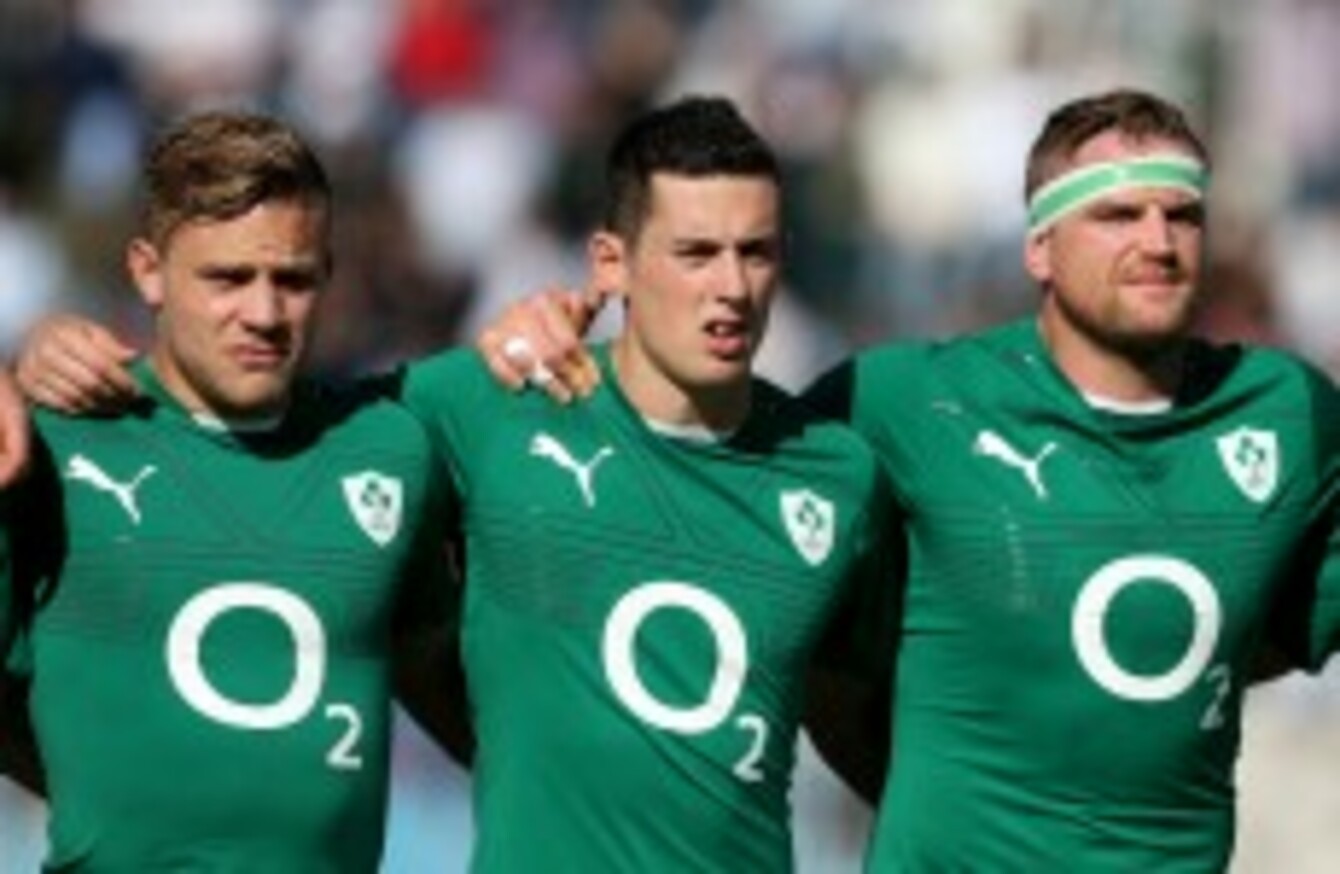 Reid [centre] picked up his first Ireland cap in June.
Image: Dan Sheridan/INPHO
Reid [centre] picked up his first Ireland cap in June.
Image: Dan Sheridan/INPHO
THERE HAS BEEN much discussion around Leinster's midfield in recent weeks, but Noel Reid hasn't had his say in the debate yet.
The 24-year-old lasted just a minute of the opening game of the season against Glasgow Warriors before being forced off with a serious-looking ankle injury. Many suspected the worst, but Reid is fit again a month later.
"It wasn't as bad as first feared," explains the Dublin native. "It was a sore one, but I'm getting a bit of stick now because I'm not actually out for that long. A bit of a Lazarus!"
Reid is almost certain to start for Leinster in the 12 shirt against Zebre on Saturday, eager to pick up where he left off last season. What a season 2013/14 was for the Clontarf clubman.
13 starts in the Pro12 established Reid as a favourite of head coach Matt O'Connor and eventually convinced Joe Schmidt that the centre was worthy of a late injury call-up to Ireland's tour of Argentina, where Reid got a seven-minute run at the end of the second Test.
That Reid, among Niall Woods' Navy Blue stable, has been present at all three Irish training camps since June suggests he remains firmly in Schmidt's plans for the long-term.
The former St. Michael's College student has taken a roundabout journey to settling at 12. He was a centre at Junior Cup level, played on the wing and fullback in fourth and fifth year – when he helped the school to the 2007 Leinster Schools Senior Cup – before shifting into out-half for sixth year.
His underage involvements with Leinster were largely at 10, while he started two games for the Ireland U20s bearing that number on his back at the 2010 Junior World Championship.
Breaking into the Leinster senior set-up under Schmidt, "there was more space at 12," given that Johnny Sexton and Ian Madigan provided strong options at out-half, and Reid began to see himself as a centre.
That said, his first start for the province came at 10 against Aironi in October of 2011, although Reid underlines the difficulties of running a game from that position.
"There's a lot of pressure on you and if you don't have a great game, or make a few mistakes, it's pretty obvious.
Whereas in other positions you can maybe get away with making a mistake, not being at your best. If you're not up to it at out-half the team doesn't really play well because you're controlling everything. It's pretty much all eyes on you."
There is no sense that Reid wasn't built for the pressure of continuing at out-half, but it does seem obvious now that his skillset is more suited to one slot further out the pitch. His experience of being an out-half only makes him a better centre.
"It's good having played 10 and moved to 12, because you kind of know what's going through the out-half's head," says Reid. "As a 10, it's nice to have eyes outside you to help you and that's what I try to do for Jimmy [Gopperth], Mads, whoever's playing there.
"I like to be an extra set of eyes and a voice, kind of organising everyone else around the pitch, because the 10 has enough things on his plate. That's how I see my role. Obviously then if Jimmy or Mads is caught up, I can run into 10 and be fairly comfortable."
In this burgeoning era of second-five-eighths, playmaking 12s and midfield distributors, Reid is a real contender. With so many demands on out-halves to boss their forwards and run the kicking strategy, a player like Reid can make informed attacking decisions from inside centre.
"I'd probably see myself throwing the calls in more, because the 10s are looking around, seeing what's going on, trying to get the pack organised," explains Reid.
"It's easier for me to call something, because I've got the time to see where the space is. The wingers could be shouting something to me and I can throw it into the 10 quickly and we can go from there."
O'Connor has been the man to back Reid at senior level in the last year, while he appreciates Schmidt's influence too. Along his journey, coaches likes John McClean at UCD, Andy Wood at Clontarf and Leinster's own Richie Murphy have been important.
Reid also mentions the efforts of former St. Michael's coach Greg McWilliams, now Director of Rugby at Yale University in the US, in focusing his mindset on skill development and helping him to get noticed at a younger age.
"In school and coming up, it would have been Greg. He's a great guy, he kind of got my name out there for trials and would have pushed a lot of the underage coaches to have a look at me, helped me out a lot that way.
"He's a very skill-orientated coach, so he would have opened my eyes to that stuff in school."
What are they
really like?
Rare insights on sport's biggest names from the writers who know them best. Listen to Behind the Lines podcast.
Become a Member
In that regard, McWilliams kick-started something important, as Reid's passing game looked impressive at times last season, allowing Leinster to add width to their game.
Reid has had two shoulder operations already at this stage of his career, meaning he has had to work intently on re-building his passing power in recent years.
"It [passing] was something I focused on when I was younger and when I was playing out-half, I knew it was something I had to work on. I've had reconstruction on both my shoulders, so coming back from one of them it's frustrating, because your pass isn't as strong.
I'd done a lot of work on one side, then a year later on the other side. It's natural enough, but obviously I stay on top of it."
Reid's seven tries last season provide strong evidence of his running game too, those skills that saw him used on the wing and at fullback in his earlier days.
While the physical demands of playing in midfield in the modern game mean Reid has had to consistently focus on building his strength, the 24-year-old is not keen on adding too much mass to a frame that weighs in at around 90kgs.
"Knowing that I was going to play a bit more at 12, I looked to bulk up a bit," says Reid. "It kind of came naturally as well, I wasn't going mad or anything. I was maybe doing an extra session a week, it wasn't anything major.
"I'm still growing at the moment, so I'm still working away. I'm not looking to get too heavy or anything, because I want to stay quick and agile. It's not all about how heavy you are, it's more how strong and quick you are."
Reid's comeback against Zebre this weekend and over the coming months may free up Ian Madigan to be used at out-half, an alteration that would likely be greeted enthusiastically by Leinster supporters.
Head coach O'Connor has faced some criticism for the style of play the eastern province have functioned under since his arrival in 2013, but Reid describes the Australian as "very approachable and easy to talk to."
The centre believes the strides made in defence under O'Connor have been "really positive," while admitting their approach to attacking "is a bit different to what Joe had for us."
It's obviously a bit frustrating for our fans sometimes, maybe they see us kicking it a bit more than we used to, but it's kind of how the game is going anyway. I think if we execute better, it'll be more enjoyable to watch."
Having Reid back on the pitch and building on last season's achievements could go a great way towards achieving that.