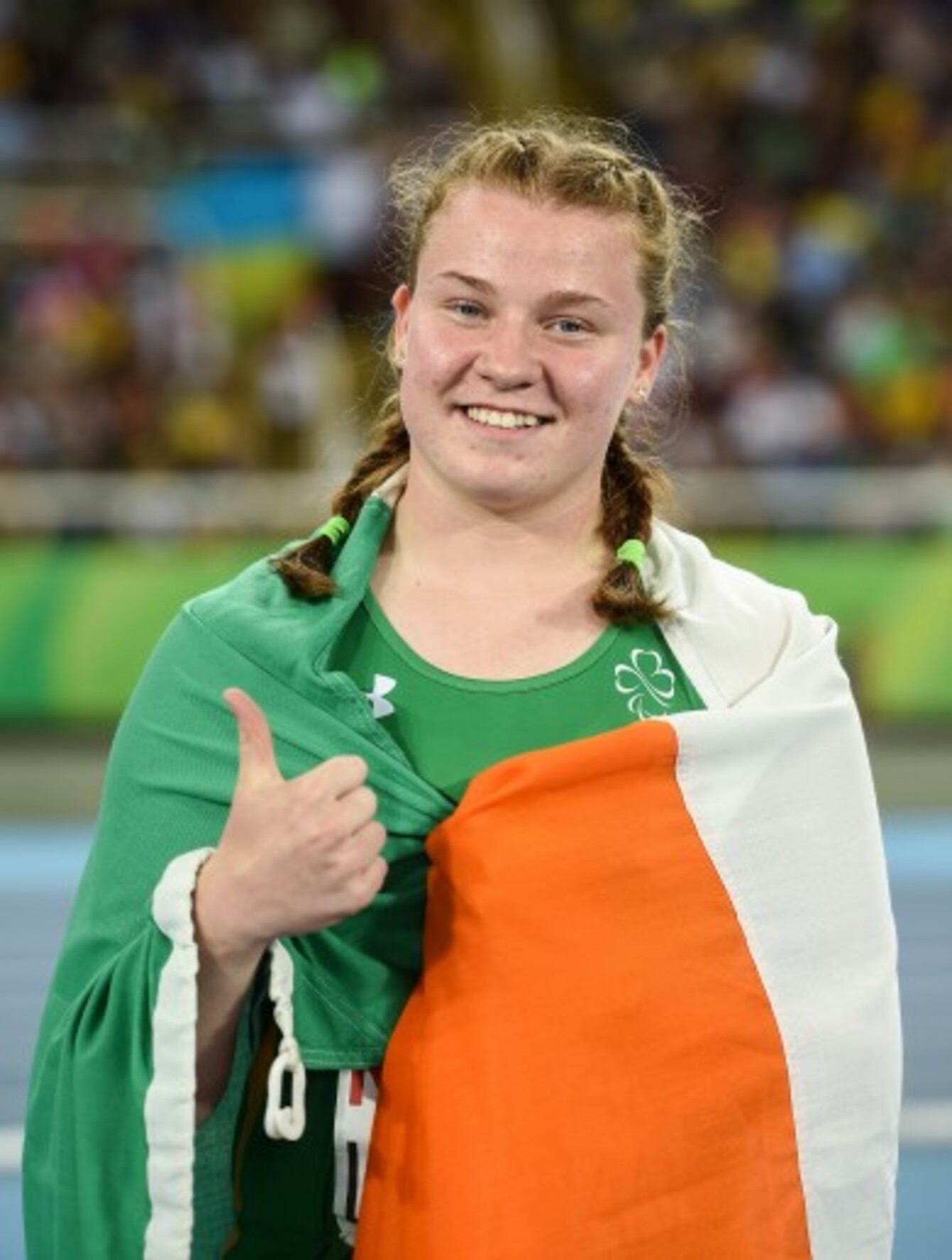 Teenage dreams: Noelle Lenihan celebrates her medal.
Image: Diarmuid Greene/SPORTSFILE
Teenage dreams: Noelle Lenihan celebrates her medal.
Image: Diarmuid Greene/SPORTSFILE
– Ryan Bailey reports from the Olympic Stadium, Rio de Janeiro 
PARALYMPIC DEBUTS CAN be a nerve-wracking experience at the best of times but to do so at 16 years of age, in front of a large Saturday night crowd in Rio, requires a considerable level of composure.
Having patiently waited until the second last day of the Games for her chance, Noelle Lenihan mastered her nerves and channeled any apprehension into conjuring a medal-winning performance on the biggest night of her fledging career.
From the moment the Cork teenager walked out into Rio's 60,000-seater Olympic Stadium, she embraced the challenge, drank in the atmosphere, enjoyed every moment and seized her chance.
"I'm doing what I love to do," she said last night after claiming a brilliant bronze in the F38 discus final.
After watching her team-mates Niamh McCarthy and Orla Barry win silver in this stadium on Wednesday, Lenihan was forced to bide her time before getting her shot at glory.
"I always tried to keep busy and not sit down and think about it," she said of the long wait before her competition. It was great to go out and watch the other athletes compete and that kept me going."
"I was just thinking of myself, block out what's around me and focus on myself and what I can do to improve my throw."
With a World silver and European gold already in her back pocket, she's no stranger to this level of competition and certainly has pedigree on the world stage.
The youngest in her field by a considerable margin, Lenihan has taken the sport by storm in the last number of years since starting out at North Cork Athletics Club.
Her father, Jim, has been instrumental in her rise having taken it upon himself to acquire the required knowledge to coach Lenihan and keep her under his own tutelage when there was nobody else around to do it.
But for the first time in her career, Lenihan had to go into competition without her father by her side as he remained home, and watched nervously, from Charleville.
Afterwards, she dedicated the medal to her Dad, highlighting the role he's played in her success.
"I was just thinking I have to do this for him because he's not here," Lenihan explained.
"We are a team and I can't wait to go home to him. He's probably crying his eyes out somewhere and that's not even a joke. I come from a huge family and they're more than proud already but I'm so happy to be able to go with a medal."
"It's [homecoming in Charleville] is going to be mad, I can't wait to go home to them because they're going to go crazy. I can't wait."
The42 is on Snapchat! Tap the button below on your phone to add!