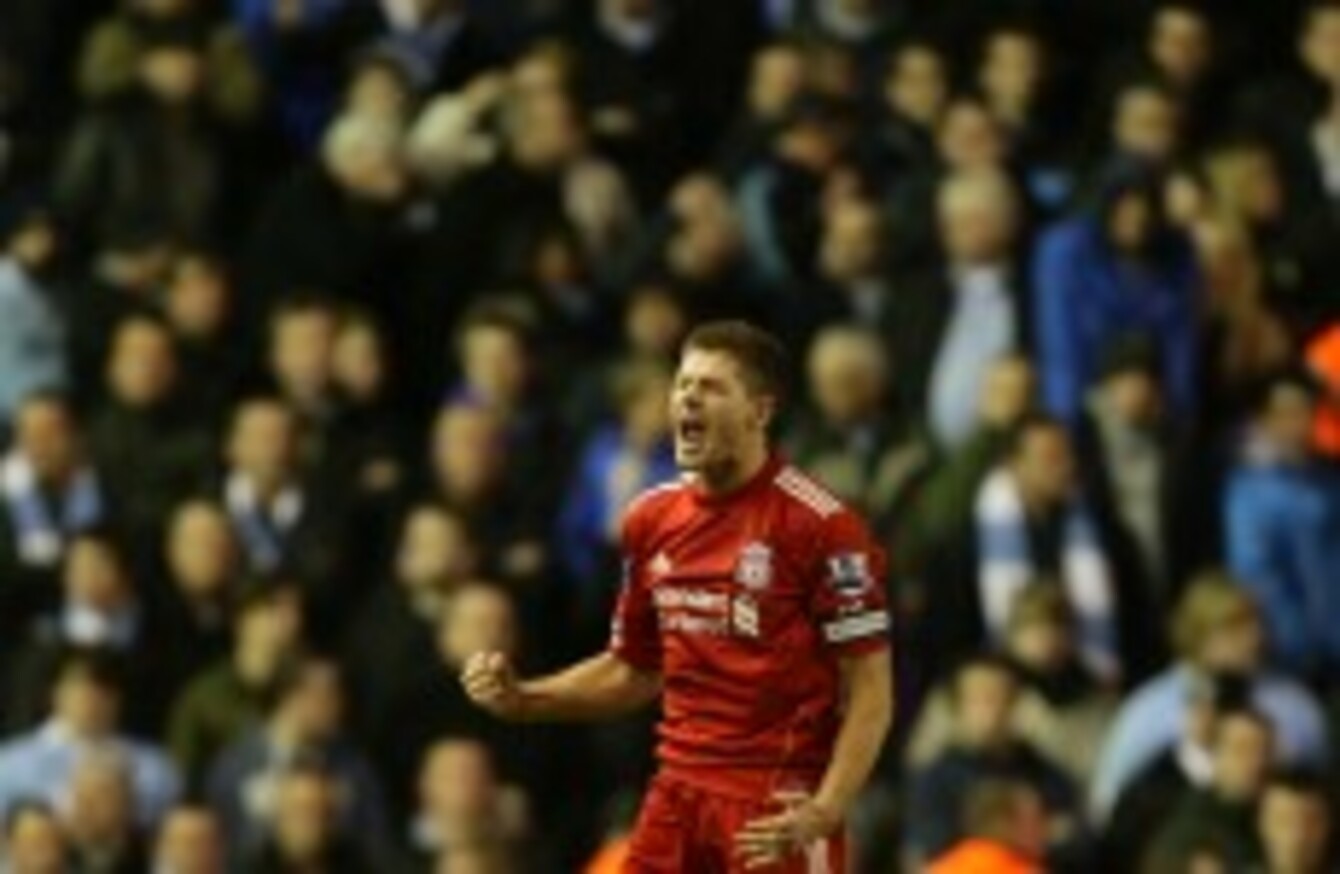 Image: TIM HALES/AP/Press Association Images
Image: TIM HALES/AP/Press Association Images
STEVEN GERRARD WAS overjoyed after guiding his team to the Carling Cup final, but has already turned his focus towards the opposition on 26 February, Cardiff City.
Liverpool progressed last night after beating Manchester City 3-2 on aggregate in a tumultuous semi-final. A two all draw on the night came thanks to goals from Gerrard and former City attacker Craig Bellamy.
Despite the elation that greeted the final whistle, Gerrard took little time in grounding expectations by citing last year's final where Arsenal entered as hot favourites only to be overturned by Birmingham City, who were later relegated from the top flight.
"The key message now is that it's not done," Gerrard told the Daily Mail, "Arsenal slipped up against Birmingham last year when they were massive favourites."
"They (Cardiff) are going to play at a level they've not played at before so it's important that we don't drop our standards. We've got to raise our game and if we do, I'm sure we can lift the cup."
The result comes just four days after the Reds slumped to a 3-1 defeat in Bolton, after which Kenny Dalglish publicly criticised his players.  Gerrard said that the dressing down was even worse in private and, as The Guardian reports, the club captain had his own message for the clubs stuttering new signings:
"There is no good time to perform like that when you play for this club, you have to win every game. The people new to the club will appreciate and understand that a bit more now after a performance like that."
While Gerrard was playing bad cop, his manager was full of praise for Bellamy who grabbed the equalising goal, while also getting a mischievous dig in at City who let the Welsh star go.
"Craig was unbelievable. If Manchester City have anyone else that they don't want they know where we are, but all the players were magnificent. Everything we thought was lacking on Saturday (against Bolton) was there in abundance tonight, so they deserve great credit for the performance and result."
Meanwhile, as Dalglish showered praise, his counterpart, Roberto Mancini was once again left to bemoan decisions of the referee.
"In the last two months we have been very unlucky with referees." Said Mancini, "It was no penalty because the ball touched his leg before his hands. He cannot cut his arm off. I don't know how it is possible to concede a penalty like this and not get a penalty for the foul on Dzeko."
The Italian was already displeased with the FA's disciplinary process before kick off as City felt they had little option but to accept a four match ban retrospectively handed to Mario Balotelli for a kick on Scott Parker. In reference to that, Mancini snarled:
"I hope tomorrow they can change tonight's result."