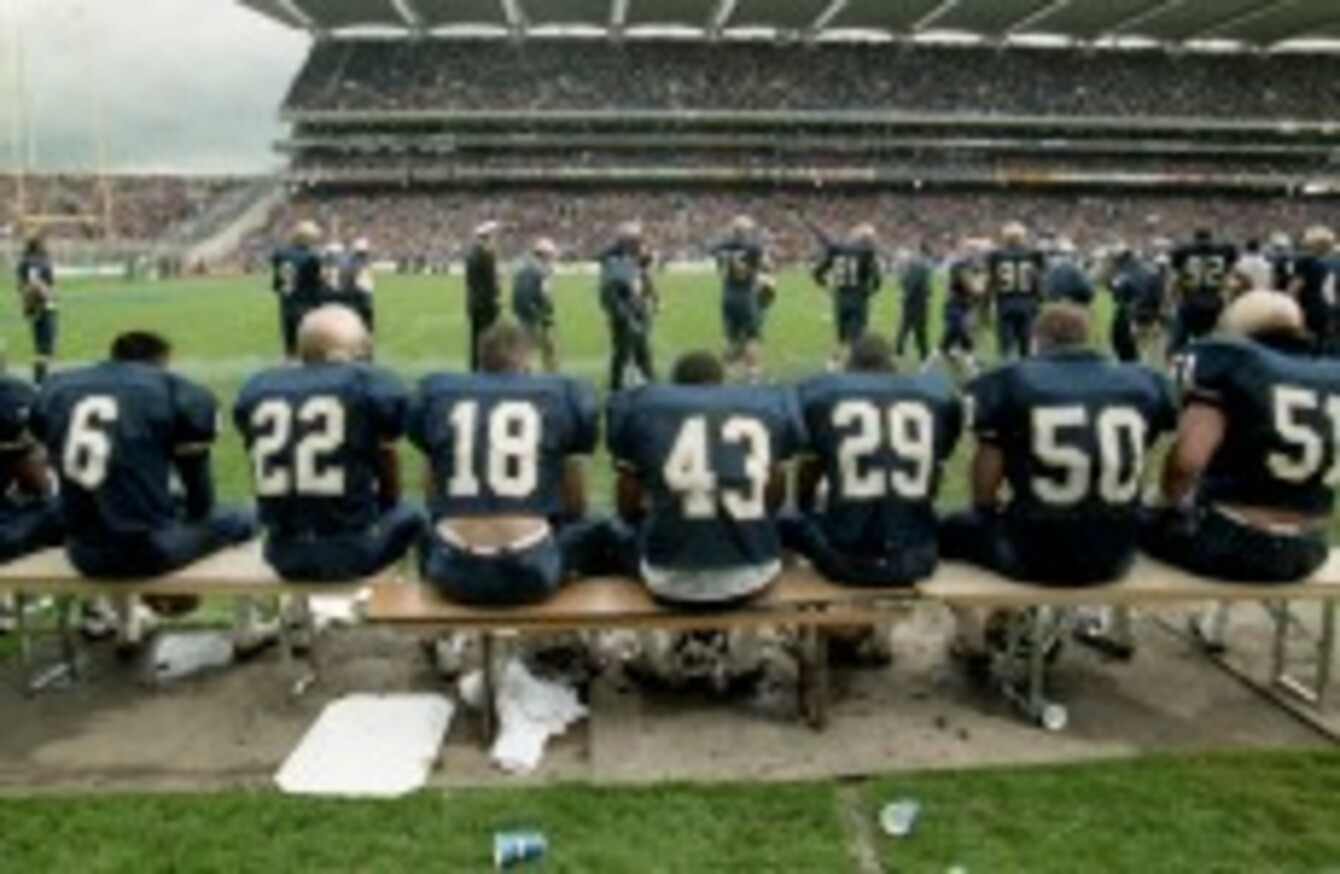 The Navy bench looking on.
Image: Billy Stickland/INPHO
The Navy bench looking on.
Image: Billy Stickland/INPHO
TOMORROW MARKS THE second time in 18 years that Croke Park will host a high-profile college American football game but my attendance at both is just about the only thing the two games have in common.
In 1996, the Fighting Irish of Notre Dame set up base on Jones Road, trashing their Navy rivals 54-27 in front of a crowd of 30,000 or so with many of those at the game as much in awe of the spectacle as the sporting event.
Compare that with the 50,000+ expected to attend tomorrow's encounter – 20,000 alone having made the trip across the Atlantic –  to see if the University of Central Florida can build on their Fiesta Bowl success last year and whether or not James Franklin is the man to rebuild Penn State.
Another obvious difference is that while the 1996 encounter lacked a certain commercial appeal – the game was only shown on delay in the States – tomorrow's will be broadcast live on ESPN2, despite kicking off at 8.30am local time on the East Coast.
The other change between 1996 and now is personal. I was a reluctant visitor to Croke Park back then. At 13, and without much access to American sports on television, I was more interested in goals and points than safeties and touchdowns.
That stopped the moment I arrived at the stadium though.
Cheerleaders and leprechauns; it was a long way from the Artane Boys' Band.
I remember taking an unfair but instant dislike to Navy. There was nothing in particular I could put my finger on but they had the air of a Junior B county championship winner about them; smug without any reason for being so.
Notre Dame on the other hand – Oirish gimmicks aside – were immensely likeable.
Their mascot whipped the crowd into a frenzy before the opening kick off and while a lot of what was happening in front of me didn't make much sense, I was happy to be taken along for the ride and found myself whooping and hollering with the best of them.
My brother on the other hand, was not so enthused. Twenty minutes into the action – by which stage only five minutes of game time had actually elapsed – he turned to our dad with a look of desperation and asked the question we still give him grief for to this day:
"How many quarters are there in American football?"
Be part
of the team
Access exclusive podcasts, interviews and analysis with a monthly or annual membership.
Become a Member
In fairness, how was a young lad from Monasterevin supposed to know a thing like that?
After my father patiently explained how quarters worked and how long they'd last, my brother sighed in resignation and asked for 50p to buy a KitKat.
Memories
Very few actual plays still live in the memory but one or two linger.
With just a few minutes left in the first half the Notre Dame running back — who Google informs me was Autry Denson — took off on a 30-yard run for a touchdown.
The other was Navy's touchdown with about three seconds left after which I tried, in vain, to lead a chorus of boos.
When the final whistle blew, a group of Navy students did 27 push-ups while my brother asked if he could have another KitKat.
After the game, my love for American football grew, starting with a love/hate relationship with the Oakland Raiders – I love them, they hate winning – that continues to this day.
I then moved into coaching, working as offensive coordinator with Tullamore Phoenix and helping them to back-to-back IAFL DV8 national titles before 'retiring' – if that's the right word – in 2012.
And now, best of all, I get paid to write about football (among other sports); all thanks to Notre Dame and Navy battling it out in Croke Park in 1996.
So if you're bringing your kid to see the UCF Knights take on Penn State at headquarters tomorrow, cherish the occasion. You never know what might come of it.
And stock up on KitKats.
A version of this article first appeared on TheScore.ie in August 2012.