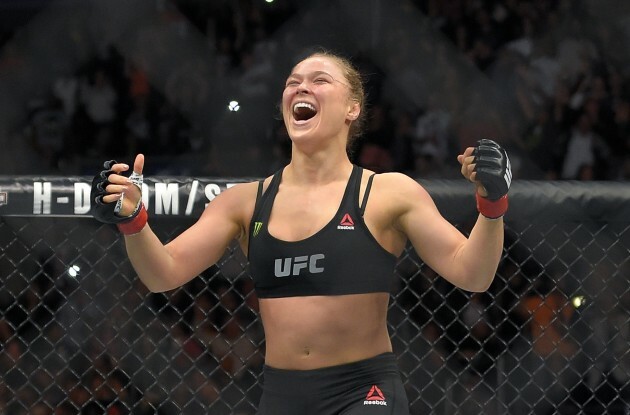 AP / Press Association Images AP / Press Association Images / Press Association Images
RONDA ROUSEY IS the talk of the MMA world at the moment after she maintained her undefeated record with ease last Saturday.
Rousey retained her UFC women's bantamweight title with a submission of Cat Zingano — a fight which lasted all of 14 seconds.
The 28-year-old former Olympic medallist has yet to taste defeat since swapping judo for MMA in 2010, and the UFC are struggling to find a contender to provide her with a credible challenge.
Rousey has taken 10 of her 11 professional victories inside the first round, while her last three UFC bouts have lasted a total of 96 seconds.
UFC commentator Joe Rogan has suggested that Rousey "might be able to beat 50 percent" of the UFC men's bantamweight division — i.e. she's not bad for a girl, right? Joe intended it as a compliment, but it does seem like a patronising and pointless remark.
Nevertheless, US bookmaker Bovada is now offering odds of 26-1 on Rousey fighting a male in a UFC-sanctioned match before 31 December, 2016.
But with male versus female bouts illegal in all regulated territories where the UFC stages events, it's a very unlikely — and quite frankly, ridiculous — prospect.
This week, MMA reporter Aaron Tru told Rousey that she didn't have enough strength to compete with a man. In case you hadn't already guessed, it didn't end well for Aaron.
SportsEntertainmenTV / YouTube
So apparently it's not a good idea to ruffle the feathers of an Olympic judo medallist and undefeated UFC champion. You learn something new every day.