"HOW'S THE FORM? You've Paul and Gary here now."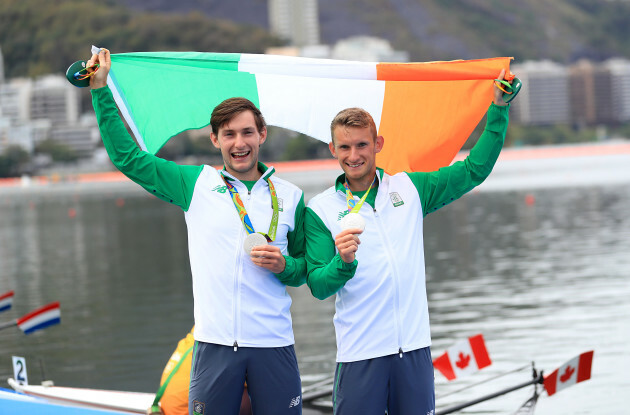 PA Archive / PA Images PA Archive / PA Images / PA Images
The O'Donovan brothers are upbeat as ever as they answer the phone on a dull Saturday morning. Their glowing personalities that captured the hearts of the nation in Rio last August are evident from the moment they start talking.
Skibereen siblings Paul and Gary took silver in the men's lightweight double sculls, and have been household names ever since.
Is it any wonder? Olympic silver medalists, and significant history-makers at that, as they took home Ireland's first-ever rowing medals from the Games. Their successes on the water, and the world's biggest stage combined with their infectious personalities and entertaining post-race interviews rocketed them to the fore instantaneously.
Often their serious athleticism is overshadowed by their humour though, and it unintentionally takes the spotlight. The first thing they said after the final was that they were disappointed though. They wanted gold.
"We didn't quite achieve what we had set out to do in winning it," younger brother Paul tells The42. "But we gave it our best shot so we can't complain about that."
"The thing about it is we've always and ever tried to go as fast as we could no matter what the race," 24-year-old Gary takes over. "We've always tried to win every race we've ever done, so nothing's going to change there.
We'd like to go to Tokyo and we'd like to win that, it's not a big secret.
"The same when we qualified for Rio, we said we were going to try and win, we're going to try and qualify for Tokyo and we're going to try and win that as well, the same as we've ever done with every race."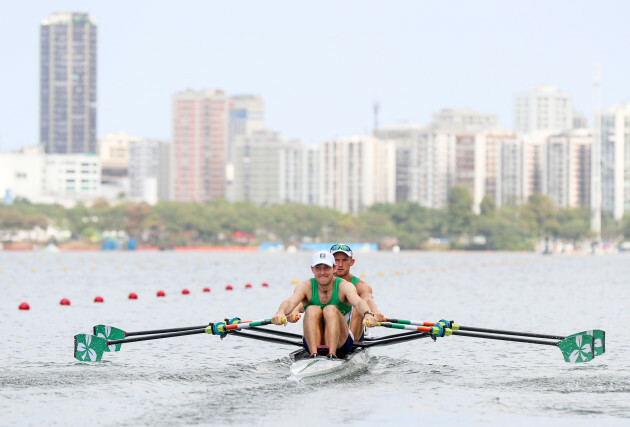 James Crombie / INPHO James Crombie / INPHO / INPHO
Their focus is firmly set on the future, and what's coming next but of course the past has to be revisited.
12 August 2016.
The two Cork boys started strong and kept with the pack as the French and Norwegian teams took a narrow early lead. From lane one, the O'Donovans moved up and launched a late charge to come closer and closer to the French towards the finish.
"I suppose there wasn't too much going through the heads really," Paul starts. "You were rowing that hard and you had been going for that long, it's hard to think of much only just to keep going.
"And I suppose that's what we did really, we kept going as best as we could. I took a look to the left there coming to the finishing stages and it was all very close there.
Olympic / YouTube
"We were on the far side, everything was happening over to our left. I suppose I just saw a load of boats there and I knew that we were in with a shout of doing well.
"I think looking back on the race then it was just before the finish line that we were just lying down, so we were able to come away happy knowing that we had given our best."
From there, came a whirlwind couple of months. There have been several different award ceremonies — they were named RTÉ Sport Team of the Year to mention just one — along with media events and TV appearances, but the brothers remain grounded and the racing and training must go on.
Just over two weeks after Rio, Paul produced another stellar performance to surge to World Rowing Championship gold in the men's lightweight sculls final.
Last month, they retained their title as the two fastest lightweight scullers in the country, while Paul set a new Irish record at the indoor championships.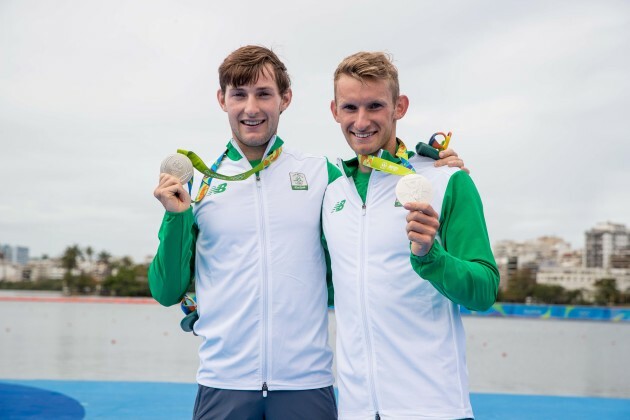 Morgan Treacy / INPHO Morgan Treacy / INPHO / INPHO
"We're still as driven as ever," he says. "We just do the training and get on with it, it's all we've ever done. It's just what we're used to and what we do and we're happy doing it."
Gary echoes his words: "We're always looking to try and go faster. For us to go faster we know that we have to train, and try and improve our technique and improve our fitness and physiology. We enjoy getting out on the boat and doing that."
Of course, they do receive a slight bit more attention, but the duo take it all in their stride.
"I suppose people recognise us on the street and stop us, congratulate us and wish us well and whatever. Our lifestyles haven't really changed, we still do all of the training and all that, we go to college and that type of thing. We're still doing the same things that we always did."
Gary again follows suit, and adds his own thoughts.
"We just go to the shop and buy our groceries, or head to college for the day, or go for a cup of tea and catch up with our friends over lunch or whatever. Nothing has changed too much in our lives. Yeah, there's a bit more demand for media but that's good to get rowing out there and to promote that as much as we can."
They can take pride in knowing that they've really raised the profile of their beloved sport and increased the conversation regarding rowing across the country.
Both the entry numbers and attendance broke records at the Irish Indoor Rowing Championships hosted by the University of Limerick in January, and Paul and Gary's success in Rio comes as a clear contributing factor to the added interest.
"The whole rowing community is delighted with the whole thing," Paul begins. "When we go to the trials and regattas or the indoor championships, everyone comes up to us and says how brilliant it is for the sport.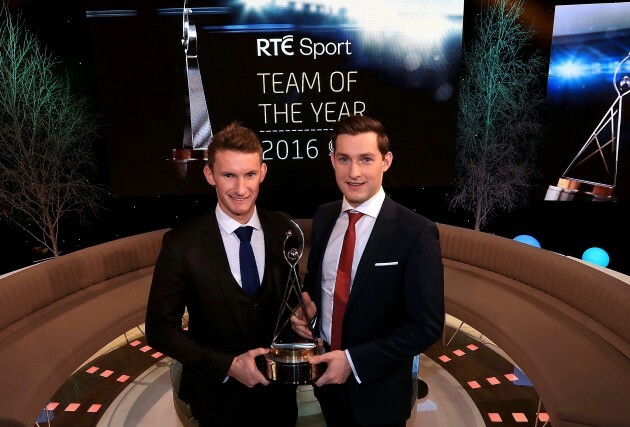 Donall Farmer / INPHO Donall Farmer / INPHO / INPHO
"All the clubs have gotten a big enrollment of young people now, so there should be something there for the future hopefully from that. It'd be brilliant to see in years to come."
"Not only that," Gary jumps in. "But we've been hearing that a lot of people who left the sport or packed it in for whatever reason, that a lot of them are coming back because they want to be involved in it again.
There's fierce pride around rowing at the minute, which is great to hear.
"We do be delighted when people say it to us that they're coming back or that there's youngsters starting because we've always actively tried to promote rowing at home especially when we get the chance with the media, so now we're in the chance to promote it even more, it's fantastic that rowing is winning from that."
Some people may argue that the media emphasis on the brother's joking personalities and iconic phrases like 'pull like a dog' and 'shteak and spuds' overshadow the serious level of athletes they are.
Some think that the way they are portrayed takes away from the toughness of the sport, and they may not be taken seriously as athletes.
The brothers disagree however: "It's all part of the whole thing," they agree, almost in unison.
"There's nothing to be frustrated about really," Gary takes charge. "Once we get our training done and we can go as fast as we can and do the best that we can do, we'll be happy enough.
"To get a bit of publicity in then for rowing as well, and for youngsters to see that they can have fun in sport is important.
Rowing is a tough sport and we do take it very seriously, but we also have a great time and have fun with it. We enjoy it. If we can portray rowing as a fun sport, somebody else might be inclined to give it a go and that's good news."
Paul is in his final year of Physiotherapy in University College Dublin (UCD), while Gary has graduated with a degree in Marketing from Cork Institute of Technology (CIT) and is currently undertaking his LLB, or a degree of sorts in Law.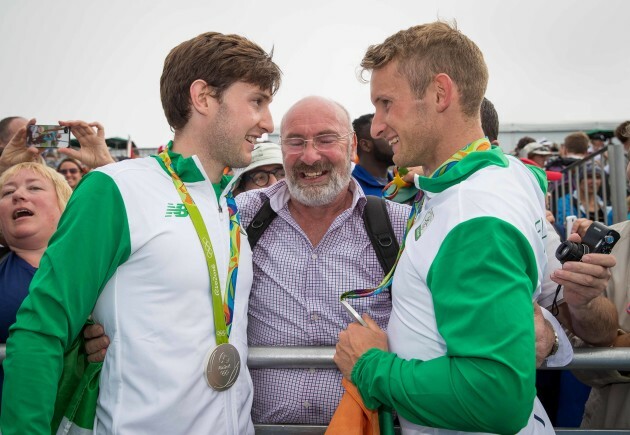 Morgan Treacy / INPHO Morgan Treacy / INPHO / INPHO
https://www.facebook.com/creditunion.ie/videos/1249842585052013/
They told us about their heavy training schedule, and how sometimes they find it difficult to balance everything.
If the opportunity arose to concentrate fully on rowing, and take time away from the books and work, Paul is unsure if they'd avail of the offer.
"Not so much, I think you can fit in the training you do around the college work and all that. In an ideal world maybe, part-time in the college would be perfect. I suppose you'd have a little bit more time, but also that you'd have the college to get away from rowing then it's quite good like.
If you were full-time rowing you'd lose your mind altogether, you're just out there the whole time you'd get thick with each other.
Gary agrees, especially with the fact that they were both named Credit Union ambassadors for the youth last month: "Rowing isn't a professional sport like golf or tennis or soccer or any of these, so it's important that we keep developing other aspects of our life as well.
"It's great as well for kids to see that they can go on and be very successful sportspeople in any sport in life and they can do study as well. It's important that kids see that and that parents can see that as well.
"We do promote the fact that we are studying and training because it's important that kids can believe in going to school and college and training, and they can be successful as well.
"We're trying to encourage kids, and give them a bit of guidance that it's good to go to school, get your education and have a bit of sport alongside it. But also, that you're prepared for after sport as well.
"You can have fun while you're doing it."
MAXWELLS DUBLIN MAXWELLS DUBLIN
With Tokyo in the back of their minds, and the World Championships in Florida looming, things are going well at the minute anyway.
"Good, it's grand yeah," Paul says.
They spent a successful training camp in Spain after Christmas, and from there returned home to make waves at the indoors and Irish trials so it's shaping up to be another hectic and successful racing season.
Gary continues: "We made a bit of progress at the start of the new year, we came home from that [training camp] and did the indoor rowing championships where Paul finished first, setting an Irish record.
"I was second in the regatta there, and the next two lads were both from Skibbereen, they came third and fourth — Shane O'Driscoll and Mark O'Donovan, who came fourth in the world championships last year.
"To see that everyone's in good shape and making good progress heading into the racing season is a nice boost heading into the new year."
Gary and Paul O'Donovan were recently announced as the new Credit Union Youth Ambassadors at the Irish League of Credit Union's Youth and Marketing Conference. They will be heavily involved in the 'Inspiring the Next Generation' social media campaigns.
The42 is on Instagram! Tap the button below on your phone to follow us!