This is the pre-labour look. If you're Amy Huberman. Or a beautiful freak of nature. (Image: Laura Hutton/Photocall Ireland)
WELL, IT COULD be a very special day for Irish rugby and mini-Hubes (or little Huberbod) didn't want to miss out.
Just hours before taking to the field for Ireland's all-important Six Nations tie against England, Brian O'Driscoll has become a father.
According to reports, Amy Huberman gave birth to a baby girl this morning. Further reports are that the newcomer will be called Sadie.
Speaking RTÉ before the Ireland versus England clash, head coach Declan Kidney said, "It's fantastic news. We're delighted for Amy, especially, and Brian."
He added, "She showed great courage and generosity to let Brian go off and play and, for that, we'll be eternally grateful."
The news broke on Twitter (of course) so here's just a selection of reactions.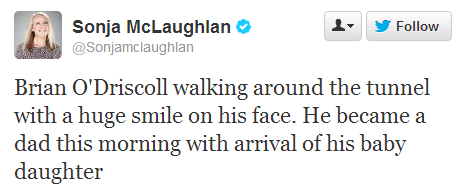 BBC sports correspondent Sonja McLaughlan with the inside scoop.
Hurray indeed.
Ok, sounds like BOD got some sleep.

That's one way of looking at the great news.