LET IT GO. That's what people say when you mention Thierry Henry's handball on that November evening in Paris that promised so much but, ultimately, ended in heartache for Ireland.
Now, given the evidence of what happened in this year's European Championship, it may have been for the best that Henry's fraudulent fist denied Ireland a place in the 2010 World Cup.
However, the fact remains that Henry's goal would have been unlikely to stand in most other sports where replays and challenge flags all play their part to ensure such obvious mistakes don't occur.
That's not to say certain incidents don't slip through the cracks or, as is the case with the 'tuck rule' in the NFL, interpretations of laws change to suit certain situations and teams but, for the most part, the majority of team sports have something they can offer other sports in terms of officiating.
GAA – Visible communication between multiple officials
If you watch The Sunday Game you might think that GAA referees are terrible. More often than not, you see an incident being highlighted which the match officials have missed. However, that's more to do with the benefit of multiple replays than the quality of officiating.
What GAA officials do well though, is visibly communicate with each other. Linesmen and umpires are happy to walk onto the field of play to let referees know if they've seen something untoward. This helps to remind the players there is more than one set of eyes keeping an eye on their behaviour.
Negatives

The inconsistency of refereeing when it comes to rules such as the number of steps a player can take, hand passing and square balls can drive GAA fans crazy. However, with GAA HQ constantly changing rules, it's not difficult to see how even the officials can be confused.
Baseball – Referees explaining decisions after the game
It's not a hard and fast rule that officiating crews must explain bad/controversial decisions after a game of baseball, but it has become accepted practise. Whether it's explaining the 'infield fly ball' rule or why the third base umpire decided to call the runner safe despite being five inches from the plate, baseball officials make themselves available after games to explain these decisions.
Rugby doesn't have this problem of course as you hear why decisions are made during the game but it could be invaluable for sports like football, hurling, etc. Imagine a referee coming out after the game to explain why he thought it was a penalty at first glance but, after seeing the replay, admitting it wasn't.
Negatives

Of course, this doesn't prevent bad calls from happening, but it does force officials to be more thoughtful in their deliberation process during a game. Having to face the media to explain why certain decisions were taken may actually help a referee make better calls.
Alan Quinlan attends a disciplinary panel in 2009. ©INPHO/James Crombie
Rugby – Citing
Citing is brilliant. So many players who think they've gotten away with misdemeanours later find themselves in front of the citing commissioner and on the wrong end of a lengthy ban. Imagine a citing commissioner in soccer who could retrospectively punish divers?
Not only would this allow referees to avoid having to make split-second judgements on what is/is not simulation, but a three match retrospective might prove more of a deterrent to the Suarez's and Young's of this world than a yellow card.
Negatives

There doesn't appear to be much consistency when it comes to the punishment meted out to offenders. Rugby players also seem to get away with a lot more violence on the pitch than most sports, even with the eyes of the citing commissioner on them.
Basketball – Personal fouls and fouling out
How frustrating is it watching a hurling match and seeing an opposition player constantly foul your full forward but receive no card only for your player to get a yellow the first time they retaliate? Basketball doesn't have that problem because of their five (six in NBA/WNBA) strikes and you're out system.
Charlotte Bobcats' Michael Kidd-Gilchrist scuffles with the New Orleans Hornets, sending a referee tumbling. Gerald Herbert/AP/Press Association Images
If a player was to pick up a personal foul every time they came in from the side of the ruck in rugby or had a pull at an opponent's jersey in football, they wouldn't have the ability to 'test' the referee to see what they could get away with. Similar to basketball, more flagrant fouls could be worth three personal fouls, two of which means ejection from the game while a red card offence would remain a straight red.
Negatives

Again, fouling is in the eye of the beholder so human error comes into play. What before could have been deemed accidental contact, is now likely to be considered a personal foul. However, the main benefit of this system remains the fact referees are never likely to lose control of a game.
American football – Challenge flags
Since 1999 coaches in the NFL have been able to challenge decisions made on the field of play by throwing a red challenge flag. Once a ruling has been challenged (and coaches are limited to two per game and a third if the first two are successful), the referee has 60 seconds to watch the replay to determine if there is enough evidence to overturn the ruling on the field. If the challenge is successful, the ruling is overturned and play continues. If it is not, the team who challenged the call lose one of their timeouts.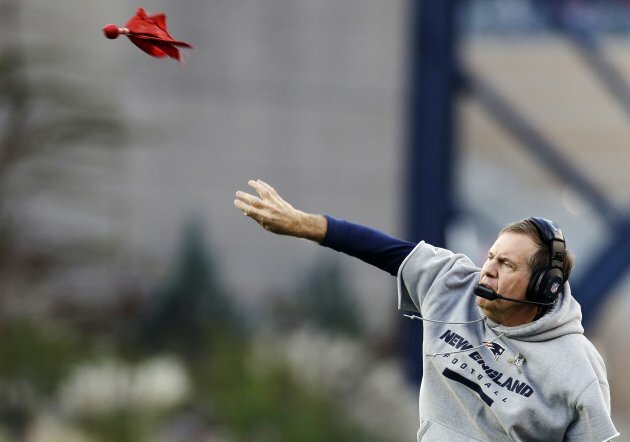 New England Patriots coach Bill Belichick does his thing. Elise Amendola/AP/Press Association Images
The rulebooks would have to be very specific about what can and cannot be challenged (as the NFL is) but there's no reason why straight red cards, dubious scores and penalties couldn't all be challengeable. The key thing is there would have to be incontrovertible visual evidence that the original decision was wrong for it to be reversed.
Negatives

Obviously, there are no timeouts in sports like rugby, hurling, soccer, etc, but teams could be punished for unsuccessful challenges by losing a substitution or having a player have to sit out a portion of the game (like the sin bin in rugby).
To err is human
Of course, there will be those who argue the Henry handball or Meath's 'goal' against Louth in the Leinster final are the type of incidents that make sport so compelling.  Those people are wrong.
Sure it's fun to argue about 50:50 decisions down the pub with your mates or loudly dispute a referee's call with opposing fan in Croke Park but blatant injustice has no place in sport in an era when so much technology is available to prevent it.
To err is human, of course, but to be unwilling to learn from other sports is idiotic, especially when they have proven that sport can be dramatic without the need to end in tragedy or farce.