FORMER ARMAGH FOOTBALLER Oisin McConville was an interested observer of weekend extracts from the forthcoming Jim McGuinness book, in which the ex-Donegal boss revealed that some players had backed themselves to beat Dublin in the 2014 All-Ireland semi-final.
McConville is a recovering gambling addict and as an addiction counsellor, he now works with sports people who find themselves in similar positions.
"Somebody said it to me that it was in The Star, they did the extracts on Saturday," McConville told The42 today.
"I read it and couldn't believe it. I couldn't believe how stupid he (McGuinness) was to say it.
"But I'm glad he said it and that we're talking about it now.
"Anything that can be put out in the public domain is good.
"So maybe rather than saying he was stupid, this is the key when we're talking about any of these things.
"When it comes to gambling or alcohol, you only realise the problem when it comes to your own doorstep. People are genuinely blasé about how they approach it."
McConville entered treatment over ten years ago and hasn't looked back since.
But he believes that the problem of compulsive gambling is "rife" in modern day sport.
"I didn't have a clue what I was facing, didn't have a clue that I was in addiction.
"I was gambling for years and years, I thought this was how other people operate.
"It wasn't until I started to learn about it and when people started to teach me a little bit that I started to appreciate it a bit more. 
"With the work I'm doing, and the people I meet day in, day out, the amount of GAA people I meet is a very hot topic right now and very relevant for a lot of people.
Morgan Treacy / INPHO Jim McGuinness revealed that Donegal players backed themselves to beat Dublin last year. Morgan Treacy / INPHO / INPHO
"There are homes struggling with it and while alcohol has affected most homes in Ireland, when it comes to gambling we're a little bit behind the times when it comes to dealing with it and recognising the issues around it."
The visual effects of alcohol and drugs are obviously far easier to spot, McConville acknowledges, meaning that gambling is a far more secretive addiction.
"If I was after losing money, I could still walk into the Armagh changing room, give you a high five to show you how good I was.
"But I was putting on a mask, trying to portray that image.
"From that point of view, you could have had a lad walking into a changing room after losing his bollocks and you still wouldn't have a clue what's going on."
McConville is extremely comfortable discussing gambling and its effects but admits that it took him some time before he could feel that way.
"It probably took me about a year before I was able to talk about it," says McConville, who then released a searingly honest autobiography.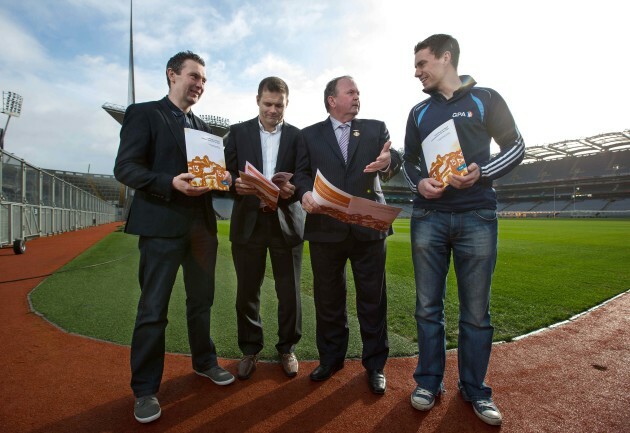 Cathal Noonan / INPHO McConville with GPA CEO Dessie Farrell, former GAA President Liam O'Neill and Offaly's Niall McNamee. Cathal Noonan / INPHO / INPHO
"The thing I have to realise is that when I become closed off and don't want to talk about it, that's a dangerous time.
"It's something I would have learned in treatment, to spend a lot of time talking about it.
"And I do spend a lot of time helping lads with similar issues. It's 100 per cent confidential but people have no idea how rife it is out there and how many of our sports people, not just GAA stars, are struggling from this.
"Generally speaking, most guys playing top level sport drink in the off season or have a few pints after a game or whatever it is. It's largely prohibited and largely frowned upon and drugs are the same, you'll be tested for that. Gambling is the outlet that people are looking for.
"I can't be seen to be a killjoy or on a crusade to stop everybody from gambling," he stresses.
"That's not what I'm about but we do need to raise it and be aware of the fact that for every lad on a county panel that can have a social bet and it's a bit of fun and the opportunity to make a few quid, there are a couple of people on that panel and it's the last thing they need as they're probably buried in some kind of trouble.
"People don't realise the downside of this how serious it can be – it's life or death stuff for some people.
"But it's a great thing we're talking about it. I'd be in England now and again, doing stuff with Premier League and rugby league teams.
Cathal Noonan / INPHO McConville with Offaly footballer Niall McNamee, who has also revealed his struggles with gambling. Cathal Noonan / INPHO / INPHO
"There are no grey areas with them. GAA players are not doing anything wrong per se as far as the rulebook is concerned but morally, if there's somebody within the squad struggling with an issue and somebody raises the point that it could be a great way to make a few quid, it's an uncomfortable sit for those individuals."
McConville admits that the Donegal revelations have made him a "little uncomfortable" and has called on the GAA and GPA to react.
"To tell you the truth, it is a little bit uncomfortable.
"I know how many lads out there are struggling. I'm ten years down the line and have a fairly pragmatic view of these sorts of things going on.
"I just worry for the lads out there at the minute, I know for a fact that quite a few out there are really struggling and that's the last thing they need in a squad."
McConville believes that managers should work harder to ensure that gambling is not an issue within squads.
"Probably in a lot of squads it's an unwritten rule but an unspoken rule.
"I think the GAA and GPA need to get together and tell players it's no longer acceptable.
"But if a player really wants to get a bet on, he'll get it on.
"The other point worth making is that if the GAA or GPA, whoever it is, came out and said we don't want anybody betting on games, at least people would know where they stand.
"Make it completely outlawed in fact and make that point very clear.
"By doing that, we're not going to sort out all the gambling problems in Ireland but it's about making people aware of exactly where we stand."