IN THE LATE 1990s, I'd sit on the floor in my parents' bedroom at around ten o'clock each Monday night.
The rest of my family commandeered the main television set to catch up on the latest ER episode or whatever imported prime-time drama was de rigueur at the time.
I didn't mind too much.
Upstairs, on a tiny portable screen, I'd gorge on the weekend highlights from Spain's Primera División, bizarrely, all through the medium of the Irish language.
Looking back, it's a little inexplicable.
Before Sky Sports' Revista de la Liga came along and prior to the channel's own re-branding and name change, Teilifis na Gaeilge produced an hour-long weekly magazine show focused on Spanish football called  Olé, Olé.
What made it all the more remarkable was that those responsible for beaming exotic, superstar names into homes around the country, were based in a tiny, nondescript facility in the west Waterford Gaeltacht region of An Rinn.
"A lot of people were against an Irish language television service at the time," says Irial Mac Murchu – the show's editor and producer and a co-founder of prominent production company Nemeton.
One commentator painted a caricature of bearded fellas in jumpers reading news from morning 'til night."
"But, Nemeton predated TnaG and we had already been producing sport for television, albeit on a very small scale. Olé, Olé was born out of conversations with TnaG at the time where we were trying to impress upon them that they had to have a sport on the new channel and trying to figure out what we could do differently."
As a fledgling media station, TnaG had no rights to any sport and no experience of even being part of the conversation. So, Nemeton were starting from scratch and looked for any kind of assistance. Luckily they found some. In Wales.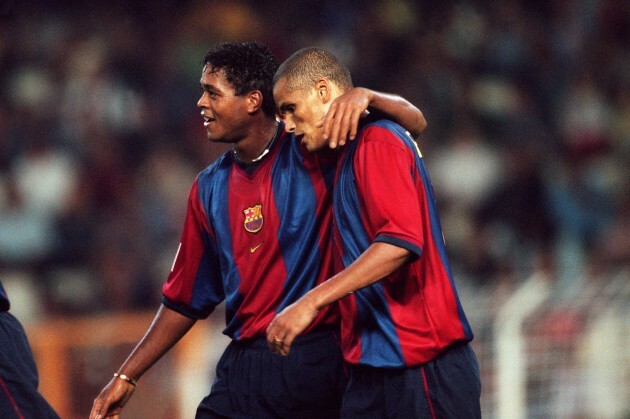 Matthew Ashton / EMPICS Sport Mac Murchu and his team watched Louis van Gaal's brilliant Barcelona side up close. Matthew Ashton / EMPICS Sport / EMPICS Sport
"There was a company called Nant producing a show for S4C (Welsh-language channel) and they were covering all the European leagues," Mac Murchu remembers.
"But we decided to just concentrate on one because our belief was that despite the Premier League being the most-followed and the most popular in terms of soccer coverage in Ireland, we identified that Spain would quickly become the top league in Europe. And with a little bit of help from our Welsh friends, who we cold-called and who were only too keen to help us, we contacted TV3 in Barcelona who had certain rights at the time and who were allowed to sell on highlights rights to us. We did a deal with them and started covering it from there."
RaidioTeilifisEirean / YouTube
Television is a relentless grind. It takes a lot of time, energy and personnel to get anything on the air. When resources are minimal and when the content is an hour-long, it's even harder. And when you're an inexperienced production company, based in a rural community, and learning on the fly, it's pretty much impossible.
"We worked twenty hours a day in the initial months," says Mac Murchu.
We sent someone to Barcelona every weekend for the first six-to-eight weeks to collect tapes and bring them back to us, which sounded like a great idea to the guy at the time but he wasn't long getting sick of it. But then we got smart and erected a 2-metre satellite dish out the back of our building and bought decoders and all of that stuff. We were starting from zero so we didn't have any state-of-the-art technology like we do now. We had a Mac, a BETA-SP tape machine and we had a 14-inch television screen instead of a professional monitor in the edit suite. And that started off our satellite business, really – the fact that we were taking in Spanish football every weekend, editing it, putting Irish-language graphics and Irish-language commentary on it and then getting it back up to TnaG."
"But even at that time, we were sending couriers with tapes to RTE Cork or RTE Waterford to play it down the line to TnaG. Sometimes we missed our deadline so we had to play it out live from a certain RTE remote studio to get the programme out on air."
Still, the effort and toil and stress and anxiety worked a treat. TnaG had a product no one else did.  Olé, Olé was broadcast an hour before Sky's coverage of the Spanish league and 24 hours before Eurosport's.
The tiny underdogs were punching well above their weight.  Despite the warnings from elsewhere, Mac Murchu and his team had created something special.
"At the time, I had people from RTE ringing me up saying 'You're not going to be able to do this'," he says.
"And I had others telling me 'For God's sake, you can't have a production company outside of Dublin or Galway'. But we were very lucky at the time because technology had just starting evolving. Instead of having to spend £500,000 on an edit suite, there was non-linear editing. So we were able to digitise our pictures into a Mac and cut the pictures from there rather than tape-to-tape editing which many established broadcasters were still doing at the time. Our satellite link for incoming pictures and our very fast drivers for outgoing pictures enabled us to do it – just about!"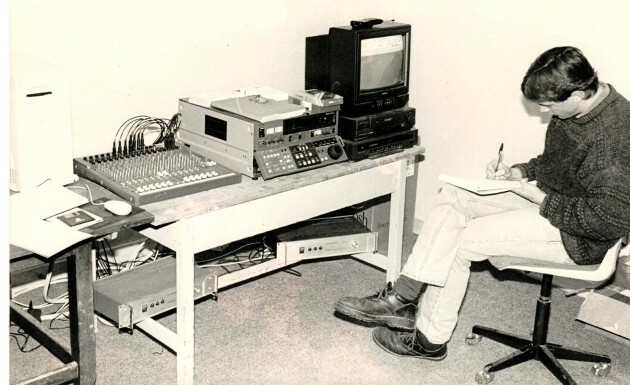 Irial Mac Murchu Nemeton's production facility was unsurprisingly primitive in the mid-1990s though they embraced non-linear editing well before established broadcasters, ensuring the cutting of games was made easier. Irial Mac Murchu
It was a small, dedicated crack team. Mícheál Ó Domhnaill, who's now known for his hosting of TG4′s vast GAA coverage, was the Olé, Olé presenter, introducing the show from a small studio and linking between various games. Brian Tyers, meanwhile, was on commentary duty.
O'Domhnaill had lived and worked in Spain for a number of years so was comfortable with the language, the geography and La Liga. Such experience proved vital when the show took to the road.
"What we decided eventually was that the studio wasn't as lively as the sport itself so we started going to Spain once a month, presenting the programme from locations around the country," Mac Murchu says.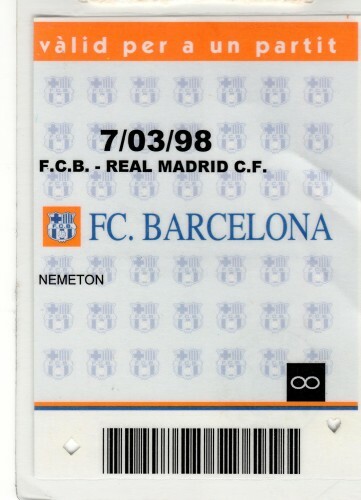 Irial Mac Murchu An official Nemeton pass to access the sideline at the Camp Nou for El Clasico in March 1998. Irial Mac Murchu
"The Catalans were great – they welcomed us with open arms at the Camp Nou. 'Oh, Irlanda! Irlanda!' We used to shoot our links on the sideline, a couple of metres from where the 'original' Ronaldo was running at 30 miles per hour with the ball. But you wouldn't get within an ass's roar of it now."
The first time we went out there, it was in the Nou Camp and it was a derby game between Barcelona and Espanyol. Espanyol were a goal up with ninety minutes gone but Barca equalised and the whole place went wild. But then on 93 minutes, Juan Pizzi scored the winner for Barca and I got this feeling…'Y'know when the hairs stand up on the back of your neck? 90,000 people erupted spontaneously for the winning goal and it's a sensation I'll never forget. But our viewers didn't forget it either because we were there on the sideline. We shot the links as close to the action as we could, to take in as much of the atmosphere and boom – the show lit up and that's what really made our name for us, once we started filming in Spain."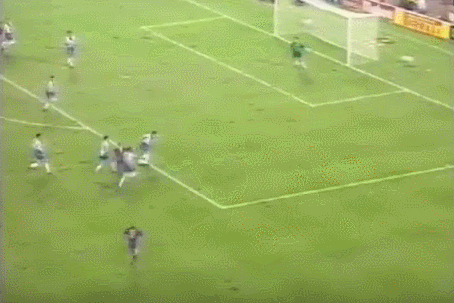 After the initial success of  Olé, Olé, Mac Murchu decided to expand and rights were obtained to show highlights of the Scottish Premier League on TnaG. But after just one season, Sky swooped in and took control of the league's entire broadcast package. Soon, they did something similar with La Liga and by 1999,  Olé, Olé was struggling to compete. It was reduced to a half hour production as TnaG began to dedicate more resources to covering live action, namely GAA games.
Nemeton's home looks a little bit different in 2015.
And soon, as the cost of TV sports rights began to sky-rocket, the iconic show was no more.
"We got in at the tail-end of inexpensive international rights," admits Mac Murchu.
"There's not a hope in hell that something similar could be done now. A broadcaster couldn't afford the rights, never-mind a production company. You see how national broadcasters are struggling to keep up with the inflation of sports rights with things like the 6 Nations. So if the heavyweights with hundreds of millions of pounds of turnover are being priced out of the market, a production company doesn't have a hope. And this is just the beginning – certainly for international sport. The likes of rugby and international soccer fixtures, I think that still has a way to go in terms of the pricing of it. I think the domestic rights – like the League of Ireland, the All-Ireland League, most of the GAA – those rights still have to be tested in the market."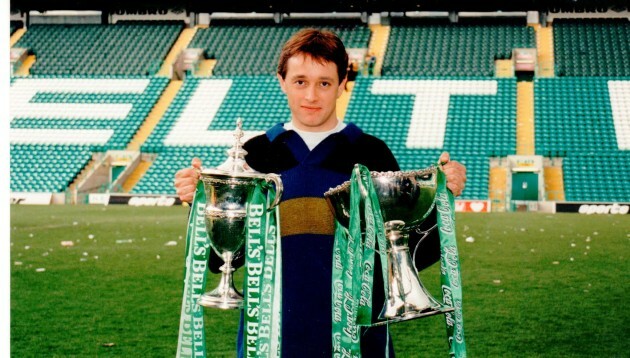 Irial Mac Murchu Micheál Ó Domhnaill in Celtic Park in 1998 during TnaG's coverage of the Scottish Premiership. Irial Mac Murchu
Almost twenty years on, the memories are still easy to recall for Mac Murchu. It was a lifetime ago, when a bunch of friends were still undaunted by it all.
"We were standing in front of the Bernabeu in Madrid – myself, a cameraman and Mícheál and he was recording his links for the following night's show. The crowd were milling around and all of a sudden, hundreds of Spaniards gathered around us, wondering what the hell was going on. As soon as Micheal finished his piece to camera, they erupted into a huge spontaneous cheer which we actually broadcasted. It was the language of sport transcending everything."
This was beyond our wildest dreams – young fellas from west Waterford being able to interview these superstars, these international soccer stars and get quotes from them to use in our programme on a Monday night on TnaG. Here we were – going to post-match interviews with (Predrag) Mijatovic, Raul, Pep Guardiola, Ronaldo. It was amazing. John Toshack was in charge of Deportivo and he always gave us an interview too."
"At the time, we were saying 'Ah, well, so what like? We work hard. It's no more than we deserve.' But thinking back, if you sat down and thought about doing this, you'd get so intimidated that you'd never go for it. It was almost through our naivety that we got away with it."