This post is part of The42′s Facing History series, supported by Cadbury Boost. To read more, click here.
IN AMONG THE latest crop of Kiwi prospects and Super Rugby stars in the Canterbury Mitre 10 Cup squad this season, a young Irish tighthead prop has been quietly making his way.
Canterbury have been the best team in the Mitre 10 Cup this season, securing a semi-final with one round to spare. Irishman Oliver Jager has been impressing in his first season at this level, a tier below Super Rugby.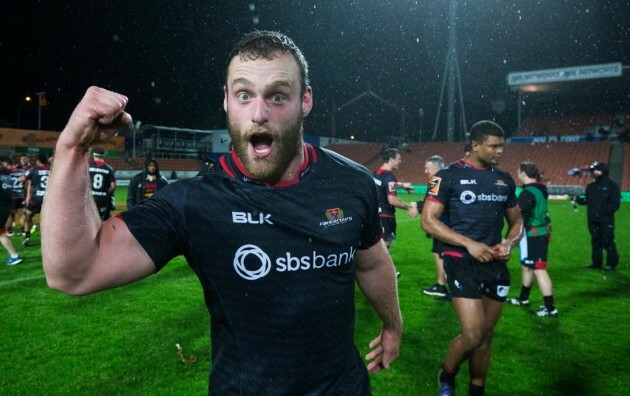 Inpho / Photosport/John Cowpland Jager celebrates Canterbury's Ranfurly Shield success against Waikato. Inpho / Photosport/John Cowpland / Photosport/John Cowpland
The 21-year-old tighthead's journey has been a little out of the ordinary, but those in the know in Canterbury are predicting big things for the Naas man, who played for the Ireland U18 Schools side in 2013.
"He's got a really big future and, who knows, he could wear a black jersey," says Scott Robertson, the head coach of Canterbury, who will step up to the Crusaders job in Super Rugby in 2017.
"It could be a big choice for him. He will become eligible, he's been in the Crusaders mix and here with Canterbury. We might have one come the other way, you never know, there's a few Kiwis running around in the green jersey."
Jager's rugby tale began back at home in Naas at the age of nine, when his Dutch father, Harm, felt he was "sitting at home doing nothing and he was getting a bit fed up of it!"
Jager hated the sport at first, but his father asked him to persist and 'Oli' soon began to develop physically. A lock or back row at that stage, he had discovered a love for the sport by the time he enrolled at Newbridge College.
In second year, he needed to find a boarding school due to his Irish mother's move to Abu Dhabi and when Clongowes declined him a place, Blackrock College became his new rugby home.
An injury in the Dublin school's front row in the Junior Cup meant Jager's coach asked him to consider a move to prop for the first time.
"I was thinking he was going to say maybe the centres, maybe wing, thinking it would be cool and he suddenly comes out with prop. I still remember my first game down in Castleknock. Jesus, I was nervous because I'd never been at the front of a scrum in my life."
He played Junior Cup again in fourth year, back at number eight or blindside flanker, helping Blackrock to win the trophy. Stepping up to the SCT squad in fifth year, Jager's destiny to be a front row intervened again.
"I thought my prop days were over, that was me done! I remember all pre-season trying for the SCT at six, I wanted to play back row. But we played a trial match and we didn't have enough front rowers. We needed a tighthead and because I was the youngest guy, I had to go into the front row."
His return to the three shirt went well and by sixth year, Jager was helping Blackrock to a Senior Cup title in a team that also included Garry Ringrose, Nick Timoney, David O'Connor, Charlie Rock, Jeremy Loughman, Jack Power and David O'Connor.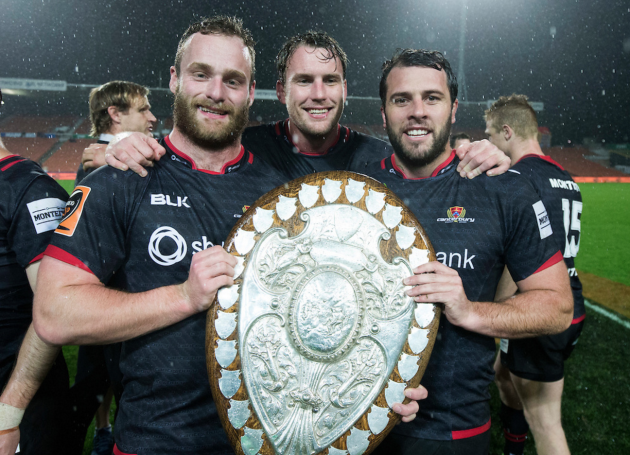 Inpho / Photosport/John Cowpland Jager, left, after Canterbury's Ranfurly Shield success against Waikato. Inpho / Photosport/John Cowpland / Photosport/John Cowpland
Jager – who excelled at the shot put as a youngster – also earned Leinster Schools and Ireland Schools caps, playing alongside the likes of Harrison Brewer and Billy Dardis.
While several of his team-mates and rugby friends were promised places in the Leinster academy system, Jager wasn't brought on board. He was a year younger than many of his class, and was encouraged to repeat in school.
Jager was determined to forge ahead with his rugby career, however. He showed ambition.
His father – who had been his strength and conditioning coach in Blackrock – learned about the International High Performance Unit [IHPU] in Christchurch with the help of Trinity's Tony Smeeth, who had sent players over to undertake the programme before.
Essentially, the IHPU involves paying to spend time training with Canterbury's academy, but Jager – having always been a fan of New Zealand rugby – saw it as a potentially important learning experience.
Still just 17, he jetted to the other side of the world the day after completing his final Leaving Cert exam. His stint with the IHPU only lasted a month, but Jager impressed enough to be asked to return for a shot at club rugby in 2014.
While he had previous experience of being in New Zealand – spending a week at the International Rugby Academy of New Zealand in Palmerston North as a 14-year-old back row, when he met Robertson for the first time – shifting his life full-time was a big move.
"It was pretty daunting coming out here on my own. I didn't know anyone, and also the fact that the earthquakes happened over here before [in 2011], so there was no city."
A knee injury in his first season with the New Brighton club was a setback, but he diligently rehabbed – impressing with his attitude. All Black Ryan Crotty, a fellow Canterbury and New Brighton man, says Jager is a "good character" and popular among his team-mates.
By 2015, he had secured a place in Canterbury's academy. Jager didn't have a car at first and he often cycled an hour to and from work on the same day as training twice. He worked hard physically, building himself towards his current 120kg size, and developed his skills out of necessity.
"They encourage offloads here, so the more I kept doing it, the better I got."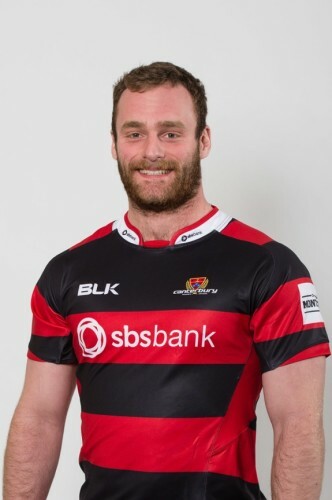 Inpho / Photosport Jager in Canterbury colours. Inpho / Photosport / Photosport
By the early part of this year, Jager had impressed enough to earn a call-up to the Crusaders' pre-season training for Super Rugby, and he was involved in friendlies against the Reds and Highlanders, alongside the likes of World Cup winners Joe Moody and Codie Taylor.
He has featured six times for Canterbury in the current Mitre 10 Cup campaign, making his first start at tighthead in a 47-18 win against North Harbour earlier this month.
A clear highlight was his involvement in Canterbury's capture of the Ranfurly Shield from Waikato last month, their first challenge win since 2010. As tradition dictates, Jager – a replacement prop that day – was entrusted with taking care of the famous 'Log o' Wood' on Canterbury's behalf.
"Oli is a great, hard-working young man," says Robertson. "The big thing we've helped him with is his transition from being a number eight to a prop.
"When you've got Owen Franks and All Black front rows, you get to understand what the physical and mental side of it us, and then, more importantly probably, the technical. He's been great.
"His back hasn't coped playing long minutes, he struggled and had a couple of weeks off after big matches because of the load, but now he's got through that. He has a young training age for a prop and he's a big man."
Jager is learning every day from the likes of Moody, Franks and Wyatt Crockett – all of them experienced All Blacks. Jason Ryan, an assistant to Robertson who will also step up to Super Rugby level in 2017, has been another important mentor.
"Hopefully next year I can get into a wider squad, ideally with the Crusaders. I would love to get a Super Rugby contract and go from there," says Jager of the future.
"I've been in interim contracts this year with the Crusaders, helping out at training and being in the environment, so next year it would be cool to be part of it. I'm taking it a year at a time. This year is Mitre 10, hopefully next year is Super Rugby."
And as for the suggestion that he might have a choice to make somewhere down the line, all going well, Jager says he still feels like an Irishman.
"I grew up in Ireland, I'm Irish, so it's an ambition to play for them. But you never know what happens in the future."
The42 is on Snapchat! Tap the button below on your phone to add!