OLIVE LOUGHNANE WILL be recognised as world champion in the 20km race walk — more than six years after she was denied her gold medal by a disgraced Russian athlete.
Loughnane was second to Olga Kaniskina at the 2009 World Championships, but is set for a golden upgrade after Kaniskina's competition results were annulled by the Court of Arbitration for Sport (CAS).
Kaniskina's case was one of six heard today by CAS, which also stripped London 2012 champion Sergey Kirdyapkin and paved the way for Rob Heffernan to be promoted to Olympic bronze.
"I've actually retired for about three years and I'm still winning medals so it's a really good day for me," Loughnane joked, speaking to The Ray D'Arcy Show on RTÉ Radio 1.
Loughnane produced a season's best time of 1:28:58 to chase home Kaniskina at the Berlin championships in 2009.
The Russian has been allowed to retain her gold medal from the 2008 Beijing Olympics with only her results from 15 August 2009 – 15 October 2012 struck from the record books.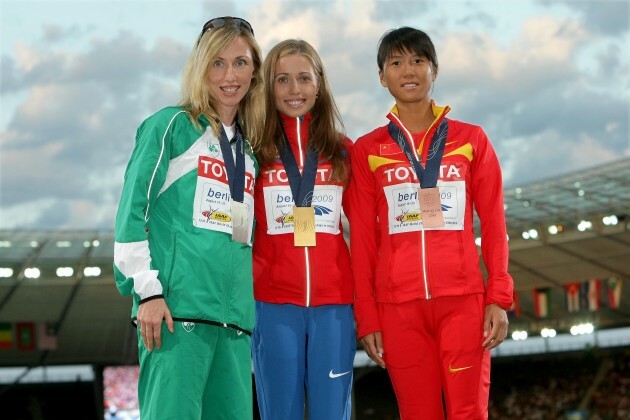 Morgan Treacy / INPHO Loughnane, left, with Kaniskina, centre, and Hong Liu of China who is set to be promoted to 2009 world silver. Morgan Treacy / INPHO / INPHO
"I raced really hard on the day and couldn't get another ounce out of myself, so I was so excited," Loughnane said.
"It's the icing on the cake now to be elevated from silver to gold.
There's really no point in me getting bitter about it. When I was competing, I never felt like I had any control over it.
"I'm back in the real world and I've had two children since then.
"In a way it makes me proud of the fact that I'm Irish and proud of the fact that I was never put in the position where I had to do something like she did, and if I did I would be hunted down."
The42 is on Snapchat! Tap the button below on your phone to add!