LIFE WILL NEVER quite be the same for Ollie Dingley post-Rio. A lifetime ambition fulfilled, an experience to last a lifetime — and he has the ink, on the inside of his right arm, to remind himself just in case he ever needs reminding.
Dingley became the first Irish diver to compete at the Olympics in 68 years last summer as he was catapulted into the nation's imagination with a dazzling performance on the boards.
He not only announced himself to the sporting public back home but showcased his prodigious talent to the world by qualifying for the final and then finishing in eighth position. Not bad for a diver who went into the Games without a world ranking.
It was a breakthrough moment for the 24-year-old and indeed the sport of diving in Ireland as the resources Swim Ireland had thrown behind his Olympic journey were justified in one thrilling August evening.
It seems like an age ago now, with Dingley's focus shifting to the World Series he's currently competing in — the final leg is being staged in Canada later this month — while the small matter of Tokyo 2020 is beginning to appear on the horizon.
These are certainly exciting, and heady, times for Dingley as he looks to build on the progress made in Rio and continue on an upward curve heading into this year's World and European Championships.
Representing Ireland and flying the flag alongside the best divers in the world isn't exactly a comedown from the Olympics, but there has been something of a return to relative obscurity and normality in the past eight months.
Dan Sheridan / INPHO Dingley finished eighth at the Rio Olympics. Dan Sheridan / INPHO / INPHO
It's not necessarily a bad thing as he's been able to settle back into a training routine, but now that the exhilarating highs and the whirlwind nature of the last 12 months have come and gone, Dingley has had more time to take stock.
"My main focus is diving, but sometimes it'd be nice to have a distraction," he said in Dublin yesterday.
The distraction he speaks of is a part-time job. Not for fun, not so much to fill time but a way of supplementing his income.
"I have to watch my pennies," he says, a reality many of Ireland's athletes face. "I'm saving up for a car and it's a bit of a nightmare."
When Dingley, who was born in England but qualifies to represent Ireland through his grandmother, first moved to Dublin two years ago, he was put up in accommodation by Swim Ireland on the National Sports Campus in Abbotstown.
It was the perfect fit as his life revolved around qualifying for Rio and then preparing for his first Games. He had all the facilities and resources he needed during those crucial build-up months on his doorstep. Literally.
While the living situation continues to be convenient, the prospect of staying there — pretty much in isolation — for the next Olympic cycle doesn't exactly fill Dingley with excitement.
Last week he was given a 'World Class' athlete's grant of €20,000 for 2017 by Sport Ireland but the funding model means he may not receive anything in 12 months. There's no real financial stability in this business.
"It's brilliant to get the grant," he continues. "It shows Sport Ireland's intention and that they're backing diving now but it is reviewed on a yearly basis, so I might not get any money next year for all I know.
Dan Sheridan / INPHO Dingley is now looking for another outlet outside of diving. Dan Sheridan / INPHO / INPHO
"I want to move off the campus at some point. At 24 years old, I'd like to live a little closer to the city centre but to do that means getting a second job."
Up until now, Dingley hasn't thought about anything other than diving. He put his education and life on hold nearly a decade ago in a bid to qualify for London 2012 and when he was frozen out by Team GB, he chased his dreams with Ireland.
To be a world-class athlete requires full-time commitment, but Dingley wants something else; another outlet.
"It would be tricky juggling the two but I want to make the most of what I have while I'm young. I feel quite isolated on the campus sometimes and not having a car means I spend a lot of money on taxis or time spent on buses if I want to go out."
With three years until the next Games, Dingley feels it's a good time to reassess, sit down and make these lifestyle changes with his diving remaining firmly as the primary focus.
There are a number of avenues of work he could look to pursue, including public speaking, coaching or working in graphic design.
Exclusive Six
Nations Analysis
Get Murray Kinsella's exclusive analysis of Ireland's Six Nations campaign this spring
Become a Member
"The reason I'm in this position in the first place is my diving. That's the main goal at the moment but there are other fields I wouldn't mind going into. I'm quite interested in graphic design.
"Coaching is a possibility but the problem with that is when those kids are diving, that's my diving time as well. We only have a certain allocation of pool space, so if I did that I'd have to sacrifice a bit of my own diving time.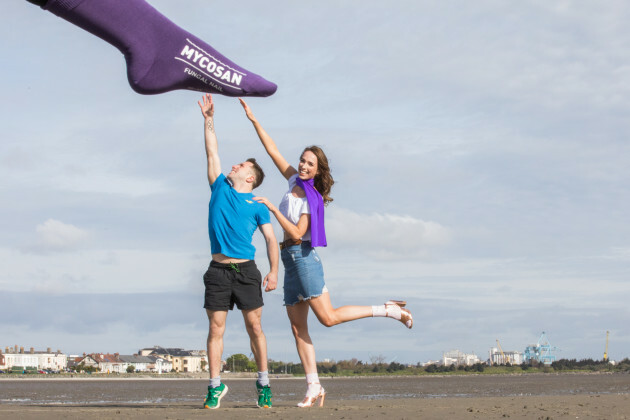 Naoise Culhane Dingley was speaking yesterday at the launch of Mycosan Fungal Nail's 'Get Your Socks Off' campaign. Naoise Culhane
"I'd like to explore those avenues and I'd have to sit down with the coaching staff and see where we can be flexible. We'd have to see if it's a possibility in the first place but diving isn't going to be there forever.
"It might be a positive thing taking a step back [from diving] and focusing on something else for a while."
Both in and out of the pool, Dingley is looking to take calculated risks. The year after Olympic competition is often seen as the most opportune time to experiment and fine-tune new dives and routines. Expectations have shifted, too, and he wants to up the ante again.
Then, there is the financial aspect of it all. The funding model means performances on the world stage are the only barometer of success, with any slip in standards resulting in a grant cut. It's all a balancing act.
"After Rio is a time to experiment and try harder dives," he explains.
"It's a sport that's over so fast. It's gone like that. If I'm slightly over my dive and I'm not in the final, that's me on to the first level of funding. That's a huge decrease from what I'm at now. If I finish 19th at the World Championships and 13th at the Europeans, which is not bad at all, I'd be on no money at all from a carding point of view. That's the criteria.
"It's a huge risk but that might be a conversation for me to have with Swim Ireland. Is there any room to move here? This is a huge experimental year. I know what I'm capable of but can I make that next experimental step. They know they can get a return from it. If there's a will there's a way.
"I have to go into competition thinking it is going to plan and I'll pick up the pieces once the competition is over regardless of the result. It's a risky game but that's diving."
The42 is on Instagram! Tap the button below on your phone to follow us!