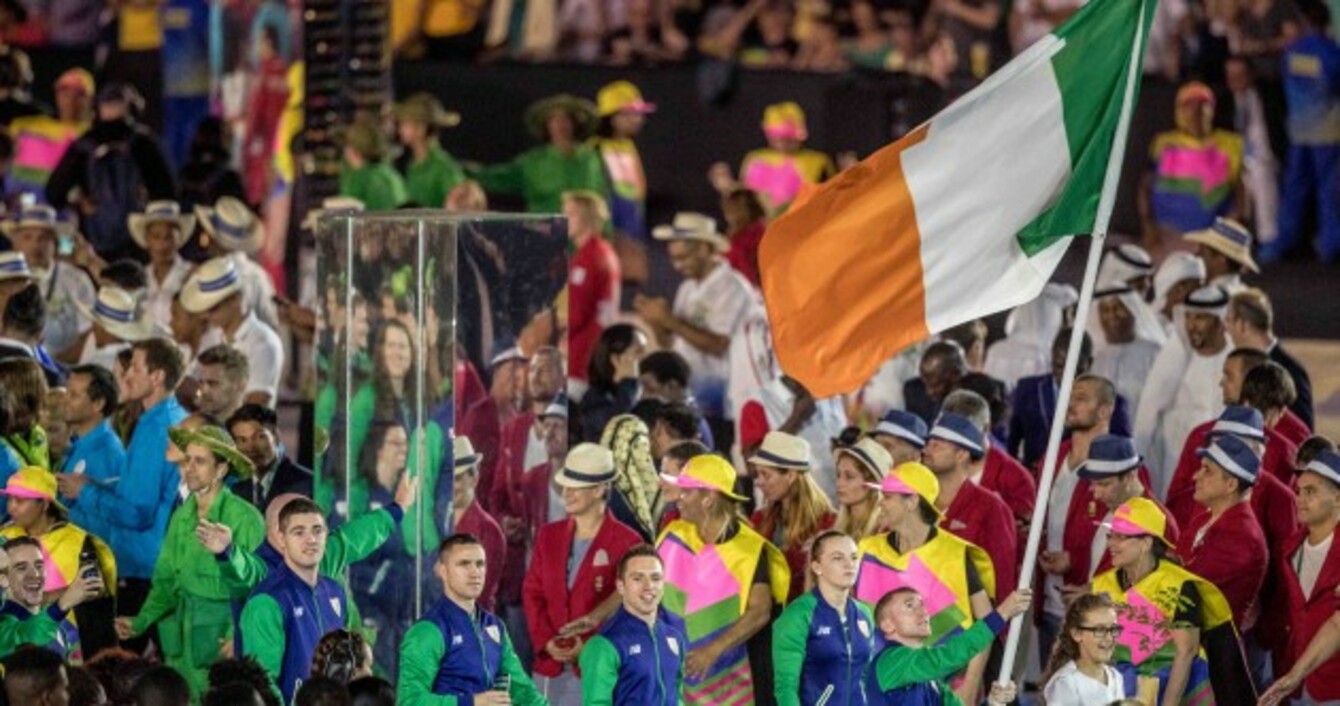 Dingley walking out behind Paddy Barnes at the Rio Opening Ceremony.
Image: Morgan Treacy/INPHO
Dingley walking out behind Paddy Barnes at the Rio Opening Ceremony.
Image: Morgan Treacy/INPHO
IRELAND'S FIRST OLYMPIC diver in 68 years, Ollie Dingley, says he would never consider moving back to England to represent Great Britain even if they were able to offer him more financial support.
Dingley exceeded all expectations at last summer's Games in Rio as he conjured a brilliant performance to finish eighth in the 3m springboard final, just two years after switching allegiances to Ireland through his Cork-born grandmother.
The 24-year-old, who represented Great Britain at the 2014 Commonwealth Games and won bronze in Glasgow, was then frozen out by Team GB and decided to chase his Olympic dream with Ireland.
Dingley truly announced himself on the global stage in Rio and his performance there has earned him a place on the World Series, a competition reserved for the top divers in the world.
His stock has risen considerably, and last week he received a 'World Class' grant from Sport Ireland, but Dingley rejected the idea that he would ever move back to England now that he has proved those who doubted him wrong.
"No, never. I'll never, ever go back," he said. "I get on with everyone. They all cheer for me. They're all friends, I cheer for them but I consider myself an Irish athlete. I'm very lucky to be an Irish athlete. I'm very lucky to have gone to Rio and I was very proud and humbled to wave that flag on the world stage.
"I enjoy representing Ireland, I'm very proud to do it. I was always proud to represent GB but more so Ireland because the sense of achievement has been surreal and I've been very, very humbled.
"Coming back from Rio the support from the public was amazing and the programme itself has taken off.
"To be a part of that process and that journey has been absolutely amazing and it is an up and coming sport and through that we are getting some very good divers coming through, some good kids who most likely will be at the Olympics one day and we won't have to wait another 68 years for an Irish diver at the Games."
There must have been some point during the Olympic final when the Team GB coaches and officials watched on and wondered whether they'd made a big mistake in forcing Dingley out of the system.
Their loss was Ireland's gain, however.
"Who knows? I've never asked them," he replied when asked if he thought they regretted the decision now.
"But it's great, I mean, going to the World Series which is top eight divers in the world. And knowing that I'm top eight in the world as an Irish diver is very satisfying knowing I have the potential. It's just as nice to beat British divers as it is any other nation. I'm very proud to show any other nation how it's done.
"I was lucky enough to walk out at the Maracana behind Paddy Barnes and the flag [for the opening ceremony], that brought a tear to my eye. It was absolutely amazing, I loved every single second of it. It was so emotional and I never had those moments in the British set-up.
"When I moved over I was never going to do things by half, I was always going to throw myself fully into it and give it a good shot and we got a good result in Rio and we, Ireland, can get an even better result in Tokyo."
The42 is on Instagram! Tap the button below on your phone to follow us!