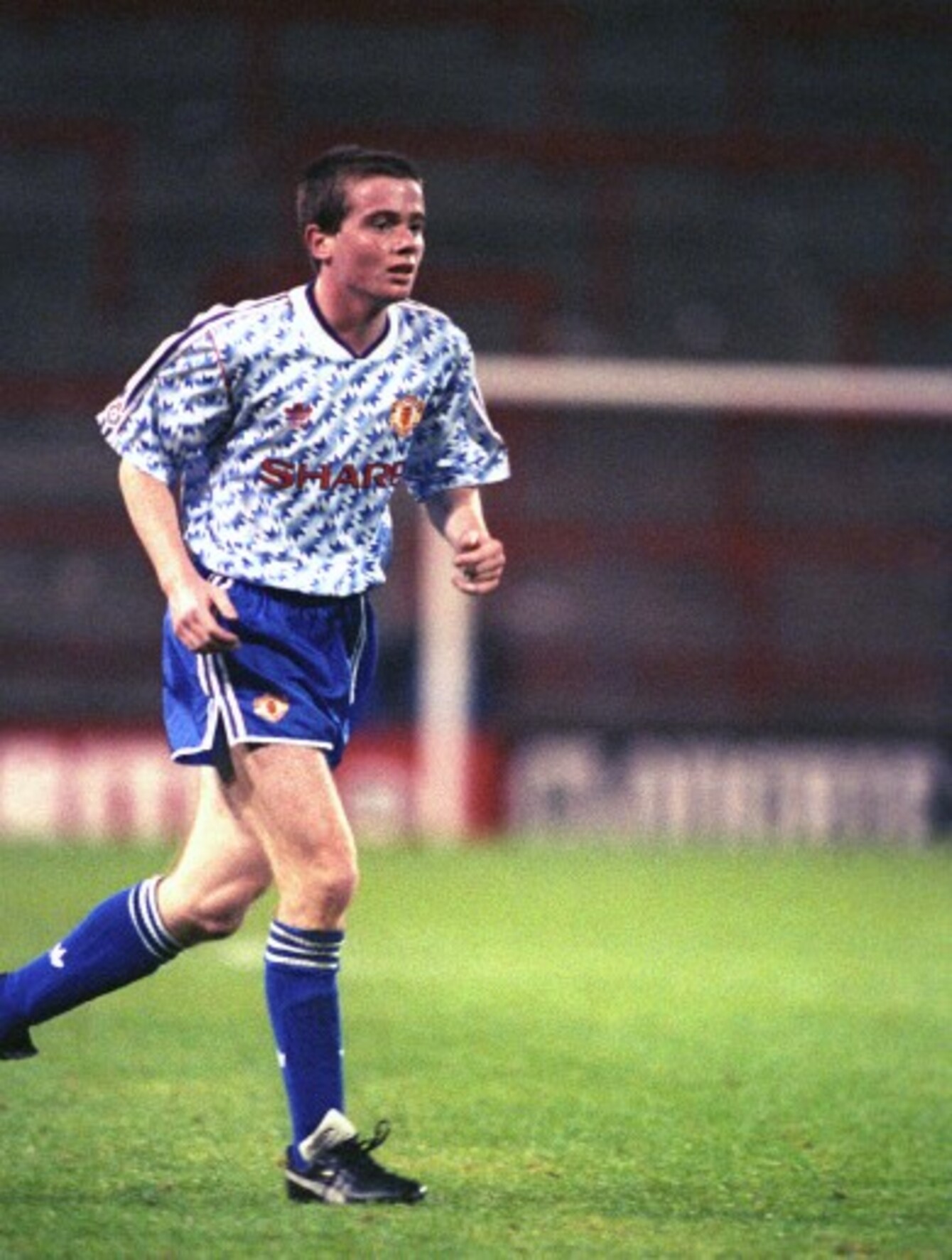 Adrian Doherty was expected to be a star of the future.
Image: EMPICS Sport
Adrian Doherty was expected to be a star of the future.
Image: EMPICS Sport
EXTREMELY TALENTED YOUNG footballers whose dreams of making it as professionals are ultimately shattered certainly aren't rare, but Adrian Doherty definitely was one of a kind.
Hailed as 'football's lost genius' and 'like Bob Dylan in a number 7 shirt' by various teammates and friends, Adrian Doherty was nothing short of a footballing prodigy.
Growing up in Strabane, Tyrone, Doherty's talent for football was clear, and it was no surprise when he was recruited by Manchester United as a 14-year-old, amid interest also from Arsenal and Nottingham Forest.
Doherty made a big impression in Manchester United's underage sides and was on the verge of a first-team breakthrough at 17, before a cruciate ligament injury ruined his hopes of becoming a football star.
Shortly thereafter, following a brief, ill-fated spell at Derry City, Doherty retired from the game aged just 20.
From that point on, the one-time footballing whizz-kid passionately pursued his interests in music and poetry, regularly performing in various bars at night, while simultaneously working a series of odd jobs during the day.
The former starlet continued to live this lifestyle quite happily before he died in tragic circumstances aged 26. Just a week after moving to The Hague in southern Holland to work for a furniture company, Doherty slipped and fell into a canal one morning on his way to work in what has since been deemed a freak accident. He passed away on 9 June, just a day before his 27th birthday, though most people in the footballing world had long since forgotten the player who was inevitably once dubbed "the next George Best" by some.
Yet all those who got the chance to see him play say Doherty was a rare talent. Gary Neville calls him "out of this world". Alex Ferguson describes him as "the quiet boy with the most amazing football skill, but who seemed to be happiest with his books, poems and guitars". Ryan Giggs, his similarly talented teammate in United's youth sides, suggests Doherty was the better of the two players during this period.
Oliver Kay, Chief Football Correspondent of The Times, has written Forever Young: The Story of Adrian Doherty, Football's Lost Genius. The42 recently spoke to Kay about Doherty's life and legacy…
What was the inspiration behind writing the book?
I stumbled upon the story. I was writing a piece on Ryan Giggs and it was coming up to the 20th anniversary of his debut. I'd decided to do a piece on the making of Ryan Giggs on the last 20 years, including ex-youth team teammates and people who had coached him as a kid.
One of the youth team players I was speaking to asked me if I was familiar with the name of Adrian Doherty or 'Doc' as he was known. I was vaguely familiar with the name but I knew nothing of what had happened. When I came off the phone and Googled him, I found only the barest of details.
The fact that Adrian had been considered Giggs' equal and had suffered an injury at the worst possible time and had drifted out of football and had tragically died at the age of 26… I just thought: 'Wow, how on earth do I not know that?' The more inquiries I made, the more it captivated me because as well as having this extraordinary talent (where he was) rated as highly as Giggs as a 16 or 17-year-old player, he was an extraordinary person in many ways.
What surprised you in particular about Doherty over the course of your research?
Source: Glenn Neeson/YouTube
(Adrian Doherty performing All Along the Watchtower as a youngster)
As well as being an extremely talented footballer, an equal love was music and poetry. He would go back to digs and play the guitar that he bought with his first wage packet and he would sit with his guitar strumming away, writing songs and writing poems. His family gave him this great treasure trove of songs and stories and poems that he'd written, and it proved remarkable really.
They told me the first time I'd met them about how different he was from the typical footballer. He wasn't concerned with his image, didn't spend much money on clothes, went to second-hand shops. He cycled in on a rusty old bike and he would also go to Old Trafford on a Saturday after playing for the A team or reserve team that morning. The youth team players would have extra tickets, but he would give his away outside the ground more often than not and go busking in the city centre. It was his kind of thing.
Alex Ferguson would worry about where his players would go to at night, he kept them on a very short leash. He would have spies at the various pubs to watch where people were going and Adrian Doherty (went to) dingy smoke-filled rooms at the back of pubs and played acoustic nights in front of 20 or 30 people, none of whom knew he was this kid on the verge of the United first team. It's not a typical story, and it wasn't typical once he moved out of football either.
People's common response when they hear the words 'footballers' and 'poetry' mixed together is to roll their eyes. But would it be fair to say Adrian Doherty was actually quite talented in both these disciplines?
Source: hassefilmare/YouTube
(Paleface a cult New York-based 'anti-folk' musician, who took a young Beck under his wing in the early 1990s, was impressed by Doherty's musical ability)
I think when you hear about footballers and poetry you think of that John Toshack thing, which is called 'Gosh it's Tosh.' I don't know whether that (title is) unwitting or extremely self-deprecating. John was someone who would rhyme 'just come back from Barcelona' with 'going with for a sauna' or something like that.
With Adrian Doherty, there were two types of poem. One would be very silly plays on words and nonsensical stuff. The other would be very high-end stuff about… It's probably beyond me to define it, but poems like 'The Lost Soul' and 'Desolation,' which sounds quite dark, but also ones about love. I showed them to a guy who writes poems and he said it was seriously good.
And I spoke to people who came across him only through his poetry and only through his music and they had no idea what he was like as a footballer. But some of the stuff he wrote had an element of genius to it — his wordplay, his themes etc were very clever and he went to New York in the summer of 1992 effectively to try to get signed up for a record deal when he was still a footballer. It had gone a bit pear-shaped by then with his injury and he thought maybe somebody will take an interest.
I spoke to these guys and a guy called Paleface who's a fairly obscure but successful artist over there. He said he was really good, his stuff was different and it really sticks in the mind. And this is a guy who says he barely remembers any of the 1990s.
But Adrian Doherty was someone who he spent a few weeks with in the summer of 1992 playing in East Village in these open-mic nights with, and he says Adrian Doherty was seriously impressive. Whether that exceeded his talent with a football I don't know, because everyone I spoke to (about him as a footballer) was just in awe of his talent, his quality and his vast potential.
If Adrian Doherty hadn't had that catastrophic injury, would he have had the temperament to enjoy long-term success in football?
Source: MrFootballManiac/YouTube
(Doherty was part of an extremely talented crop of youngsters coming through at Old Trafford in the early 1990s)
I never saw him play so I can only go on the words of others, but everybody had a view at the time, never mind misty-eyed hindsight or nostalgia, when they were both 16 or 17, everybody's view was Giggs on the left, Doherty on the right (had similar ability). I spoke to Gary Neville, who went to watch them for the first time and went to a Youth Cup game at Old Trafford and was trying to run his eye over what sort of level they were at. He said the two of them just took the breath away.
The names just rolled off everybody's tongue at the time. Nobody was talking about David Beckham, nobody was talking about Paul Scholes, nobody was talking about the Nevilles or Nicky Butt, everyone was talking about Adrian Doherty and Ryan Wilson (now Ryan Giggs). It was thought that they would make it into the first team.
So to answer the question, there was no doubt that he was going to break into United's first team when he got injured at 17. He wasn't going to have to wait until he was 20 like Paul Scholes or David Beckham did, he was going to be in United's first team sooner rather than later.
There was an injury crisis at the time in February 1991 when he got injured. There was a build up of fixtures at the time with the Littlewoods Cup and the European Cup Winners' Cup. The word was that he was going to be in the first-team squad a week later. He'd travelled with the first team already, which Ryan Giggs hadn't at that stage. He was going to be in the first team.
And speaking to everybody, they say he would have made a real impact and taken to it like a duck to water, because he was good enough. He was dynamic, quick and courageous. He just had nerves of steel and it wouldn't have bothered him at all playing for United's first team. In fact, it might have given him even greater confidence.
So I've no doubt he would have made that short-to-medium-term impact. Whether that was six months, 12 months, two years, three years, five years, I've no doubt that he would have a really big impact on United's first team.
I guess I'm alluding to the point you made, which is would he have had the personality (to make it long term). I think opinion is divided among his ex-teammates and friends. Speaking particularly to his closest friends, the feeling is that he would have fallen out of love with it, because there were aspects of football that he wasn't that keen on.
Professional football was all a bit too serious for him. All the egos and image — that was about to go out of control in the early 90s with the Premier League. He had no interest in money or image or anything like that. He had an extreme interest in music and poetry, and artistic and intellectual pursuits. He enjoyed himself, whether it was playing football or going to bars or playing music or whatever.
If he had made that impact, which I suspect he would have done, I do believe there's a chance that sooner or later whether it was two years or eight years down the line, he would have just walked away like (Eric) Cantona did.
He was that type of character — football was never the be all and end all. It was becoming a job and he was very good at that job and he would have been successful, but it wouldn't necessarily have inspired him to want to be like Ryan Giggs. In five, six or seven years, he would have maybe been doing what he ended up doing, which was sitting in bars in Galway doing poetry nights and open-mic nights, which is what he enjoyed.
Adrian grew up in Strabane amid the backdrop of the Troubles. How much of an impact did this have on him and his family?
Source: keengive/YouTube
I spoke to a lot of his friends and family who grew up in Strabane at that time. There would be raids on houses, there would be army patrols coming through. There'd be bombs in the early '70s when Adrian would have been very young, there were major flashpoints in the Troubles in Strabane
It obviously wasn't quite like Derry was or Belfast was, but it was certainly affected by the Troubles and that was a big theme in the background when he was growing up, but I do mean in the background, because you don't think it's any different to anywhere else.
Judging by his brother and his sister and his friends, I don't think anybody was particularly affected by it, they're all very well-rounded people and they just got on with life, but it must have been a fascinating upbringing, and I found that fascinating to research and write about. Because (despite) all these things in the background, he'd be skidding round on a rally bike, or playing his 15-a-side matches in Strabane — and so it was just a happy, normal childhood in what was effectively a war zone at times.
Would it be fair to say if Adrian Doherty had come along in this era, the cruciate injury he picked up would have been dealt with a lot better and his career in top-level football could easily have been saved?
I don't think there's anything controversial in suggesting that anybody suffering a cruciate injury now would have a much better chance of a full recovery. That wasn't the case 25 years ago.
It would be diagnosed more quickly, it would be operated on more quickly than it is now and the rehab would have an expertise, which didn't exist back then. You can find players that have made unblemished comebacks from cruciate injuries. Roy Keane made an extremely good comeback, but the players who rely on speed and explosive acceleration are often the hardest hit by that type of injury and he was that type of player.
At that time when there wasn't the expertise to get to the bottom of it quickly and successfully, it just meant that from the moment he was back on the pitch nine months later, people were saying: 'Well, you might have to moderate your game now, you're not going to get it back.'
For the Manchester United B team, he broke down again in a big way. And I think from that point on, everybody knew 'you're not going to make it'. He spent 10 months doing his strengthening exercises and it just hadn't worked. He was set for this operation basically in the knowledge that it probably wasn't going to save his career.
If he was going to be a footballer after that, he wasn't going to be anything like the player he had hoped to be and expected to be. And at the same time, Keith Gillespie had emerged as another Northern Irish right winger. David Beckham was being recast as a right-sided midfielder, and even by that stage, he could see the writing on the wall.
Everything seemed to have gone wrong. I looked at an interview he did in the summer of 1993 with the News of the World having left United and he just said, 'I got frustrated, I fell out of love with it,' and I think once he realised he was not going to make it at Manchester United, I don't think he had any great ambition to make it at a lower-division club.
He didn't want to be a second-rate player, and around that time is when the poetry and writing and reading vast amounts really took hold of him.
Gary Neville was telling me in his career, he had a stage where he was out for 18 months or something. He was embarrassed to speak to anybody, he was totally grumpy and miserable. He said: 'That's what I was going through as a 31-year-old captain of Manchester United, married, with my family. Imagine what it would be like for an 18 or 19-year-old kid who has had the world at his feet and was away from his home.'
What are they
really like?
Rare insights on sport's biggest names from the writers who know them best. Listen to Behind the Lines podcast.
Become a Member
It wasn't Gary Neville's view, but he was probably slightly the odd one out in the dressing room. Gary Neville was making the point that it must have been devastating for him and Neville said: 'I don't know how he coped with it.'
How he coped with it was going out with his music and playing guitar more in pubs and a trip to New York at the end of the season. That was how he stopped himself feeling worthless and that's how he ensured he still had a sense of self-worth. By that spring of '93 when he was moved on by United, it was probably a relief to leave, because he hadn't enjoyed the last two years. Football had been a sort of dark bit of his life. The work was no fun, but he was able to enjoy himself with his music.
It's strange how many players I spoke to that said similar things that it wasn't all it was cracked up to be. It's brilliant when you make it, but when you're injured in that environment, being a Manchester United player or being a professional footballer is not much fun at all.
He left United in May of 1993 just as they'd won the championship for the first time in 26 years. He skipped out the back door and nobody really knew he'd gone.
Could you tell us a little bit about his brief spell in the League of Ireland with Derry?
Having decided he had no interest in football, he'd then been persuaded to go back to Strabane and play with Derry City in the League of Ireland. He had this brief period in the summer of '93 where he felt 'this could work for me'.
He played the first game of the season against Cobh Ramblers and everybody thought 'you might not have made it there, but you could be the best player in the League of Ireland. You could be a sensation over here.' He was playing with Liam Coyle and Peter Hutton, and Roy Coyle was the manager at the time. He was really saying 'you could be a really big fish in a much smaller pond over here'.
The knee meant that he was never going to get his speed back. He probably wasn't ever going to get his confidence or enthusiasm back. And four or five games in, he was at Oriel Park. He just turned to his teammates and said 'I've had enough. I just want to play my guitar and have some fun'.
And that's the sort of character he was. He was impulsive. It wasn't something that was going to bring him any satisfaction or fun. He wanted to play to play football and do everything for fun. And he didn't want the hassle of sitting on buses going on bumpy roads on eight-hour journeys the length of Ireland at the time just for the vague thrill of playing for Derry City, and he just decided to walk away.
He was somebody who had had the world at his feet three years earlier at 20. He was happy to leave it all behind because it hadn't brought him much joy. In Preston and Galway where he lived (at various points), it was just working here to pay the bills, working in a hotel and doing sort of odd jobs trying to pay his rent. But he'd spend his evenings at these open-mic nights in Galway, and that's what he loved doing.
A player who was expected to accompany Ryan Giggs into the Man United first-team just a few years earlier was sitting in these bars reading his poetry. If Manchester United happened to be playing a Champions League match, he didn't take any notice of it.
I don't think it would have bothered him, because he had no bitterness. I've read interviews and things he wrote at the time. He didn't have a shred of bitterness in any of it. It just seemed like he was a remarkable individual, a remarkable character.
And finally, what's Adrian Doherty's legacy?
I think if you look when I first came across him in 2011, there was almost nothing (about him). It was if he'd never existed. I spoke to people at Manchester United and I spoke to Ryan Giggs. I said: 'Do you mind me asking why (he descended into obscurity)?' He said: 'Maybe it's awkwardness.' You don't know what happened and the full story, and I don't think it was something Manchester United were comfortable talking about.
They did something in 2006 at the family's request, but generally speaking, it wasn't a story that Manchester United were comfortable telling. (That was) one reason for wanting to tell this story when I'd learned a bit more about him and the kind of character he was.
His legacy was, if anything, a tragic legacy at that point. I had one reason for wanting to tell this story and the fact that he wasn't one to wallow in self-pity, and sit there saying 'I could have been a footballer'. People didn't even know he'd been a footballer and they knew him well in Galway. He just didn't bring it up, not out of bitterness or because he had difficulty with it, but because he'd moved on.
The way he handled his twin interests on the way up at Manchester United and on the way down at Manchester United and in life after Manchester United, I find that quite inspirational.
In the hardened world of professional football, people say 'he doesn't want it enough, he's not interested, he's given up, he doesn't want to get back from injury.' And I've always taken the view that 'that's disgraceful' and 'he should be desperately fighting to get back from that injury'.
But I just thought, you know what, I've got so much admiration for a character like (Adrian). In conclusion, in looking back at his character and what he experienced over 26 years, it is quite uplifting in many ways.
I hope people aren't put off by the idea of it being a sad book, a misery memoir. In many ways, it's an uplifting book about a unique individual who had all the talent and didn't perhaps feel like he belonged, but still would have made it, but didn't make it and just moved on in his own unique way.
In different ways, we all feel like outsiders in different parts of our lives and I've never come across a story of someone making life as an outsider sound so cool, because everyone was always saying he could be the next George Best, but he was more interested in being the next Bob Dylan.
Forever Young: The Story of Adrian Doherty is published by Quercus. More info here.
The42 is on Snapchat! Tap the button below on your phone to add!