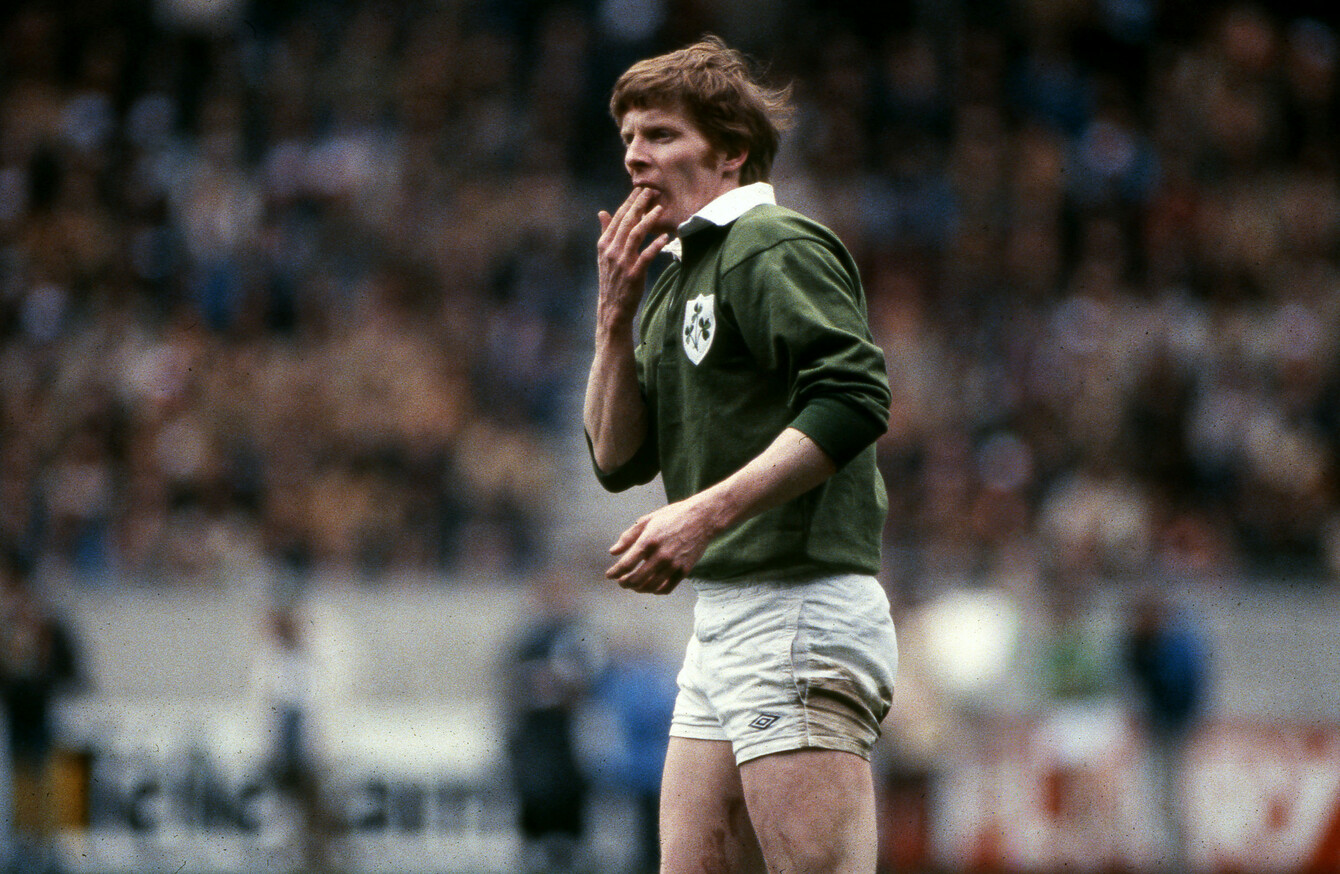 Image: Billy Stickland/INPHO
Image: Billy Stickland/INPHO
"IT'S FUNNY, BECAUSE the man who delivered us the bad news on Wednesday night, World Rugby's chairman, Bill Beaumont, is a former England captain.
"I remember when we played them in Twickenham in 1980, and before the anthems Bill leaned across to Moss Keane and said: 'Moss, may the best team win.'
"And Moss Keane, in that Kerry accent – which I won't even attempt – replied: 'Jaysus, Bill, I hope they don't!'
At 63, Ollie Campbell delivers his yarns with a vivacity that might convince those present he could still drop his shoulder, pivot off his famed right boot and leave them chasing shadows.
He's hurt by Ireland's failure to land the 2023 Rugby World Cup, mentioning on a couple of occasions that 'we'll just have to win it' in order to make amends, but the footballers' Danish debacle still rankles with him, too, and it becomes apparent over the course of the evening that he's a fervent sportsman and general Irish sports head more so than a rugby thoroughbred, though his ardour for the latter remains intense, innate, guttural.
The former Ireland out-half is regaling rugby fans in Eir Sport HQ at the premiere of Where's Your Pride, a new film which documents Ireland's Triple Crowns in both 1982 and '85, the former in which he starred.
He's blown away by the finished product, which airs on the network on Monday; the never-before-seen footage, the humour, the sociopolitical backdrop which Campbell maintains adds crucial context, the words – or more specifically those of his team-mates, a couple of whom in Moss Keane and Willie Duggan are no longer with us.
And having provided a plethora of anecdotes to a small, enraptured crowd on either side of this debut broadcast, he sits down with The42 at evening's end to tell yet more.
It's a spoken prequel of sorts, for his legendary career had been kickstarted three years prior to the day he kicked all 21 of Ireland's points against Scotland, in doing so securing the country's first Triple Crown in 33 years. It was his unleashing on the 1979 tour Down Under which saw him inadvertently knock the Pope off his perch on the front page of the Irish Press.
Above 'John Paul II to visit Ireland in September' soared a lead story which broke hearts, melted heads, and birthed an Irish sporting icon: 'WARD OUT, CAMPBELL IN.'
"Tony Ward and I played against each other in the first round of the cup in 1972: Belvo against St. Mary's in Donnybrook – the Mecca of [Leinster] schools rugby," Campbell recalls with a chuckle. "Little did we know… Little did we know.
"Our school, Belvo, won 10-8 and went on to win the cup, but little did we know that day what was ahead of us. We were just two young kids, schoolboys, stood opposite each other. I don't think we'd played against each other before that; Tony was a year behind me in school.
"But seven years on, then – oh my God. It's scary."
It was a summer tour to Australia which saw Ireland sweep the hosts in a two-Test series, winning five of their six warm-up games en route.
It was a summer tour to Australia which saw tight-head prop Ned Byrne have his leg shattered in three places during a late-night hit-and-run ("Look, to be honest, to this day, I still don't know what happened. And I don't think I ever will, because unfortunately the only man that I think knows exactly what went on is no longer with us – Willie Duggan. I was always meaning to ask Willie," chimes Campbell).
It was a summer tour to Australia which saw Tony Ward – reigning European Player of the Year for a second consecutive season – unceremoniously usurped by Ollie Campbell in Ireland's 10 jersey.
It's a decision which haunts Ward to this day. It's a decision known in Irish rugby terms as The Decision, such was its magnitude.
"Interestingly about that tour – and we didn't know it at the time but only found out years and years later – that Irish team was the first individual northern hemisphere country to win a Test series in the southern hemisphere," says Campbell with a nod and a raised brow.
"We honestly didn't realise it for years. I think it was at a 20th anniversary little get-together that we had and some journalist brought it out. That was quite some tour. Historic, I suppose.
"There were three selectors: Noel Murphy, Jack Coffey who was the manager – a Lansdowne man, no longer with us – and 'Slatts', Fergus Slattery.
"Big decision. I mean, big decision. Wardy: European player of the year two years in a row.
He'd only been named Man of the Match in in three of Ireland's four Five Nations Tests mere months prior.
"Had he?" Campbell asks. "Had he? Wow. Wow!
And so, 'this guy called…Campbell? He's gotten one cap before, hasn't been seen nor heard of since, and he's selected over Wardy?' I mean, this was an extraordinary decision.
"We beat Queensland on the Tuesday beforehand, 18-15. On the Wednesday, we go by bus to Surfer's Paradise, and we tog out in St Joseph's School. And we're in the dressing room, and Jack Coffey is about to read out the team.
And Wardy comes over to me, and he says: 'Congratulations, Ollie. You're in.' Right?
"So, there had been some speculation beforehand that I might be played in the centre; this had been a discussion in the press at the time: 'maybe this could be tried, with Campbell in the centre.' So in my head, I'm in in the centre. It never crossed my mind that I'd be starting at 10.
"Jack Coffey starts naming the team, and as most people have experienced while waiting for a team to be announced, all you're waiting for is just to hear your name.
"Jack starts with the fullback and moves down along.
And I hear my name. 'Woah, wow, I'm in' – it still doesn't strike me that I'm in instead of Tony. We go out for our training, we warm up together, and then we split into backs and forwards. And Tony's not with the backs. And it's only then, in the middle of training, that I realise… 'Woooooahhh… What is going on?' I was starting over Tony Ward.
"So, woah, wow, was that a big moment. It was, I don't know, probably even bigger than my first cap."
Campbell's first cap had been his last to that juncture, and had arrived versus the same opposition, Australia, three years earlier in 1976.
It was a debut so catastrophic that he had long presumed he'd never get another shot should Ward remain fit; substitutions were then permitted only in cases of injury, and the imperious Ward had remained a mainstay in the intervening years.
"The only team I was ever dropped from", Campbell says, "and this is going back to under-nines in Belvo all the way up to my retirement 21 years later – the only team I was ever dropped from was the Ireland team after my first cap.
"I was 21 years of age.
As I say to this day, I had 100% success with my place-kicking: four shots at goal, four misses. And I was dropped.
"My second cap was three-and-a-half years later in Ballymore, Brisbane against Australia.
"We were coming in off the back of beating Queensland (Campbell kicked all 18 points) who were probably the best club team in the world at that time. That was my Test, as far as I was concerned. I was happy, I had done it.
I suppose it would be fair to say – and I don't think I've ever thought this, and I've never said it to anybody before – I was probably a little bit haunted by my first cap up to that point.
"But suddenly, Queensland, the hooter goes, and I kick the winning penalty – after the hooter. On the 22, about 15 yards in from the right-hand touchline. Very kickable, but very missable. So that was my tour. I was happy. 'Okay, my tour is now done, and I've done all right.'
"Next day… 'You're in the Test team.' And I'm thinking: 'what? Starting over the two-year European player of the year?' You're just going, 'woah, woah, woah, woah, woah.'"
There was no more discussion with Ward nor anyone else.
Following a painstaking three-year wait, Campbell had been afforded a second chance of sorts versus the world's most potent opposition, and he made a conscious decision to prepare accordingly.
No hangovers. No hang-ups. No hit-and-runs.
"It was a Sunday, the match, and I just went into the zone as soon as I was named on the Wednesday," he recalls.
"I didn't go out. I trained and then went to my bedroom, rinse, repeat, and that was it. And I wrote myself copious notes – things to do, things not to do – because, I mean, this was a big, big, big, big moment.
I didn't get into any discussions with anybody. It was an incredibly difficult time for Tony. I think he's haunted by it probably to this day, and he's quite open about that. That really hit his confidence.
"This had really come out of the blue. As I say, front-page news, the Pope, and all that sort of thing.
"That Australian team had beaten Wales in both Tests the previous summer, and that same Australia team had beaten the All Blacks the previous time, in Eden Park. Incidentally, Greg Cornelsen scored four tries in that game."
Cornelsen, a number eight, never dotted down again for his country, but Campbell racked up major numbers as he steered Ireland to what was a monumental series victory, kicking 19 (one drop goal) of Ireland's points in a 27-12 victory at Ballymore, and all (two drop goals) of his side's tally as they scrapped to a 9-3 victory in Sydney a fortnight later.
The 60 points he amassed on tour – this despite Ward starting the earlier fixtures – was an Irish record, and Campbell, the bolt-from-the-blue superstar, would never so much as glance backwards.
Ward, however, would remain affected by The Decision, writing in his autobiography 'Twelve Feet Tall': "I remember now how I felt then as the bottom fell out of my world. I was nauseous. I continued to play at the highest level for the best part of a decade, but I was never the same confident player again."
He's since become dear friends with Campbell, remarking at a Legends dinner in 2000 while sharing a stage with his usurper: "how could you hate this man?"
Campbell was forced to make peace with a different issue: even having distinguished himself as the first-choice international out-half, his name would forever remain inextricably linked with that of his claimant.
"I suppose it's fair to say that, to this day, it's really hard to mention one name without the other," Campbell says with a wry smile. "We've both learned to live with that, for good and bad.
"And there are so many stories. Here's one: around that time, there was a coach in Bath called Tony Ward. What do you think his nickname was?"
I'm stumped.
"Ollie," replies Campbell, and he laughs harder than he's laughed at anything all night.
Some 15 to 20 seconds later, he continues:
Whenever I have met Noel Murphy in the nearly 40 years since that decision, he always says the same thing. He always says: 'if it hadn't worked, I would now be an Australian citizen.'
"And he's only half-joking!"
In time, he's learned to embrace one of the great Irish sporting rivalries. In retrospect, too, he reckons it was of significant benefit to the stature of the sport in Ireland, and for a straightforward if rarely discussed reason.
"I think probably at the time, Irish rugby wouldn't have been the sport that was on everybody's lips. But wow, after Australia '79, because of that decision, everybody suddenly had an opinion on rugby and the decision.
Looking back, it elevated the sport a little bit in that it provided a talking point, and there was probably no harm to that. Rugby at the time, unlike today, would have been quite elitist.
"Who would have thought then that rugby would have had the success it's had since, the exposure that it has now?
"I mean, back in those days, you might line out for Ireland on the Saturday and then it'd be back to play for your club on the Sunday, and back to work on Monday.
We weren't allowed to meet – officially – by the IRB, now called World Rugby, until 48 hours before kick-off. So we would go to the Shelbourne Hotel, we'd have our lunch, we'd go training – generally in Old Belvedere on the Anglesea Road – and if kick-off was scheduled for half-two on the Saturday, we couldn't have training before half-two on the Thursday per IRB rules.
"Right at the end of my career, most of the backline at the time was from Leinster, and we would sneakily – very carefully (he begins to whisper) – have a backline session on the Wednesday night. We wouldn't tell anyone.
"That's how amateur it was. That's how innocent it was. Things have moved on slightly since then."
Slightly. But for the better? Ollie Campbell believes so.
For all the doomsday discourse surrounding the sport in recent years, quelled somewhat over the past 18 months, granted, Campbell most certainly couldn't be accused of being particularly sentimental, and maintains past sporting eras can be irrationally idealised by both their participants and their enthusiasts.
"What you see in this documentary, '82, '85, and some extraordinary pieces of play and great scores – you must remember they're just highlights," he says.
"A couple of years ago, my friend was watching Ireland-Scotland from 1980 on RTÉ Gold. It was on at about one in the morning. And I woke to a text from him the next day where he told me he'd stayed up watching it in its entirety, waiting for something to happen. He was sure something was going to happen. Why else would it be on?
"Nothing happened. Absolutely nothing.
"And I remember nothing happened because I remember the game. It was a horrendous game of rugby.
I think it's like Match of the Day: it's just highlights, and people from my generation will recall these majestic goals and fantastic moments, but you're talking about every game from the top division at the time squeezed into one hour. Just the good bits. Naturally, then, you're going to idealise it.
"But the reality is that the only televised soccer at that stage was the FA Cup final. That was the only match you'd see from start to finish. All of the drab, boring games are soon forgotten – or not seen at all – when you're only getting highlights."
He shares many of the same concerns as the sport's naysayers, however, most notably when it comes to the issue of player welfare.
"I think rugby is a much better game now. I think it's a much easier game to watch. But I do think it's become, perhaps, over-the-top attritional, unbelievably physical, to such an extent that you'd worry a little bit about guys post-retirement.
I don't even mean with regards to concussion – that's a separate issue. But just, I suppose, you see guys from my generation in their 50s and 60s having trouble with hips and knees and so on. The most recent generation – pfff, wow. I think they'll be having problems earlier than that.
There's a scene in Where's Your Pride during which Ireland winger Moss Finn relives his dotting down of two tries versus Wales in '82; Finn was badly concussed while scoring both, recalls scoring neither, and at one point asked a team-mate what the score was only to be greeted with the response: 'don't be acting the bollocks' – one of his few recollections from Ireland's victory.
He mentions, too, how he was ordered to check into hospital rather than join his team-mates for their standard, boozy celebrations – a chilling reminder that even 35 years ago, there was at least a rough-hewn cognisance of head trauma and its dangers – albeit delivered through Finn's droll deadpan.
"And we were laughing at it!" Campbell says, as if shocked. "And we laughed back then. But again, it was just such an innocent time. Whoever thought that concussion might just become such an issue?
Moss had the strangest experience of his life after that game: he was in Vincent's hospital the day after, watching Rugby Special on the BBC. He saw himself score two tries and had absolutely no recollection of either score whatsoever.
"But even listening to Donnacha O'Callaghan recently, over in England, playing for Worcester", Campbell continues, "and the very first thing he was told to do when he went over two years ago was to put on more weight.
"He says that even the training sessions are now getting just so physical. Every club in England seems to have injury problems, and a lot of concussion problems. I think Donnacha would be physically quite prepared to go another couple of seasons, but he's just had enough. The players are just becoming bigger and bigger and bigger and bigger.
"My hope stems from the All Blacks. They realised this prior to the 2011 World Cup and they've won two World Cups since.
"But it seems to have gone almost unnoticed that they've been trimming down and concentrating more on the skills than on the brawn. It's gone over people's heads, but maybe not so much in Ireland, I have to say. We haven't really followed the Warrenball or English thing – I think we're a little bit more clever than that. We use our brains a little bit more than that.
"And I was very happy recently to see that Warren Gatland seems to be making a bit of a change."
But while Warrenball might be slimmed down and upgraded, Campbell remains concerned by the devolution of the French as well as English rugby's incessant need to go big or go home.
It's good for neither the players nor the game, he maintains, both putting rugby's athletes at greater risk and depriving the sport of one of its most famed novelties.
"The two strongest nations, in terms of physicality, are England and France, and that would be a worry – for them, I mean, and for the sport. Even watching some of the French club rugby. Oh, it's hard to watch.
We used to get a magazine called 'Miroir Du Rugby'. I don't even know if it still exists now, but the coach in school used to get it every month. We'd be looking through the photographs – none of us could do French – but just studying the way they held the ball. France at that time just equaled flair, panache and skill, and look at the road they've been on. You wouldn't recommend to a kid now: 'oh, you have to see the way France are playing.'
"And yet fascinatingly, in the Women's World Cup, Ireland played France, and the French women's team play the way the men used to play.
"When we went to France looking for a Grand Slam in 1982, that's what we came up against. So you'd like to think that France might go back to their roots.
"I don't know what's going to happen in England. I really don't. They seem to be on this route where it's just bigger, faster, stronger, but not necessarily the best skills.
The journey from our interview setting to the front door takes close to half an hour. There's more sport to be discussed, ranging from AIL to Donegal-born All Black icon Dave Gallaher to the Irish soccer team, and perhaps most surprisingly to the ring return this Saturday of Belfast boxer Carl Frampton, who has always struck Campbell as 'a very grounded, down-to-earth sort of guy'.
It's his predominant passion, though, which once more rises to the fore as he heads for his car: "And remember, if we can't host the thing, we'll just have to win it!"
The42 has just published its first book, Behind The Lines, a collection of some of the year's best sports stories. Pick up your copy in Eason's, or order it here today (€10):