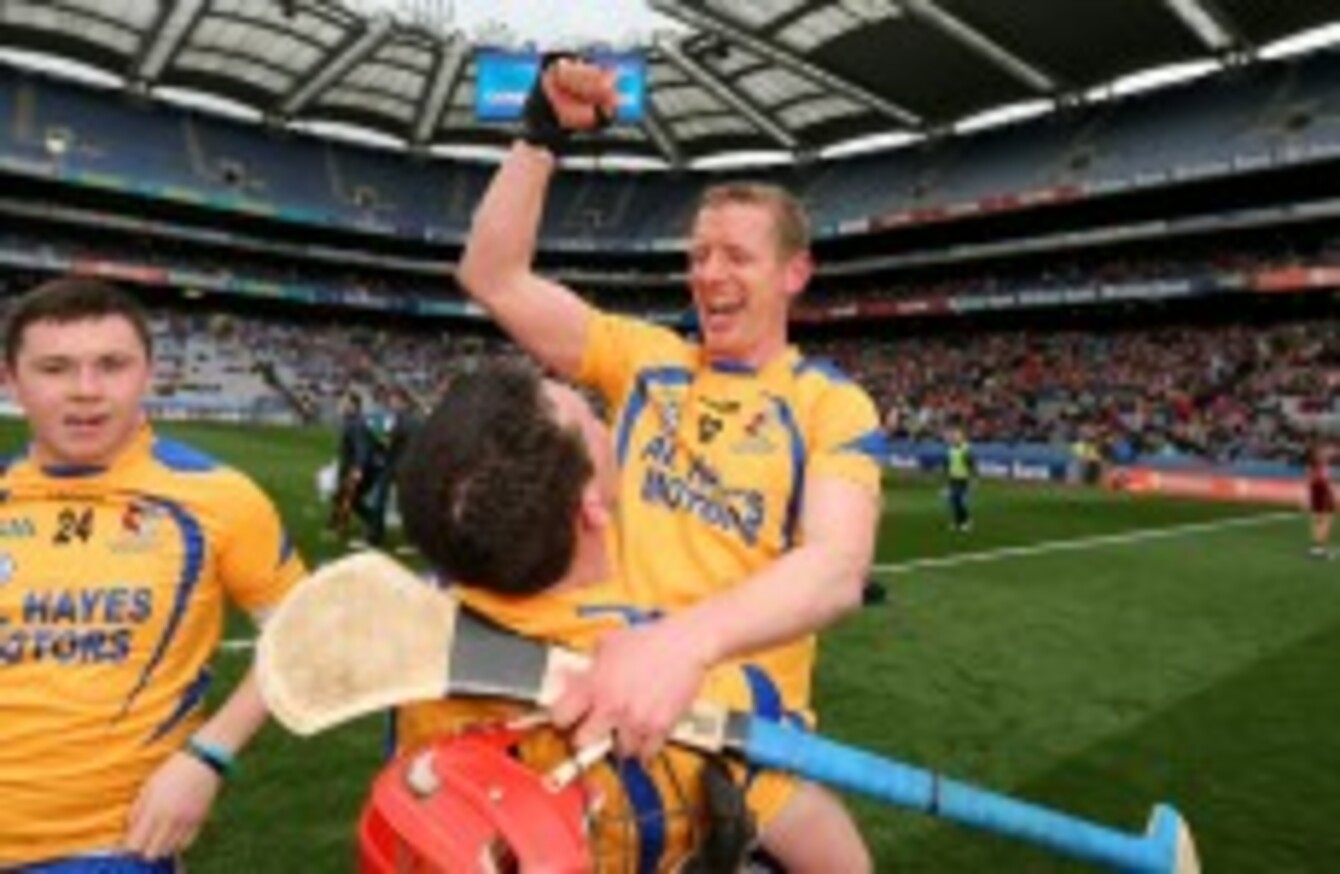 Ollie Canning celebrates Portumna's victory.
Image: Cathal Noonan/INPHO
Ollie Canning celebrates Portumna's victory.
Image: Cathal Noonan/INPHO
OLLIE CANNING SAYS he will 'probably be dragged kicking and injured out the door' but has no intentions to retire from hurling soon.
The 37-year-old led Portumna to their fourth All-Ireland senior hurling club championship success at Croke Park on St Patrick's Day but is not quite ready to leave at the top of his game.
Canning, who contributed three points in his side's triumph over Mount Leinster Rangers, joked he would try to keep up with his younger teammates as they celebrated success back in Galway.
He said, "I remember [Dublin footballer] Ciarán Whelan did an interview a few years ago and said every interview he did, they were asking him 'are you going to retire?' I'm finding that a bit.
"I still enjoy my hurling. I'm injury free, which is fantastic for my age. If I've got a a job to do and the management feel that I can do a job for the team, I love it. I've been at it all my life. My family… we're steeped in it, I suppose. It would be a very hard thing to walk away from." Canning added, "The answer is, I'll be back next with the club for sure."
The veteran said his side's focus was on their own game rather than what outsiders Mount Leinster would bring to the party. The age profile of the champions, he admitted, was on the wrong side of 30 so 'kicking on' may prove an issue in the coming years.
"Our goal at the start of the year," he said, "was to win the county Championship in Galway, which is a very difficult Championship to win. Once we won that, it was a great achievement for this team to come back and do that.
If you look at the age profile of the team, we are a team that's been around for maybe the last ten years with the exception of two or three players that have come on. So there is a lot of miles on the clock. But the management were very careful during the year. We didn't over-train. We stuck to our three times a week . I know lads were doing a bit on their own as well. The management worked it well. We never felt we were burned out. We were always fresh for the games."
Monday's victory was Portumna's fourth club title in eight years and Canning was reluctant to declare the latest win as the best. "It is special to come back, I suppose. I don't know if you can ever surpass winning your first one, back in 2006. That's was an unbelievable achievement for the club," he said.
"It is very special," added Canning. "Especially when you've been away for a few years, and maybe written off in some quarters. But that's the way it goes. It's not unusual. For a team to contest three All-Ireland club finals and then not get out of their own club championship for the following three years, it is a bit of a decline.
"It's not unusual for people to say that the best years are behind this team. But that in itself is a certain amount of motivation for the players. So for us to win the county Championship and then to contest the All-Ireland this year, it's fairytale stuff for the club, which wasn't on the hurling scene until 2006 really."
– Additional reporting by Fintan O'Toole