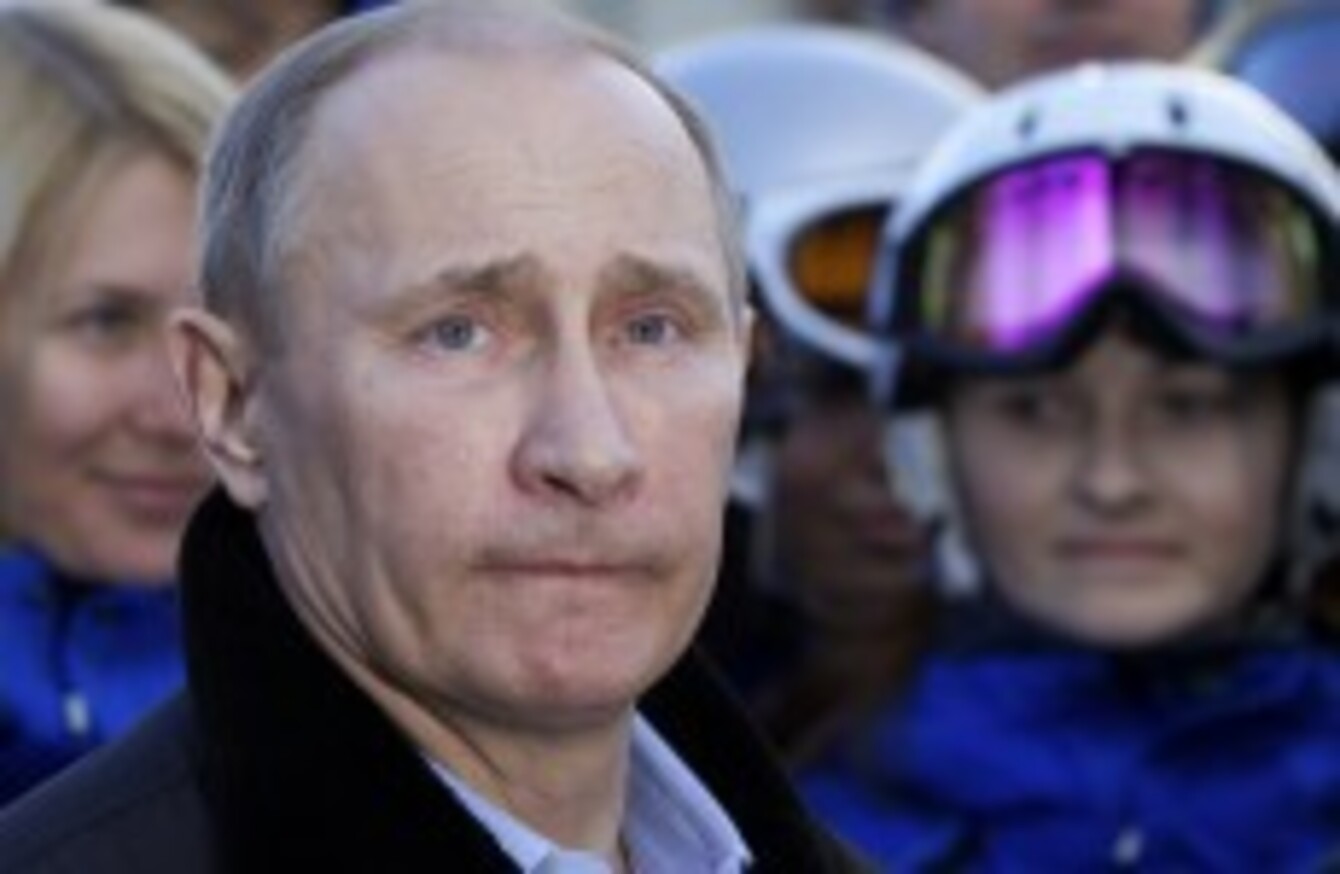 Russian President Vladimir Putin caused controversy earlier this month when he suggested gay people should "leave children alone".
Russian President Vladimir Putin caused controversy earlier this month when he suggested gay people should "leave children alone".
MORE THAN 50 Olympians past and present have put their names to a growing petition calling on Russia to cease its crackdown on gays ahead of the Sochi Winter Games, activists said Thursday.
The online petition, which has gathered more than 405,000 signatures, appears on the websites of global equality group All Out and Athlete Ally, which tackles homophobia in sports.
In a statement, the two groups also announced protests to be held in Moscow, Sochi, London, Rio de Janeiro and other cities on February 5, two days before the start of one of the most controversial Olympic Games in years.
Among the Olympians past and present who have signed the petition are Sochi-bound snowboarder Belle Brockhoff and bobsleigh pilot Heath Spence, both from Australia, along with Canadian skier Mike Janyk.
"We stand with citizens across Russia who are calling on their government to stop the crackdown against lesbian, gay, bi and trans people that is fueling anti-gay violence," the petition states.
"We urge leaders around the world and within Russia to work to eliminate all anti-gay laws and protect all citizens from violence and discrimination in Russia."
The full list of Olympians who signed the petition is at athleteally.org.
"The petition offers an array of star athletes past and present," said Jules Boykoff, a former member of the US Olympic soccer team who now teaches at Pacific University in Oregon state.

"My hope is that it creates space for an athlete participating in the Sochi Olympics to speak out for human rights, for LGBTQ rights," said Boykoff, author of "Activism and the Olympics: Dissent at the Games in Vancouver and London."
All Out's New York-based executive director Andre Banks said Olympic sponsors also bear a responsibility to speak out against new laws in Russia directed at the LGBT community.
"We've just heard the Russian government is considering amendments to the anti-gay laws, but sponsors continue to look the other way while gays and lesbians in Russia suffer," he said.
Sochi Mayor Anatoly Pakhomov told BBC television this week that gays and lesbians are welcome to attend the Winter Games so long as they "respect the rules of the Russian Federation."
SEE SPORT
DIFFERENTLY
Get closer to the stories that matter with exclusive analysis, insight and debate in The42 Membership.
Become a Member
Earlier this month, President Vladimir Putin said homosexuals could feel "relaxed" about attending the Olympics — but also suggested that they "leave children alone, please."
David Pichler, who represented the United States in diving at the 1996 and 2000 Summer Games, saluted fellow Olympians who have joined the global outcry over Russian policy toward the LGBT community.
But he acknowledged that there are limits to what competitors at Sochi, many of them Olympic newcomers, can do as they attempt to keep their minds on their number-one goal — winning medals.

"The ones who have the courage (to speak out), I respect them greatly. But I don't want (others) to feel any pressure or be afraid," said Pichler, who came out as gay prior to the 1996 Summer Games in Atlanta.
Pichler, who signed the All Out/Athlete Ally petition, spoke to reporters in a telephone conference call organized by Human Rights First.
The New York-based group's advocacy counsel Shawn Gaylord said anti-gay laws in Russia, including legislation that equates homosexuality with pedophilia, was having "really devastating effects" in its LGBT community.
"We support the athletes, but we also think it's important when we're talking about vital human rights issues that those don't get lost in the mix," said Gaylord, who plans to be in Sochi for the Games.
Arkady Gyngazov, former manager of Moscow's Central Station nightclub, a popular gay venue recently targeted by gunfire and gas attacks, feared for what might come after the Olympiad.
"I think it will be worse, because the focus of international pressure will disappear and the government will start doing everything they want," said Gygnazov, who is seeking asylum in the United States citing anti-gay harassment.