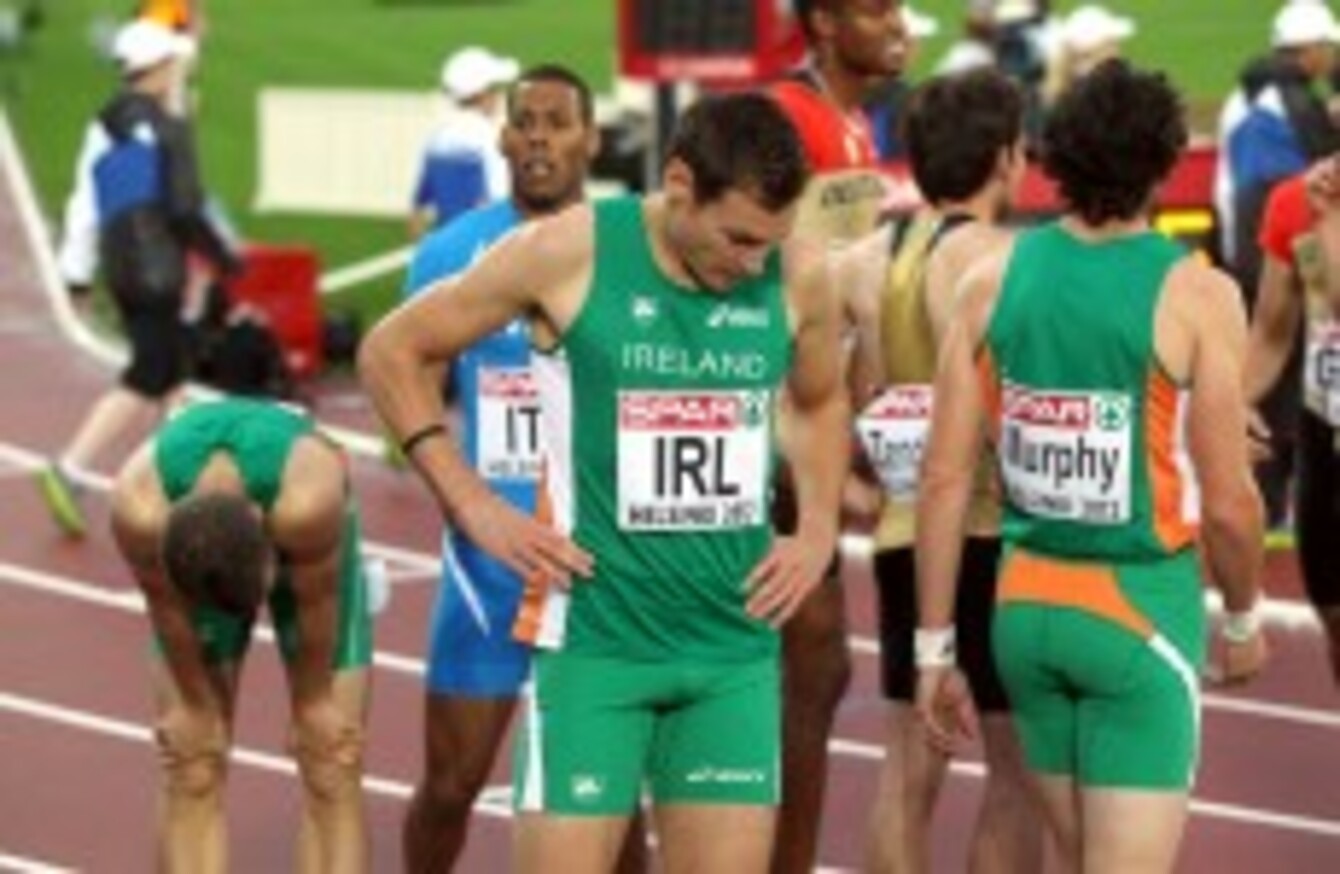 Ireland's David Gillick stands dejected after the 4 x 400m relay in Helsinki.
Ireland's David Gillick stands dejected after the 4 x 400m relay in Helsinki.
IRISH ATHLETE DAVID Gillick has spoken of his disappointment at not being able to compete at this year's Olympic Games.
The athlete recently conceded his dream of going to London had ended, after a series of injury problems scuppered his hopes of participating at the Olympics.
And talking to Matt Cooper on The Last Word, Gillick admitted he is still finding it hard to come to terms with the disappointment.
"As a kid you want to reach the pinnacle of your sport and that's the Olympic Games," he said. "Unfortunately things haven't worked out – it's crushing."
He added: "Every day [your schedule] is planned out as an athlete, but I woke up this morning and it's blank."
Gillick revealed that he gave up hope of competing when an attempt at a swift recovery in time for the Olympics was unsuccessful.
"I was working really hard on the exercise bike. At the time I was trying to remain positive. It was touch and go.
"I went and raced on the Friday in Turin and that's when I realised you can't replace that sort of training… I was way off the pace.
"There comes a point where emotionally and mentally it's a very draining experience."
Asked whether he could bring himself to watch his fellow athletes compete at the event, he said he "didn't know," adding:
"I haven't had a serious injury until last year and it's very hard to accept. Every summer I was racing, but now I can't do that.

"Last year, the World Championships were on – it was very depressing. I saw athletes out there who I've beaten, and it's very hard."
However, Gillick remains optimistic that he still can enjoy further success in his career.
"I still believe I'm young enough," he said. "But I need to work and start looking to the future."