'IRELAND'S GOLDEN GIRL'.
It's a mantle that has been thrust upon Aileen Morrison in recent months, but not one she's comfortable with.
The Derry triathlete turned in for a chat with TheScore.ie shortly after 2pm in a Dublin docklands hotel in May.
Most in attendance considered it lunchtime, but Morrison has been on the go since before dawn: photo shoots, interview after interview and the necessary evil of an unscheduled drug test – the 'perk' of taking up the golden girl moniker from its most successful owner.
"It's actually my third drug test in a week," she states with an apparent inability or unwillingness to hide her annoyance.
"Blood and urine." She adds wearily, "I'm obviously more popular now than I have been. But I can't hold that against them, you have to be happy to be tested. As long as everyone else is tested, that's fine."
The triple-test week was Morrison's most successful in competition. She had long since been untouchable in the top 50 of the ITU rankings which determine Olympic qualification and she signed off in style with a silver medal in Madrid, finishing behind Nicola Spirig who will enter Hyde Park as one of the favourites today.
Even after that best-ever performance, though, she found room for criticism writing about a "shocking T2" in her post-race blog.
"Yes, there are things that can be improved on," she says with a tone that suggests she may have uttered these words already today. "I've got weaknesses and you always try and work on your weaknesses and if you iron them out then you can do one better the next time. But transition seems to be something I'm always working on. So, once I figure that out I might give myself a bit of a leg-up."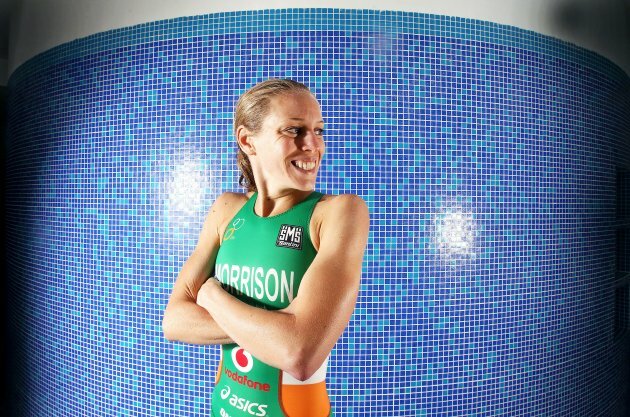 ©INPHO/Dan Sheridan
Outside of the boxing ring, Irish expectations have maintained a healthy level of reality during the Games. For a time, it was easy to get over-excited. Despite some tail-off in performance since Madrid, Morrison's two podium finishes have caused many to juxtapose the words 'medal', Morrison' and 'Aileen' in a single sentence.
The woman herself, however – while not ruling out the possibility – refuses to get bogged down in anything more than the process. After all, it's the tactic which stood to her in Madrid. There, with energy reserves all but dried up, she coaxed her flagging limbs into one last push.
"I was empty," says the Derry girl who didn't take up the triathlon until 2007, "but you just can't think 'I've got no energy'.
"You've just got to focus on the next 100 metres, keep thinking about the next 100 metres. Think about your running form, as opposed to how far away the finish line is.
"What I ended up doing was – there was a corner coming up – and I just told myself to sprint for the corner instead of thinking about what was left to come. After the corner I was on borrowed energy anyway and I don't know where that came from… but it worked out quite well."
Exclusive Six
Nations Analysis
Get Murray Kinsella's exclusive analysis of Ireland's Six Nations campaign this spring
Become a Member
Her appearance in the RTE series London Calling provided a telling glimpse at the flip-side of her character, a softer side reserved for those closest to her. On one hand you have the iron woman in skin-tight green armour, ready for two hours of war. On the other, you have a lady with the slightest of frames and long salon-styled curling blond hair who can't contain her glee when reunited with her partner, David. Or shouts 'there's my wee Mammy' on greeting her parents after a race.
The latter will never change. Aileen will never cease to surprise and never disappoint those close to her. Morrison, the former, must contend with the rest of us, giddily excited to see an Irish athlete succeeding at the pinnacle of her sport.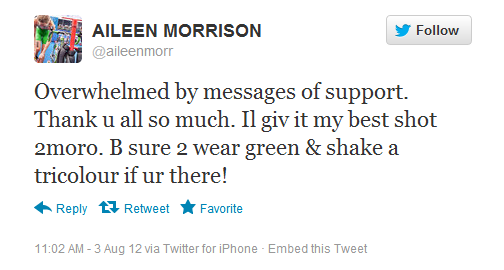 "There is a little bit of expectation, but I've learnt to overcome it a little. It's the people in the media and journalists writing, 'Morrison's going for gold in London'. That's not true. So, someone has written that and they don't know me and they don't know my sport.
"My family and friends don't expect me to come away with a medal and they're not going to be disappointed in me if I don't. So I've learned to deal with that [by saying] 'as long as I do my best and know that my family and friends are going to be happy with me.' That's all I can ask for really."
Insofar as we can claim to know something of her character, the above paragraphs contain the essence of Aileen Morrison. She can be as tough and spiky as the time demands, but her family will always turn her back to butter.