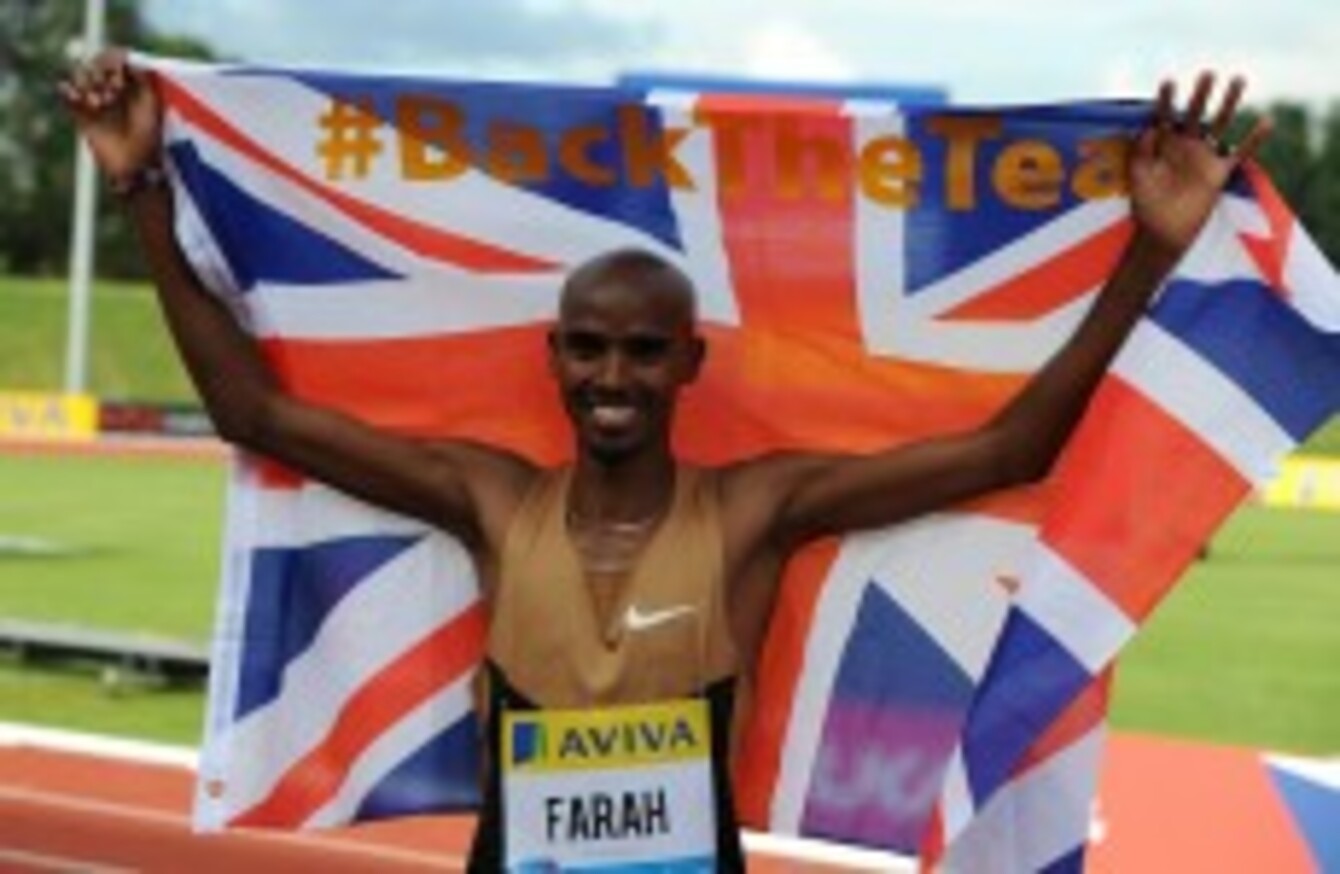 Great Britain's Mo Farah after winning the two-mile race at The Birmingham Grand Prix.
Great Britain's Mo Farah after winning the two-mile race at The Birmingham Grand Prix.
BRITISH OLYMPIC STAR Mo Farah enjoyed himself when he returned to action in the Birmingham Grand Prix Diamond League meeting today.
Farah, who won 5,000m and 10,000m gold in London, triumphed in the rarely contested two miles race.
His winning time of eight minutes and 27.24 seconds was well adrift of British great Steve Ovett's 34-year-old European outdoor record of 8min 13.51sec.
Not that Farah, who celebrated the birth of twin girls on Friday, nor any of the Alexander Stadium crowd, many of whom were seen replicating his trademark 'Mobot' celebration, much cared.
"It's been unbelievable," said the 29-year-old Farah. "The crowd, I've never seen it like this before.
"I've never dreamed of it being like this with everyone behind you, the whole country. It's great support, it gives you a big boost and you feel like you can't let them down. You've got to go out there and win.
"I went to a restaurant the other day and someone came up and asked me to do the Mobot while I'm eating my food."
Farah bettered Ovett's time indoors, in February, but said the record was not in his mind after a hectic week for his wife Tania.
"To be honest with you, I've had a hard week with Tania giving birth," he said. "The other night I didn't get much sleep as well. Then I came up here, that wasn't easy.

"My main aim was just to come out here, win the race and not even think about any time. I've felt a bit tired, to be honest. It's been hard.

"The Olympics was what I trained so hard for with all the miles week in, week out.

"I've just got one more race (the Great North Run half-marathon on September 16) and then that will be it for me. Then I'm looking forward to taking my break and spending a bit of time with the two little ones."
Meanwhile, Carmelita Jeter of the United States reversed the result of the Olympic women's 100m final, beating champion Shelly-Ann Fraser-Pryce of Jamaica into second place.
But there was no let-down for the United States' Olympic 110m metres gold medallist Aries Merritt, who won in a time of 12.95sec.
Fellow London champions Valerie Adams of New Zealand and the Czech Republic's Barbora Spotakova also came first, in the women's shot put and javelin events respectively.
Farah did a lap of honour at the end of the meeting with fellow British Olympic medallists Greg Rutherford, Christine Ohuruogu and Robbie Grabarz.
High jump bronze medallist Grabarz won with a clearance of 2.32m, beating Olympic champion Ivan Ukhov of Russia and putting himself in position to win the overall Diamond League series.
London 2012 long jump champion Greg Rutherford passed three attempts while he got treatment on a tight groin and could only finish third in a competition won by Russia's Aleksandr Menkov.
Meanwhile, Olympic 400m silver medallist Ohuruogu came second behind Jamaica's Rosemarie Whyte.