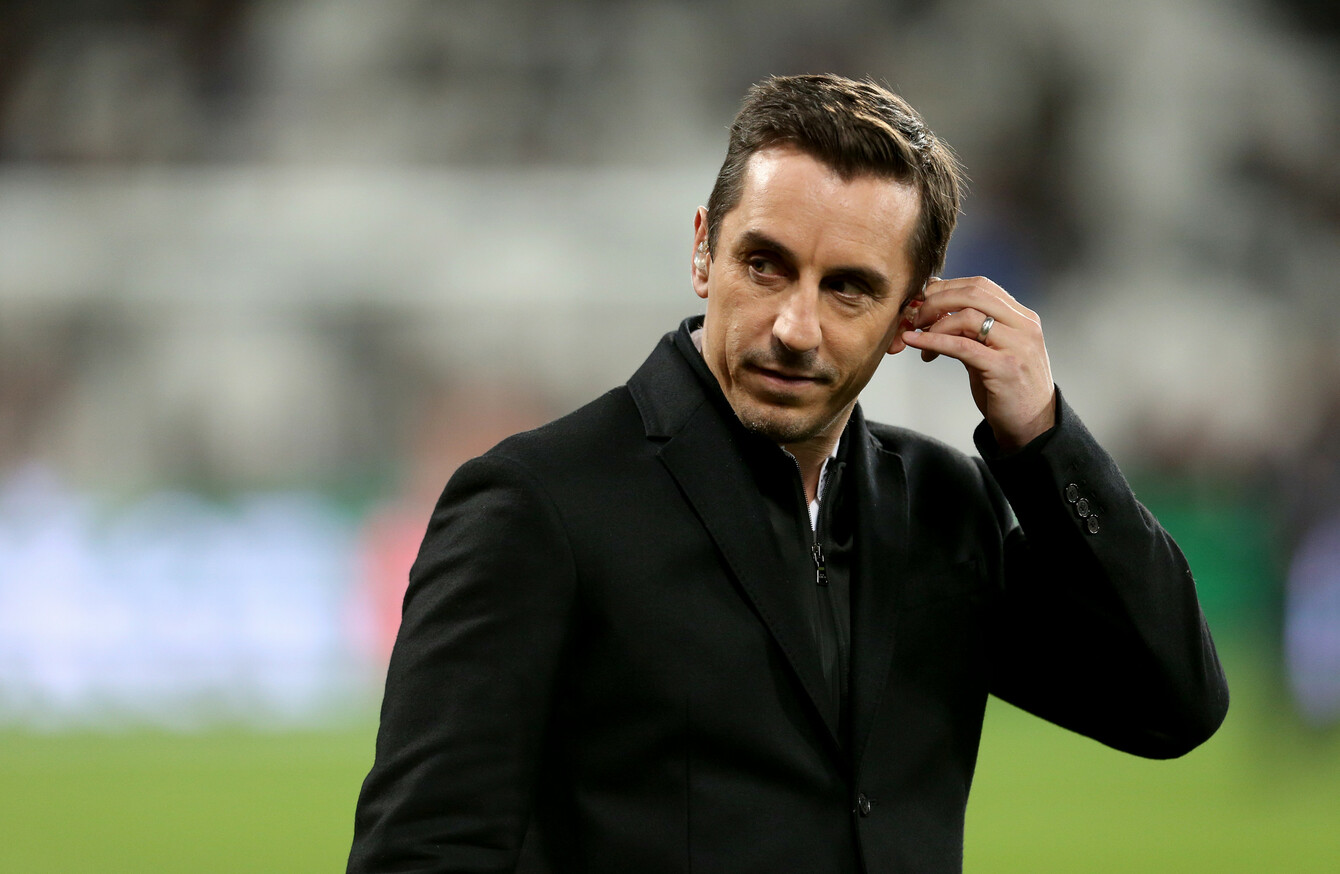 Television pundit and former footballer Gary Neville.
Image: Steven Paston
Television pundit and former footballer Gary Neville.
Image: Steven Paston
THE FOLLOWING PASSAGE is an extract from On The Brink: A Journey Through English Football's North West by Simon Hughes.
Gary Neville is sitting in the ancient stone dugouts of Salford City's Moor Lane football ground, looking across a pitch that slopes sideways and dramatically towards him. Over on the opposite touchline, cold rain is battering the metal shell of a new stand and a digger behind it is making noise.
"That over there . . ." Neville points, jolting forward suddenly, ". . . it has to be finished by the end of the month."
Breaking from the interview, Neville shouts a question at a lone construction worker wearing a hard hat. When he asks, "Are we on schedule?" it seems like more of a demand and, though positive, the construction worker's response is not the most convincing.
It is the start of March. If the stand isn't completed by the end of March, Salford will be thrown out of the Conference North, so Neville is quickly counting days using his fingers. 'One . . . two . . . four weeks, isn't it? Christ . . .'
A critical discussion follows, or — as those who know him best might call it — a classic Neville confrontation.
Neville spent 19 seasons as Manchester United's right-back and his manager throughout that time, Sir Alex Ferguson, knew how to deal with him.
'"Gary, go and annoy someone else," he used to say. "We always said of Gary – he woke up angry," Ferguson wrote in his 2013 autobiography.
"Where he sees flaws, sees errors, he attacks. His instinct was not to negotiate himself through an impasse, but strike hard with his opinions."
Neville, according to Ferguson, "would answer his shadow back — he has to have an argument every day."
While other teenagers were trying to manoeuvre their way past the doormen at the famous Haçienda nightclub on a Friday night, living the acid-rave hedonism of the early 1990s, Neville was tucked up away in bed — preparing himself for a junior game the following day.
He had made the decision to distance himself from his old friends in Bury, old friends that might lead him astray — he was desperate in wanting to be a footballer but by retreating socially, it did not leave him cosseted.
His honesty, energy and fearlessness means that he is not always popular and yet Neville's driven personality explains why he played 602 games for United and 85 times for England; why he was able to help win eight Premier League titles, two Champions Leagues, three FA Cups and two League Cups.
It also explains why he is here at Salford six years after retirement, doing his own thing, albeit with the help of four former team-mates.
While Tommy Banks worked on building sites after his retirement as a footballer, Neville has accrued enough wealth to help a club that had nothing, aim instead for the Football League.
On the day I met Neville, there had been stories in the papers about another one of his projects in Manchester's city centre near to the town hall and Central Library, where a controversial £200 million blueprint to build luxury apartments, a five-star hotel, restaurants and offices inside two bronze skyscrapers would mean the demolition of a 1950s synagogue, a 1930s police station and an 18th century pub believed to be the only nearby building with a direct link to the 1819 Peterloo Massacre.
The previous September, Neville had outlined his vision 'to deliver the biggest statement in architecture and development that Manchester has seen in modern times', only for heritage groups to react by urging ministers to intervene, describing it as a 'planning disaster of a magnitude not seen in decades'.
When Neville and his brother Phil, Ryan Giggs, Paul Scholes and Nicky Butt bought Salford City in 2014, the decision was viewed with similar suspicion, albeit on a much smaller scale because not many people really cared for Salford, a club where not all of the 35 season-ticket holders even turned up every week.
Why, then, were five millionaires made rich by their success as footballers really interested in a club that had never been higher than the fourth-highest division in non-league football — one where the ground was rotting, the pitch was rutted and Old Trafford, despite being in the next borough to the south, felt very far away indeed?
While travelling together on a train, Neville and Giggs were discussing what to do next with their careers.
Neville was retired and Giggs not far off. They were both motivated by competition.
"The conversation initially was about building a soccer school or an academy," Neville remembers.
"Then we realised we didn't want to be babysitting: you have the kids Monday to Friday, there's no game at the end of it and then they go home. We realised we needed to run a club — the only question was, which club?
"In this area you have Bury, Oldham, Rochdale and Macclesfield. It might have been cheaper to buy either one of those clubs because when you start at the bottom as we have, there is so much to pay for if you want to meet your ambitions.
"In the Football League, a basic infrastructure is already in place. But then, we appreciated as players that owners never really own football clubs. It's the fans that matter most because without fans you have nothing.
"When we decided on Salford, there were 35 season-ticket holders and 14 committee members. We wanted to build a club in our own name, for us to be accountable for what happens.
"Salford felt right because Giggsy lived here for 30 years, Scholesy was born here before moving to Oldham and I had my first trial for United here — just 200 yards away on Littleton Road when I was 10 years old.
"The Cliff, United's old training ground, is in Salford, so Butty was in and out of here for years too. It's where we all grew up."
In buying Salford, Neville and co would be able to make mistakes and learn as they went without the controversy that arrives when you are high-profile, in control of a bigger club and there are more people around to complain when it goes wrong.
A dozen or so Salford supporters did not renew their season tickets when they arrived — fearing the purchase was a pursuit of vanity, fearing too that everything would change, that nothing would be the same again.
The sight of diggers and stadium developments says that things are changing at Salford, especially when you look at the Conference North table and see they have achieved two promotions in as many seasons and could make it three in three if they go up through the play-offs this time around, as AFC Fylde's healthy lead at the top when I talk to Neville means they are likely to finish as champions.
The club's emergence has been rapid. Salford were soon to announce that joint-managers Anthony Johnson and Bernard Morley had agreed new two-year contracts, which means that whatever league the team is competing in, football will give them full-time employment come July and no longer will they have to work as van drivers.
Johnson and Morley arrived at Salford mid-season two years ago, bringing most of Ramsbottom United's team with them.
Neville was stung by criticism following the sacking on New Year's Day 2015 of the previous manager, Phil Power, when Salford stood second in the Evo-Stik North First Division table.
Power, born in Salford, gave an interview where he branded Neville and the other owners as 'hypocritical' because his removal was handled by chairman Karen Baird and none of them had the courtesy to call him.
When Phil Neville had lost his job as assistant to David Moyes at Manchester United, his brother supported him by saying that Moyes deserved more time to get it right.
Accordingly, Power pointed out that he had only worked for the Nevilles for six months.
"Though it was the right decision, I wasn't comfortable with it at all. None of us were," Gary says.
"I think two to two and a half years is the minimum a coach should get. The problem with Phil was, he wasn't our appointment. People will say we could have made the change at the start of the season but that wouldn't have been fair on him. Ultimately, ownership is defined by the appointments you make and Phil was with Salford before us."
What are they
really like?
Rare insights on sport's biggest names from the writers who know them best. Listen to Behind the Lines podcast.
Become a Member
The episode sharpened Neville's appreciation of why perception might be key to Salford's progress. It means he is willing to satisfy the requests of the club's original members ahead of anyone else. Neville is pointing across the pitch again.
"See Bill over there, he's been doing the same thing for nearly 25 years for nothing. Now, we've given him a full-time job as stadium manager. I'm proud that, one, because he still wants to do it with us and, two, we can pay him.
"He's the best person to do it because he cares about this club in a way that I don't. 25 years' service, purely for the love of it, means I'll never be able to compete with him.
"Each one of the original members are still here, doing the same job. Four or five of them will be full-time and the rest will get paid for their roles. Our groundsman, George, is 72.
"When I first met him he asked for £500 to reseed the pitch. Last year we spent nearly six grand, relaying the thing completely. We insisted from day one that we'd listen to what people need and help them out the best we can.
"The owners don't do anything from an operational point of view. Instead, we meet every Friday morning from seven until 11 to discuss administration: the structure, the values, the academy, the community projects. It has worked well. We've not interfered in what the members do. Salford is their club more than ours."
Since Moor Lane was given planning permission, Neville says he has met the residents that live close to the ground face-to-face once a month.
"You get some complaining about the development and I find it difficult to understand, really. You live next to a football ground and always have! When you live near a football ground unfortunately there's a chance some cars will be parked on the roads on a Saturday afternoon.
"But I think most residents are starting to understand that development can benefit them as well. They'll be able to use the ground for meetings, events, coffee and tea — whatever they want."
Once the lounges are built, Neville would like to interview 10 start-up businesses from Greater Manchester and give them free office addresses.
"Football, you win or lose at the end of the day. I enjoy watching the games here. But the bits I really enjoy doing around the club are the long-term projects that impact upon people's life in a positive way.
"People are always looking for a catch and there is no catch. We're not sacking 14 committee members; we're actually giving them jobs. For our original 35 season-ticket holders, we've frozen our prices at £50 for 10 years. We're not looking to stitch people up. What's in it for us? We want people to come with us.
"It's life nowadays, people are pissed off with everything," Neville adds.
"You invest into a local club: you're an idiot. You don't invest into a local club: you're not putting anything back. There's no in-between. Everyone's always looking at you and they're thinking, 'What do you want out of this?'
"It's a really cynical world and some people are so determined to be proven right, they won't give you a chance. Social media means everyone is living in an argument now."
On The Brink: A Journey Through English Football's North West by Simon Hughes is published by De Coubertin Books. More info here.
The42 has just published its first book, Behind The Lines, a collection of some of the year's best sports stories. Pick up your copy in Eason's, or order it here today (€10):