BUBBA WATSON HAS risen to his highest world ranking of four after his sudden death victory at the Augusta Masters on Sunday.
The American golfer produced a stunning clutch run of four birdies in a row an the back-nine and pulled off an improbable hook shot to within 10-feet of the second sudden-death play-off hole.
Watson rockets up to the new rankings high after sitting at number 16 at the beginning of the Major tournament in Georgia.
Other movers and shakers in the rankings were Oosthuizen, up to 19 from 27, and Phil Mickleson, up to nine from 14.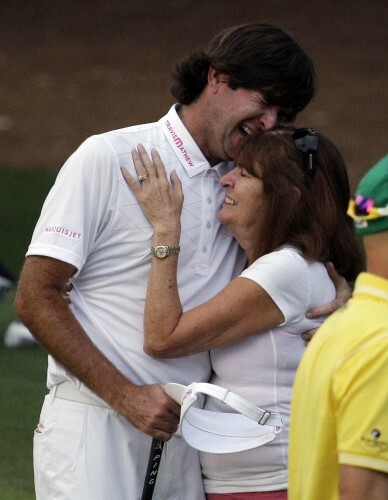 Watson opens the floodgates. (Credit: Matt Slocum/AP/Press Association Images)
Speaking in the famous Augusta log cabin minutes after he clinched victory over South African Louis Oosthuizen, Watson struggled to hold back the tears that began flowing as soon as his winning putt dropped.
"I've never had a dream go this far, so I can't say it's a dream come true," Watson said. "I got in the trees, hit a crazy shot I saw in my head, and here I am talking to you with a green jacket on."
Asked by CBS commentator Jim Nantz if he had ever thought about winning the Masters, the 33-year-old replied,  "Well, I dreamed about it, I just never made the putt."
The unrestrained show of emotions from Watson endeared him to the packed galleries at Augusta National, who stuck around long after the sun had set to share in his treasured moment.
The tears were reminiscent of Big Ern McCracken (played by Bill Murray) when he rolled his final shot in Kingpin.
Last year's champion, Charl Schwartzel, drops to 12 from number nine. Luke Donald remains at number one and Rory McIlroy is second.