SOME MOMENTS DESERVE to be immortalised.
Volkswagen have come on board as partners of The42, which will see them sponsor all of our rugby coverage for the 2019 World Cup in Japan. 
Ahead of the tournament, 'Onward' — an eight-part series — will be looking back at the unforgettable days from Joe Schmidt's time in charge as he aims to end his six-year spell on a high.
Next up, Ciaran Kennedy revisits a record win in Murrayfield that saw them claim back-to-back Six Nations titles. 
As the 2015 season began, Ireland could by no means have been classed as serial winners. Twelve months previously, in Joe Schmidt's maiden campaign in charge, the squad had won a first Six Nations championship since 2009.
Now chasing back-to-back titles, the challenge facing Schmidt was to turn his team into one that could contest for titles consistently.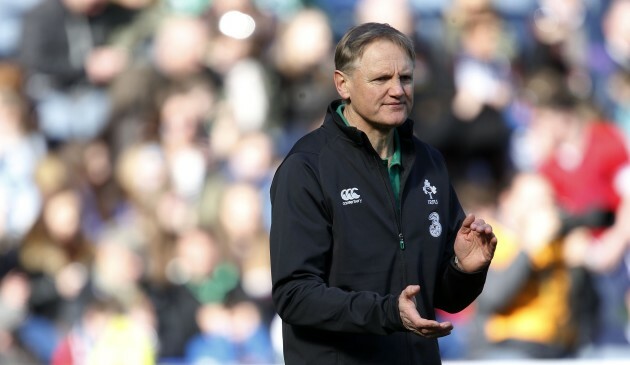 PA Archive / PA Images Ireland head coach Joe Schmidt. PA Archive / PA Images / PA Images
He had already managed to inject new levels of confidence, clarity and discipline, yet by the final day of the 2015 Six Nations his players would be drinking beers to calm nerves, screaming obscenities at a television screen and jumping around beating tables in their dinner suits.
So, how did it come to this?
Before the 2009 Six Nations win, Ireland had last won the championship in 1985. They had not won outright back-to-back titles since 1948-49 (they won the championship in 1982 but shared the 1983 title with France).
With a World Cup looming around the corner, the 2015 championship provided Schmidt with the perfect platform to convince his players that this could be a new era of success for Irish rugby. Former Ireland prop Mike Ross, who won 30 of his 61 caps under Schmidt, recalls how the Kiwi had immediately changed the mindset of the squad during that successful 2014.
"Whenever Joe goes into a team he has an idea of how he wants the game to be played, and he puts relentless focus into every aspect of the game," says Ross.
Any player who works under him, you have your role, you perform your role, and if everyone does their role you win, generally. He probably put a little bit more structure on it than we had before."
Yet Schmidt had pressing issues to address. Johnny Sexton had been stood down for 12 weeks following a series of concussions with Racing Metro.
Seán O'Brien was only just getting back to fitness after undergoing two shoulder surgeries in 12 months. Even Ross, Schmidt's first choice tighthead, had lost his place to a young Marty Moore in the Leinster first team.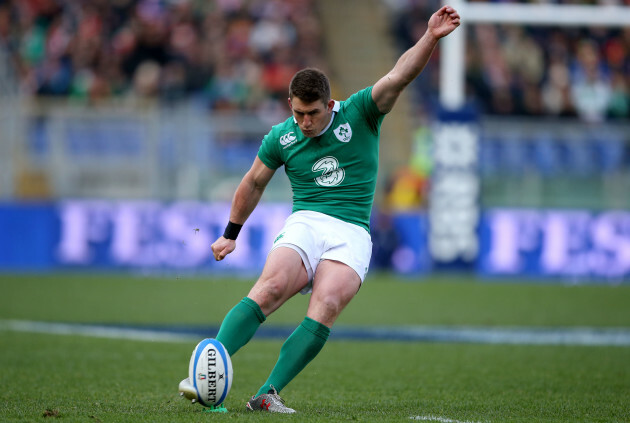 Dan Sheridan / INPHO Ian Keatley kicking a penalty against Italy. Dan Sheridan / INPHO / INPHO
Luckily for Schmidt, his team were able to ease into their title defence with an opening weekend trip to face Italy, but even that came with complications. O'Brien was a late withdrawal with a hamstring injury, and Ireland struggled for much of the match before pulling away in the final quarter, fly-half Ian Keatley supplying 14 points in a 26-3 win.
It had been a shaky start, but Ireland were up and running. After a three-month absence, Schmidt welcomed Sexton back for the round two home clash with France, and the Leinster fly-half ran the show with the authority and confidence of a man who hadn't missed as much a warm-up lap of a training pitch.
He was flawless from the boot, kicking five penalties, with a Madigan three-pointer Ireland's only other score in an 18-11 victory. Ireland had impressed during Schmidt's first campaign, but now the fruits of his work were really beginning to show. Against a typically physical French team, Ireland buckled down and bullied their opponents to win the type of ugly game that would have left previous Ireland sides struggling for answers. Not anymore.
A convincing 19-9 defeat of England in Dublin saw Ireland record a tenth successive victory and left them on course for a first Grand Slam in six years. However, in round four the wheels came off in Cardiff. On the occasion of Paul O'Connell's 100th cap, Ireland were left chasing the game after a Scott Williams try and four early penalties from the boot of Leigh Halfpenny.
The Grand Slam dream was over, but Ireland were still capable of winning the championship on the final day. Dubbed 'Super Saturday', three teams entered the final round of fixtures in the hunt for first place.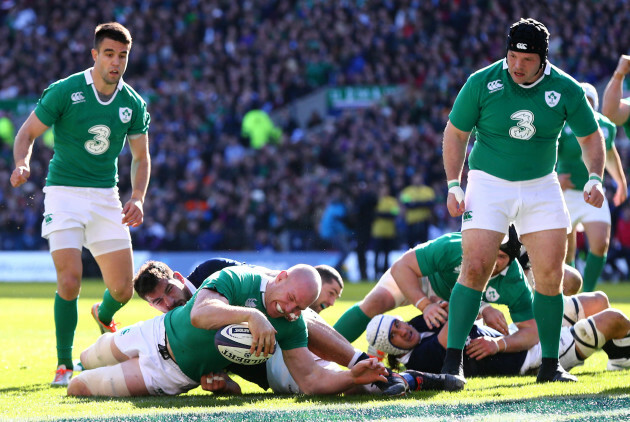 Cathal Noonan / INPHO Conor Murray (left) and Mike Ross (right) watch Paul O'Connell score a try against Scotland. Cathal Noonan / INPHO / INPHO
It was a remarkable day of rugby that delivered a total of 221 points, and 27 tries. Wales' 61-20 defeat of Italy in the early kick-off meant Ireland needed to win by at least 21 points away to Scotland to overtake Wales, and even then they would need the result of England v France to fall in their favour later that evening.
To borrow that old cliché, all Ireland could do was look after their own performance. O'Connell was first over the line inside five minutes, powering over from a few yards out.
O'Brien extended Ireland's lead with a lineout move straight off the training ground, collecting the ball from Devin Toner and squeezing through a pile of bodies to race clear. Ireland would have plundered for more if not for some stubborn Scotland defending, yet O'Connell ensured Sexton kept the scoreboard ticking over by kicking to the posts rather than for territory.
Further tries from Payne and O'Brien in the second half, along with 18 points from the boot of Sexton, helped Ireland to a record win in Edinburgh, but despite the 30 point difference between the teams the atmosphere was somewhat muted at the final whistle. There was still the small matter of England v France. A nervy evening ensued as Irish supporters, and players, watched a manic 12-try match unfold in Twickenham.
Cathal Noonan / INPHO Ireland fans watching England v France outside Murrayfield. Cathal Noonan / INPHO / INPHO
"It was torture," says Ross. "We were feeling fairly confident [sitting down to watch England v France] because we didn't think England were going to blow out France by 26 points. Then we were watching it and it looked like it had turned into a game of fecking Sevens. We were dying watching it.
"I remember [Vincent] Debaty made a massive run up the sideline and scored a try and everyone was going baloobas. Then England had a five-metre lineout to score a try that would win them the Six Nations, and France turned it over.
We're all celebrating when France turned over that maul, and then they tapped and went! The celebrations just turned to shrieks, 'What the fuck are you doing?'… 'He's lost his mind!'… I remember Peter O'Mahony hopping up and down over it, but thankfully they eventually kicked it out."
A 55-35 win for England left the hosts just short of the target needed to catch Ireland.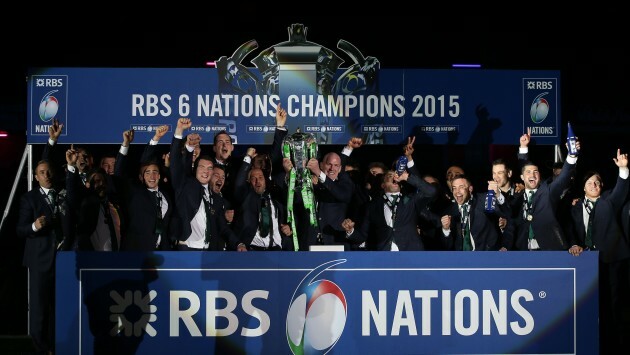 PA Archive / PA Images The Ireland players celebrate as Paul O'Connell lifts the Six Nations trophy. PA Archive / PA Images / PA Images
Cue supporters filing back into Murrayfield as Ireland re-emerged, by this stage suited and well refreshed, to collect the Six Nations trophy for the second consecutive tournament. It had been a far from perfect campaign, but in just his second year in charge it was becoming clear that Schmidt was doing something special with this team.
Volkswagen have been proud sponsors of Irish Rugby since 2011, and they are also rugby partners of The42 during the 2019 World Cup. For more, visit volkswagen.ie/rugby