SOME MOMENTS DESERVE to be immortalised.
Volkswagen have come on board as partners of The42, which will see them sponsor all of our rugby coverage for the 2019 World Cup in Japan. 
Ahead of the tournament, 'Onward' — an eight-part series — will be looking back at the unforgettable days from Joe Schmidt's time in charge as he aims to end his six-year spell on a high.
Today, Ciaran Kennedy takes us through Ireland's first-ever Test win over the Springboks in South Africa. 
Seven times Ireland teams had rocked up for Test rugby in South Africa, and seven times they had lost. The four most recent of those defeats had come during the professional era. The 1998 tour, under team manager Donal Lenihan and featuring a young Warren Gatland as head coach, had been one to forget, a comprehensive 37-13 defeat at Bloemfontein followed by a disastrous 33-0 hammering in Pretoria a week later.
The next tour, in 2004, was not as much of a car crash, but still left the feeling that Ireland remained a few levels below the Springboks. Against a depleted South Africa side, they lost 31-17, and followed that result up with a 26-17 loss in Newlands.
The sides would meet on six occasions on Irish soil over the next 12 years, with the home team winning four of those fixtures. Yet it would be 2016 before an Ireland side toured South Africa again. By the time Joe Schmidt gathered a squad and boarded a plane for their three Test tour, Ireland were a completely different animal.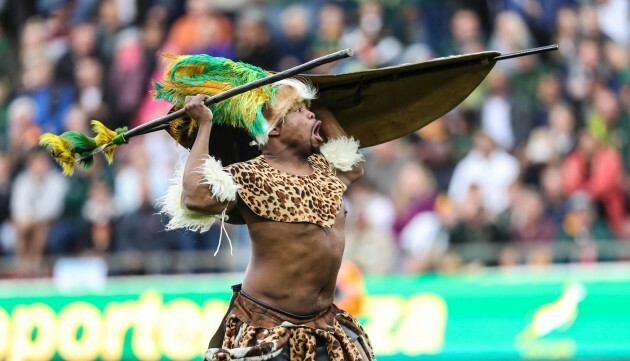 Billy Stickland / INPHO A zulu warrior on the pitch before the first Test. Billy Stickland / INPHO / INPHO
This was a squad that had won two Six Nations championships under Schmidt's watch, and had no experience of those painful defeats in the 'Boks backyard. Still, there was no escaping the fact that no Irish team had ever won a Test match in South Africa. Further to that, it had hardly been a vintage 12 months for Irish rugby.
After winning back-to-back Six Nations titles in 2014 and 2015, Ireland's progression under Schmidt seemed to have hit a wall. Injuries decimated the squad at the 2015 World Cup, while they only won two of their five outings in the 2016 Six Nations. Hardly an ideal time to try go where no Irish team had gone before.
Within 22 minutes of the opening Test in South Africa, pantomime villain CJ Stander had been shown a red card after his hip crashed into the head of Pat Lambie. Ireland were a man down in the belly of the beast with an hour of rugby left to play.
Same old story? Not quite.
Billy Stickland / INPHO CJ Stander leaves the field after receiving a red card. Billy Stickland / INPHO / INPHO
"I think at that stage Ireland were just starting to gel well with Joe's system, as well as individually with their own talent, and finding form," recalls former Ireland international Lynne Cantwell, who won 86 caps and two Six Nations during a hugely successful era for the women's team.
"We saw afterwards, beating New Zealand [in Chicago] later on that year, then the next few seasons after that, which were just phenomenal, we saw them at their best with Joe's analytical, structured system, but then Irish passion and heart behind it.
We always knew we had the passion and heart and the ability to dig in and die for each other, but you didn't have that analytical structure around it. That combination was lethal and I think in general, from 2016, 2017 and 2018, we saw that come to fruition."
The previous January, Schmidt had moved to address some of the weak points in his team by hiring Andy Farrell as defence coach. It was a bold move, as Farrell was heavily criticised following England's performances at the World Cup, where he was assistant to Stuart Lancaster. Securing his services would prove to be one of Schmidt's most shrewd decisions as Ireland head coach.
The South Africa tour was Farrell's first with Ireland, joining the set-up when Les Kiss departed after the Six Nations. Already, his fingerprints could be seen in Ireland's approach. Their linespeed was exceptional, as was their concentration and application in defence.
At 13-10 down, Ireland were reduced to 13 men when Robbie Henshaw was sin binned after Lwazi Mvovo had crossed for the hosts. Ireland won the next 10 minutes 3-0, and retreated to the sheds with the scores tied 13-13.
As impressive as Ireland were behind the ball, they were equally ambitious in possession, and tried to play expansive, attacking rugby.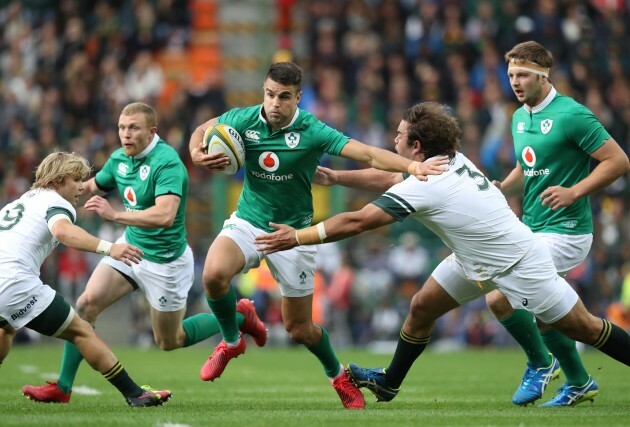 Billy Stickland / INPHO Conor Murray on the attack. Billy Stickland / INPHO / INPHO
Conor Murray swooped for a try on 42 minutes, and two penalties, either side of a Pieter-Steph du Toit try, saw Ireland hold on for a deserved 26-20 win which some observers felt was their greatest ever.
"I think that just truly shows the calibre of the players that we did have," Cantwell says.
"Yes it showed heart and desire and everything that we know Ireland have in buckets, but it shows me that they can do it [in difficult circumstances], and comparing it to what Ireland are going through now, sometimes you can kind of overanalyse what you are capable of, and if you just rely on what you are, and what talent you do have… you saw what those guys produced for an hour on the pitch to put away a class South Africa side."
The Springboks would recover to win the remaining two Tests and secure the series, but all in all Ireland considered their tour a success. After a painful 2015, they were beginning to move in the right direction again.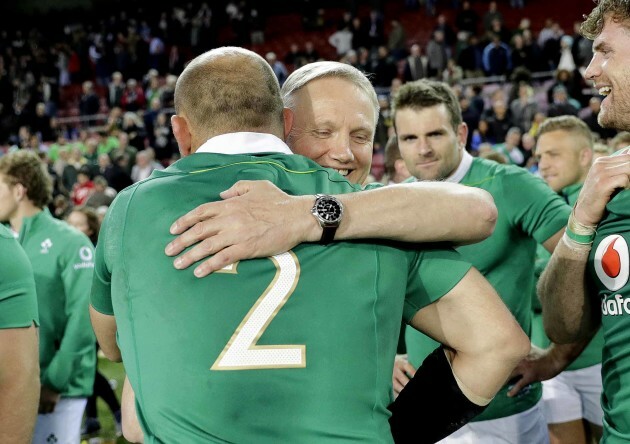 Billy Stickland / INPHO Rory Best and Joe Schmidt share a hug. Billy Stickland / INPHO / INPHO
"It had never been done before, and under Joe they have overturned a lot of those milestones, which is really significant," Cantwell explains.
"And then there is the context of coming back after 2015 and the disappointment from the World Cup. It's the one time in four years that you get a chance to compare yourself to the rest of the world as a player and as a team, so it is really clear where you stand at the end of it.
"So I think the context of it is important, because they came back off that disappointment and that lull year to produce a performance like that.
And it was genuine. They could do it, it wasn't a fluke. They won, and deservedly so."
That first Test win was a highlight for Irish rugby. The next few months would provide even more history.
Volkswagen have been proud sponsors of Irish Rugby since 2011, and they are also rugby partners of The42 during the 2019 World Cup. For more, visit volkswagen.ie/rugby