LOUIS OOSTHUIZEN PLAYED 32 holes Friday and was ready to start his third round at the Houston Open if organisers would've allowed it.
Oosthuizen is 11 under par through two rounds of the rain-delayed event and shares the lead with Brian Davis. The second round was suspended due to darkness at 7:36 pm Friday with 70 players still on the course.
Of the Irish contenders, Graeme McDowell is on 4 under after nine, while Padraig Harrington and Darren Clarke both finished their rounds on 2 under and 1 under respectively.
Houston resident Jeff Maggert was at 10 under, but he had eight holes left to play in his second round. Defending champion Phil Mickelson (70), JB Holmes (67), Tommy Gainey (67), and Greg Owen (69) finished their second rounds and were two shots behind the leaders at 9 under.
Three-time major champion Ernie Els, who must win to qualify for next week's Masters, was in the group at 5 under after a second-round 69.
A thunderstorm dumped 1 1/4 inches of rain Thursday, causing the backup. The players enjoyed sunny and calm conditions Friday, but the fairways were damp, and players were permitted to lift, clean and place.
Oosthuizen took full advantage of the placid conditions, finishing a first-round 67 in the morning, and then carding six birdies in his afternoon round. He still had plenty of energy at the end of the long day.

"If you play well, to keep the momentum going is great," Oosthuizen said. "Just grab lunch and go on. I would have loved to tee off my third round now."
Oosthuizen, the 2010 British Open champion, has been tinkering with his swing and gone back to the driver he used when he won at St Andrews.
The 29-year-old South African hit 11 of 14 fairways off the tee in his second round on his way to a 66.
"I hit it well at the Open in 2010, and I feel like I'm very close to hitting it like I did there," Oosthuizen said. "Swing-wise, I feel confident."
Davis also played a total of 32 holes on Friday, finishing a first-round 68 and then making seven birdies on his way to his best score of the year.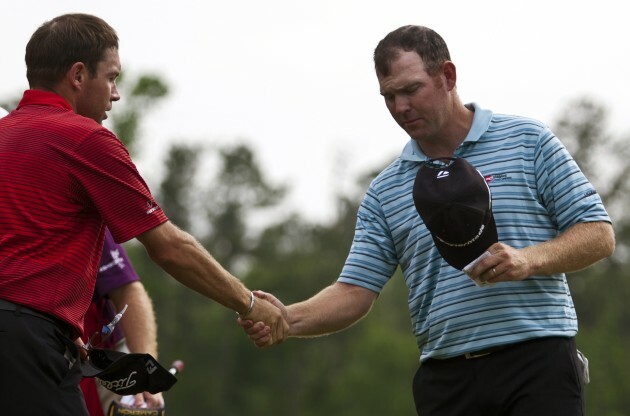 (Brian Davis shakes the hand of Troy Matteson after finishing the second round - Eric Kayne/AP/Press Association Images)
The 37-year-old Englishman took a hard look at his life late last year after his father, Robert, died of cancer. He changed caddies, hired a sports psychologist and retooled his swing.
"Probably the highlight of the off-season and to this season was taking a look at everything I did on and off the golf course," Davis said. "I think I'm more prepared going forward now this year."
Davis felt recharged at the start of the season, but missed the cut in three of his first four starts. He finally saw signs of improvement when he tied for 47th at the Honda Classic, then tied for 63rd in Puerto Rico the following week.
"It's one of them things, you've got to stay the course and keep at it," Davis said.
Mickelson finished a 65 on Friday morning and started his second round on No. 10 about an hour later. His afternoon round stalled after he birdied 13 and 15, the two par 5s on the back nine. He hit his tee shot over the green on the par-3 16th and bogeyed, then parred the next five holes.

"I played pretty well the second round, but I didn't get the score that I had hoped," Mickelson said. "I've got to light it up this weekend."
Mickelson played with Fred Couples, who won on the Champions Tour last week. Couples, who played at the University of Houston and has made 18 consecutive cuts at the event, is 4 under through two rounds.
Couples moved within two shots of the lead, but dropped back when he dunked his tee shot in the water on the 488-yard, par-4 18th hole and took a double bogey. The 52-year-old Couples shot a 73 in the afternoon.
The Houston Open became the run-up event to the Masters in 2007. Despite the delay, tournament director Steve Timms is hoping to finish the tournament by 5 pm Sunday to accommodate not only television, but also the players heading to Augusta.
Additional reporting by Paul Fennessy