Updated at 17.00
ALL THAT GYM work has made a difference.
The strength and conditioning programmes at inter-county, and club, level have reached new heights over the past 10 years – and the results were plain to see in Saturday night's international rules test.
In times past, the obvious difference in this compromised game was Ireland's inferiority when the game got physical – not so any more.
It is easy to be absorbed in the evolution of Gaelic football and not notice how the players are transforming.
The game on Saturday bore similarities to watching an international rugby clip from the pre-professional era; the scrawny stars of yesteryear not coming close to the modern mould of the beefy rugby player.
And if nothing else, the compromised game provides an interesting barometer for the progression of Gaelic football and the evolution of the game's players.
One moment summed it up perfectly – Aidan O'Shea claimed a mark and as an opponent attempted to delay him playing the ball, the Mayo man simply held off the Australian with one arm while assessing his options.
Granted, it wasn't the biggest Australian squad to visit GAA HQ and O'Shea isn't built like your typical GAA player. But it left quite an impression and he made his point; you won't be bullying my team today.
Cathal Noonan / INPHO Aidan O'Shea attempts to break the tackle of Australia captain Luke Hodge. Cathal Noonan / INPHO / INPHO
Stamina and speed were the main strengths of this Australian selection. The majority of them were midfielders, half-backs or half-forwards who get on the ball a lot but don't necessarily cause that much damage with it in attacking areas.
That said, their superior aerobic capacity was starting to show towards the end when they nearly reeled Ireland in.
Inept Australian tactics
With Alastair Clarkson (four-time premiership winning coach) in charge it was surprising to see the Aussies come into the game so tactically naive.
It was even more surprising with Tadhg Kennelly involved in the backroom team and two of the AFL's other leading head coaches, Chris Scott of Geelong and Fremantle's Ross Lyon, working on the line.
It looked like the Aussies came into the game blind, with little research done on Ireland's biggest threats.
O'Shea probably couldn't believe his luck; it was likely the first time he hasn't been double or treble-marked so close to goal in some time. And not a sweeper in sight.
Likewise, two of the country's most dangerous forwards, Bernard Brogan and Conor McManus, were afforded a laughable amount of space behind the full-back line early on – and they made the most of it.
The Australians have an advantage in fielding, of that there is little doubt. And the emergence of mobile ruckmen, generally 6ft 6″-plus have become a prominent feature in the AFL in recent years.
So it was a surprise to see them not pick someone in that mould and place him on the edge of the square to cause chaos. Imagine a souped-up Kieran Donaghy in his prime.
Someone like Nic Naitanui, who played in Perth last year but was omitted this year, would have added another dimension to their attack and would have been a handful for Ireland full-back Rory O'Carroll.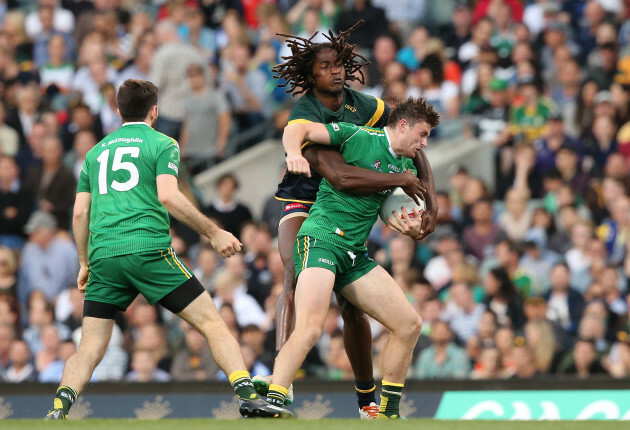 Cathal Noonan / INPHO Nic Naitanui towers over Ireland's Pearce Hanley in last year's test match. Cathal Noonan / INPHO / INPHO
When they were chasing the game, with the clock against them, having such a direct option would surely have made a difference.
Looking forward
The general consensus is that Saturday's game was a success; a solid turnout on a bitterly cold Dublin night. And most fans felt they got value for money once Australia made a game of it.
There is already talk of making it a two-test series once again and rumours of a US fixture. But let's not get carried away.
In the grand scheme of things it is just one step forward. And it only takes a couple of nasty flashpoints or one blowout win for the series to take a couple of steps back.
For now, supporters of the series can take solace in the fact that some naysayers will at least 'try' to like the game the next time it comes to Ireland. And that must be considered a victory, for now.