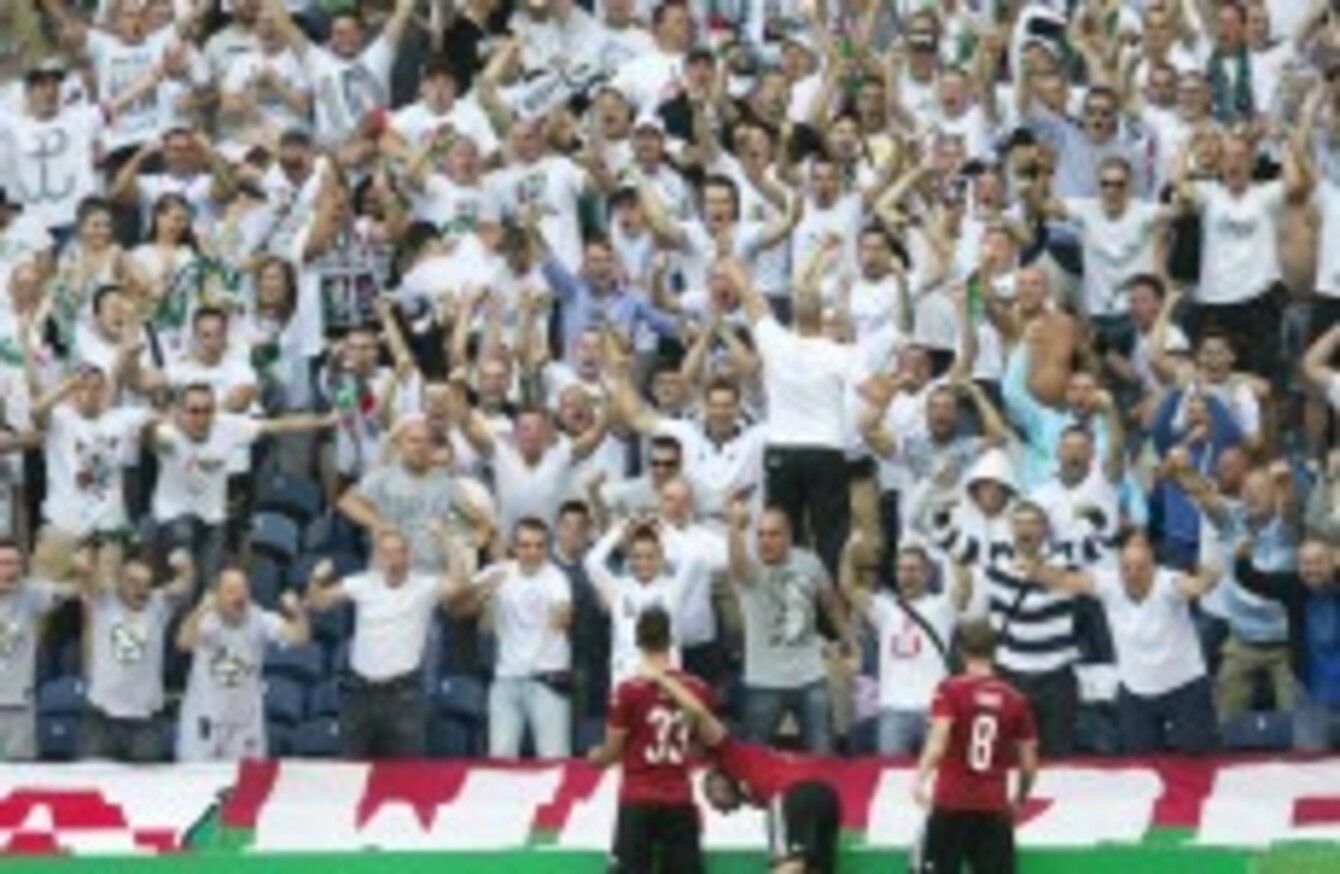 Legia Warsaw's Michal Zyro (left) celebrates his goal during the Champions League Qualifier at Murrayfield the other night.
Legia Warsaw's Michal Zyro (left) celebrates his goal during the Champions League Qualifier at Murrayfield the other night.
THERE IS NO doubt about it — Celtic, on one level at least, do not deserve to still be in the Champions League.
They were comprehensively beaten by Legia Warsaw 6-1 over two ties in a performance that actually made the similar thrashing experienced by St Pat's at the hands of the Polish side look less humiliating in hindsight.
Indeed, Legia Warsaw midfielder Ondrej Duda even claimed the Leagie of Ireland team gave his side a much tougher test than Celtic.
Yet despite the emphatic manner of the Scottish side's defeat over the two legs, they have fortuitously progressed to the competition's next stage owing to a technicality.
Legia have been punished severely for fielding an ineligible player for the last four minutes of the second leg, when this victory was all but secure anyway.
As a result, Celtic progressed in Europe for the second time in recent years due to the opposition fielding an ineligible team member, with Swiss side FC Sion suffering a similar fate to the Poles in the Europa League in 2011.
Yet although there is an element of sympathy for Legia's players who performed so well in their two most recent European fixtures, questions must be asked of their management.
(Celtic's Virgil Van Dijk looks dejected at the end of Celtic's Champions League tie against Legia)
To field a suspended star in such an important game that's potentially worth millions to the club is incompetent to say the least and could well result in someone there losing their job.
With UEFA's own rules stating that making the aforementioned error results in immediate expulsion from the competition, they were left with little choice but to throw the book at Legia.
Celtic could have complained (assuming they didn't in the first place) and would have rightly won any ensuing legal battle if the association had not acted in the manner that they did today.
Of course, there is something patently embarrassing about a team who's been beaten 6-1 on aggregate progressing at their opponents' expense, but ultimately Legia largely have themselves to blame.
Basic errors at the highest level invariably tend to be punished, whether they happen on the field or off it. Legia's manager, or someone else high up at the club, should have undertaken the responsibility to triple-check to ensure all their players were eligible. As Roy Keane once famously said — fail to prepare, prepare to fail.
Yet despite this act of incompetence, Legia's administrators are arguably not the people who come out looking the worst from this saga — one in which none of the participants emerge looking particularly dignified.
SEE SPORT
DIFFERENTLY
Get closer to the stories that matter with exclusive analysis, insight and debate in The42 Membership.
Become a Member
A serious discrepancy in UEFA's rule-making has now also been exposed. In a similar instance in 2010, Debrecen retained their place in the Europa League after fielding an ineligible player late on in a tie.
On that occasion, the organisation said that the change had no impact on the tie and that Debrecen had "no interest in fielding this player for the three last minutes of additional time, when the score was so clearly in its favour."
Surely the same can be said of Bartosz Bereszynski, when he came on in the 86th minute of the Celtic-Legia match? Well not quite.
While the two incidents are very similar, they are not entirely identical. In the former instance, the player was merely ineligible, while Bereszynski was suspended, which UEFA explicitly states will prompt a team's forfeit of the match.
Yet the fact that the organisation have scope to apply common sense in one scenario and not in another lends a whole extra dimension of farce to proceedings.
Such standards should surely be applied at all times or never, yet for UEFA to pick and choose when they apply these strict measures constitutes a level of ineptitude worthy of Legia's initial catastrophic oversight.
Ultimately therefore, this is a sad and embarrassing incident for football which, above all else, further damages the already dwindling credibility of the game's top authorities.