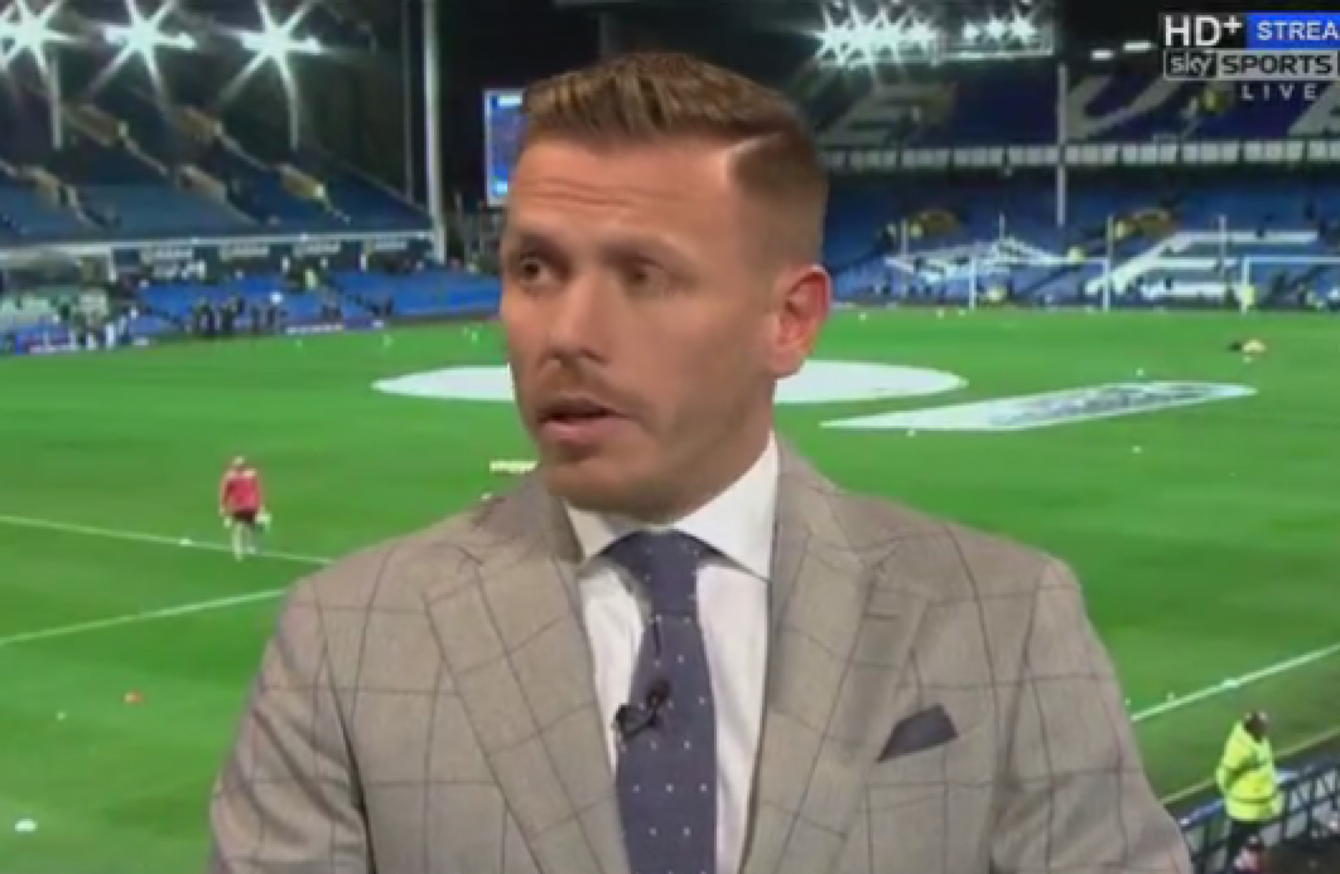 Craig Bellamy featured alongside Gary Neville on Monday Night Football last night.
Image: Sky Sports
Craig Bellamy featured alongside Gary Neville on Monday Night Football last night.
Image: Sky Sports
SKY SPORTS COULD scarcely have made a less popular choice as their new football analyst.
He was reviled by many fans, while some suggested that, during his career, he was an average enough player made to look better by those around him.
The antipathy caused by news of his prospective hiring left many fans vowing to cancel their Sky subscriptions. The anger even reportedly prompted the station's hierarchy to think twice about the decision.
Given that he is widely believed to have revolutionised football punditry, it's easy to forget that in 2011, Sky's hiring on Gary Neville was deemed somewhat controversial.
However, even the most ardent ABU would have to acknowledge that Neville has been a major success in the role, with the disappointment that many football fans expressed in the wake of his departure from Sky confirming the goodwill he has earned over the past four years.
Therefore, there was a slight sense of deja vu last night amid Craig Bellamy's appearance on Monday Night Football. Like Neville, Bellamy was also a divisive figure as a player — Jamie Carragher alluded to this reputation by joking that Sky had found "the one man more unpopular than Gary Neville".
And as with Neville, there was widespread skepticism initially following news that the ex-Liverpool and Newcastle striker would be appearing on our screens. Prior to his appearance on Monday Night Football, a quick scroll through Twitter suggested Bellamy was a highly unpopular choice as Neville's first replacement.
However, like Neville, Bellamy promptly silenced critics with his astute observations and intelligent remarks on the modern game, and how it has evolved considerably in recent years.
Bellamy and Neville's success accordingly shows that in order to be a good pundit, you don't have to have been a particularly popular footballer — in fact, it arguably helps if you have a nasty streak, as this type of individual is usually less likely to worry about what others will think of his criticisms.
What was most impressive about Bellamy was the genuine insight that he provided — something that can hardly be taken for granted in the often cliché-ridden world of football analysis.
The former Welsh international was particularly interesting on Jamie Vardy — a player not unlike Bellamy in his prime. Bellamy was able to relate how he struggled to adapt to life at a big club, where teams sat back and his explosive pace was less of an asset as a result.
On Vardy, Bellamy added: "For the teams I've played for that were similar to Leicester, we were always on the counter-attack and there was always plenty of space to go in behind. I probably suited those teams and they definitely suited me. There was always an opportunity to attack the space and that's where the similarities are (between me and Vardy).
"If you asked me (how he would fare at a big club) a couple of weeks ago, I'd say it would have been really difficult because there wouldn't have been the space in behind. But over the last couple of weeks he has shown signs of little bits of awareness that I wasn't too sure about. He is growing on me."
See Sport
Differently
Get closer to the stories that matter with exclusive analysis, insight and debate in The42 Membership
Become a Member
Bellamy showed a capacity for analysis and thoughtfulness even during his playing days, describing his evolution and attempt to become a viable option on the left wing due to intense competition up front during his stint at Man City
"Playing left-wing was a bit new to me, so I looked at (Franck) Ribery and (Andrey) Arshavin, studied their game and looked at the game differently, or I wasn't going to last at a club like Manchester City," he recalled.
And another attribute that Bellamy clearly shares with the best pundits is conviction. No expert will be right all of the time, however the ability to make an authoritative and convincing argument is crucial.
When asked whether Leicester would end the season in the top four, Bellamy didn't hesitate, he didn't sit on the fence, as so many others invariably do, he simply answered "no," before going on to explain why.
The impressive depth of Neville's footballing knowledge will, of course, be impossible to replicate, and Sky have suggested they will continue to put a fresh face alongside Carragher for the remainder of the season.
Yet when it comes to a long-term successor for the Man United legend, the case for Bellamy grows stronger. Of the other obvious candidates — Thierry Henry, Frank Lampard, Jamie Redknapp — all have been relatively disappointing and bland in their TV appearances so far.
Whether Bellamy, who is currently doing his coaching badges, actually wants to have a proper crack at punditry remains to be seen, yet on the basis of last night's performance, he would certainly be a welcome addition to our screens.
(h/t DailyMail for the above quotes)