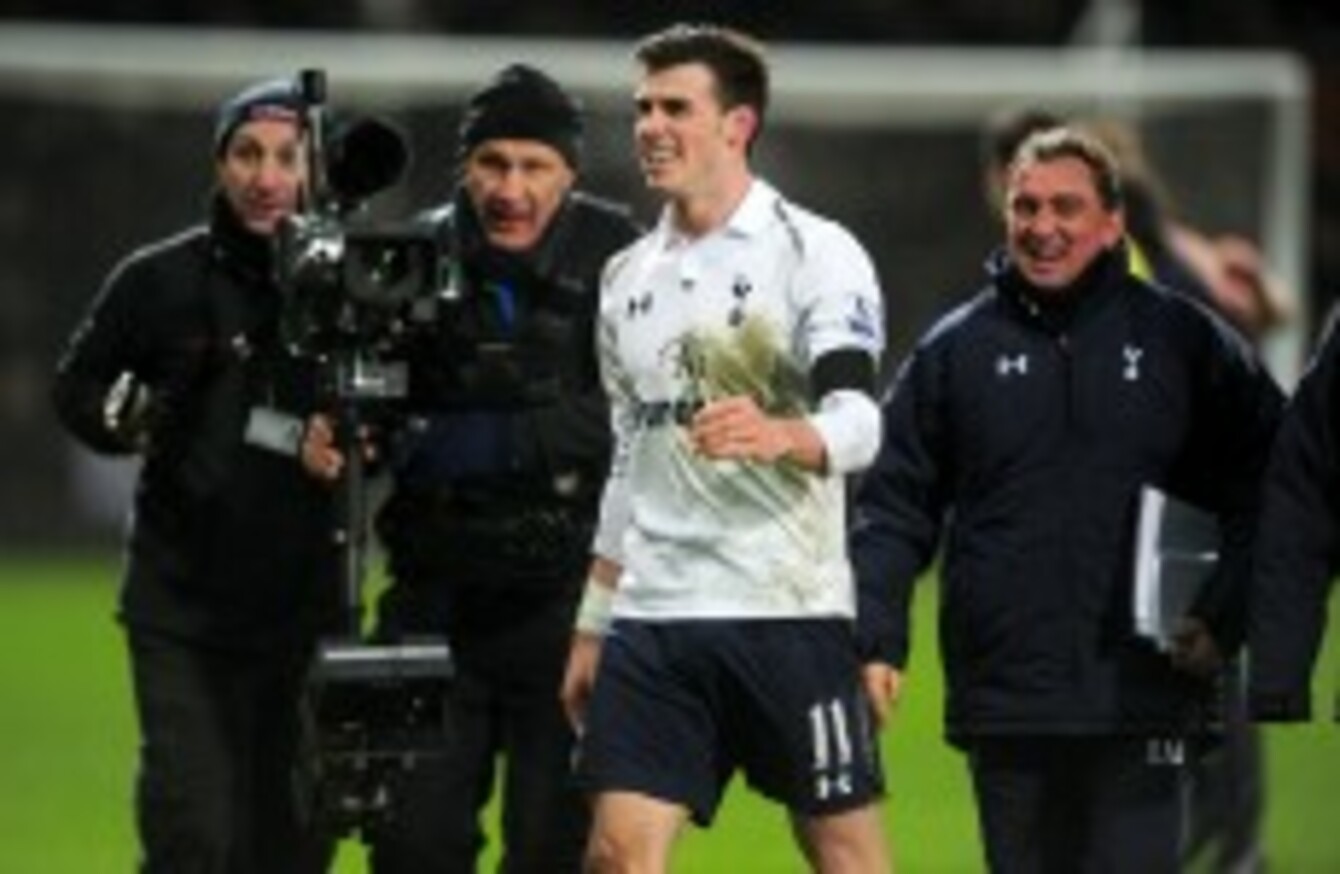 Tottenham Hotspur's Gareth Bale celebrates as he leaves the pitch after the final whistle.
Tottenham Hotspur's Gareth Bale celebrates as he leaves the pitch after the final whistle.
THREE YEARS CAN be a very long time in football, and few players will realise this more so than Gareth Bale.
In 2009, Bale had been branded a flop by the media, amid widespread reports that he was set to be offloaded to Nottingham Forest, or some other lesser team.
Now, in contrast, instead of Nottingham Forest, there is talk of transfers to Real Madrid or Barcelona.
Although it obviously never transpired, the very fact that a player as naturally talented as Bale could end up being reportedly on the verge of a move to a Championship side or worse, is nothing short of astonishing, particularly on account of his latest extraordinary feats.
How did all of this talk start in the first place? There are two possible explanations. The first is that the reports were completely untrue. However, given the regularity in which Bale was linked with rather unflattering moves to various sides, it seems highly unlikely that the stories were entirely without merit.
Therefore, surely that means there is credence to the alternative theory – Tottenham genuinely considered selling Bale to a lower division club. And as transfers go, such a decision would ultimately make Chelsea's £50m purchase of Fernando Torres resemble an astute move by comparison. For Tottenham to sell Bale would have been an act of monumental incompetence; and yet those reports led us to believe that it almost happened.
Nevertheless, it wasn't just the odd newspaper reporter or the powers that be at Tottenham who suspected Bale could be a flop. In fact, there was a strong consensus at the time that this might be the case. Why was this so? I'm afraid it comes down to good old-fashioned lies, damned lies and statistics.
In the early part of his Tottenham career, Bale became associated with one particularly unfortunate statistic. He signed for the club in May 2007, yet it wasn't until September 2009 – more than two years after being bought by Spurs – that he was involved in his first-ever Premier League win, coming on as a late substitute in their defeat of Burnley.
Bale had gone a total of 24 Premier League matches without winning a game, setting an all-time league record for losing in the process. Moreover, he wouldn't win a game he started until as late as 26 January 2010, as another long-term injury curtailed his progress before then. These were remarkable statistics and thus, people began quoting them ad nauseam. What made the story even better was that Spurs – a club with a history of ill-advised signings – at first glance, seemed to have made another one, given that the Welshman was bought for big money.
Bale had previously long been considered one of the brightest prospects that Southampton's youth set-up had ever produced. One evening on Sky Sports' Gillette Soccer Special, while Bale was still wearing Saints colours, a watching Matt Le Tissier spoke in awed terms of how the then-precocious teenager was somehow able to "run the game from left-back".

YouTube credit: Richárd Gulyás
Yet all this evidence was ignored as his dream big-money move to a strong Premier League side like Tottenham promptly turned into a nightmare. Despite some evidence to the contrary, many media commentators couldn't resist the rather simplistic and sensationalistic 'Spurs blow it again' angle.
In truth, Bale was a victim of circumstance more than anything else. He arrived at Tottenham amid a summer in which they had spent £40m and were thus, expected to challenge for a top-four place in the league. They had also spent £18m on David Bentley, among other unwise decisions. Accordingly, the then-Martin Jol-managed team proceeded to lose their first two games, and they were also hampered by Dimitar Berbatov trying to force through a move to Man United, with Robbie Keane also having just left the club for Liverpool.
Tottenham were additionally affected by talk surrounding Jol's future, and Juande Ramos claiming he had been offered the manager's job. But despite all the turmoil, Bale was arguably Tottenham's best player during this dire period, scoring a particularly memorable free-kick against Arsenal at one point. Not long after Ramos joined the club though, the Welshman picked up an injury that put a premature end to his season.
And unfortunately, his eventual return to action coincided with another time of upheaval. Again, Tottenham were being badly mismanaged, this time by Ramos. Bale still produced some strong performances, but late in the Ramos era in a match against Stoke, he showed his defensive naivety by conceding a penalty early on with a rash challenge, which led to him being sent off as a result of being the last man.
He proceeded to be unfairly maligned as the scapegoat for all Tottenham's woe. At a time just after Harry Redknapp took charge,

one journalist wrote

: "As Tottenham look to end a four match run in the league without victory when they face Portsmouth at White Hart Lane this weekend, there is one obvious solution presented to Harry Redknapp – don't pick Gareth Bale."
Surprisingly, Redknapp went along with this advice, and Bale was subsequently dropped from the first team, in favour of Benoit Assou-Ekotto. Furthermore, it took him roughly a year to properly regain his place in the side.
During that time, the Welshman was given a run out in the odd Europa League and League Cup game. Playing alongside other out-of-favour players such as Bentley, he stood out a mile, invariably delivering eye-catching performances. Yet strangely, Redknapp still neglected to pick him for matches that really mattered. Perhaps it was because his defensive qualities were far from perfect, though his attacking prowess was obvious to most onlookers.
Inevitably, the fact that he was consistently being ignored by the manager prompted rumours of an imminent departure. And indeed, it looked set to happen, until Assou Ekotto picked up a mid-season injury that more or less forced Tottenham into picking him, causing them to put aside all thoughts of a transfer in the process. The rest, as they say, was history, with Bale delivering several accomplished displays that swiftly rendered him undroppable.
(Tottenham Hotspur's manager Andre Villas-Boas, background, celebrates with Gareth Bale who scored twice after the English Premier League soccer match between West Ham and Tottenham Hotspur at Upton Park stadium – Matt Dunham/AP/Press Association Images)
As a result of this change in fortune, for several months thereafter, commentators would dubiously note how dramatically Bale had improved in such a short space of time. These assertions, though, were highly exaggerated. He had always demonstrated great talent at Spurs – he simply needed stability at the club in order to properly flourish.
Ultimately therefore, the story is an intriguing one, not only because of how unfathomable it sounds in the light of Bale's growing reputation, but for the messages it evokes – namely, that statistics can't always be trusted, and how media talk can create unfair stereotypes.
It's thus amazing to think that as recently as 2010, the Welsh international had essentially become a walking punchline, owing to his unenviable losing record. Nowadays, on the other hand, he is being touted as the new Cristiano Ronaldo. Hence, more than anything else, his cautionary tale provides a lesson to all young footballers – don't believe the hype.