EVERY TIME A World Cup or European Championships rolls around, the occasion usually coincides with a spate of articles castigating Irish people for not supporting the English team, and for invariably rooting against them at the event in question.
Yes, English rule had plenty of unsavoury ramifications before this country eventually became a free state, but that was 'almost a century ago,' they tell the supposed offenders in question, before opining that 'we need to get over ourselves and stop living in the past'.
The most common argument, of course, is that there's nothing wrong with following Michael D Higgins' lead and supporting the English team at major tournaments in which Ireland fail to qualify, and this is difficult to dispute. Whatever team you support is your own business. You could support Mongolia for all I care, and most reasonable people would presumably say the same.
With that issue settled, let's turn the argument on its head — is there anything particularly wrong with not supporting the English team at major tournaments, or even intensively rooting against them? Is this a somewhat sinister mindset to adopt? Or it is overly sensitive and all-too-PC to insist that Irish people are somehow obliged to support their English neighbours, perhaps owing to some sort of odd reverse form of post-colonial guilt? If anything though, as football fans, backing England would be — if not wrong — certainly unnatural.
For an Irish football follower, the desire to support anyone but England is more or less systematically ingrained in our psyches. The reason is not because we, as Irish people, haven't yet gotten over English rule and continue to be stuck in a time warp where it's perpetually 1916 — at least, not as far as the tolerant majority are concerned anyway.
As has been pointed out on numerous occasions, most of those who dislike the English national side support English teams in the Premier League, which would suggest that their prejudice, if it exists at all, is highly inconsistent.
But a quick straw poll of those who are well practised in the art of Three Lions-baiting would likely be met with the majority insisting that they have nothing against English people per se. They will usually instead point to the fact that they cannot stand either a) the intense and frequently ridiculous media hype surrounding the team in the build up to major tournaments, or b) a certain player or players with a history of conforming to the worst kind of stereotypes for which Premier League footballers are renowned.
So are these England-bashers being genuine in giving such reasons for their disapproval of Roy Hodgson's men, or are they either insincere or too blinded by hate to accept their inherent intolerance?
One alternative dictates that they are somewhat blinded but not necessarily intolerant. Perhaps the real reason for Irish fans' failure to embrace the idea of supporting England when the Irish team — as is habitually the case — fail to quality for a big tournament is because football is fundamentally based on wishing failure on your closest rivals.
Were Everton fans suddenly expected to support Liverpool in the title race this season, given that their team had no chance of winning the league in the run-in? Should Inter Milan followers be castigated for not cheering on AC Milan after their side failed to qualify for this year's Champions League? Do we ever harangue Portuguese people for neglecting to bask in the Spanish team's continual triumphs on the international stage? Anyone who has a perception of the nature of football fandom that is in anyway realistic would respond with a resounding 'no' to each of the aforementioned questions.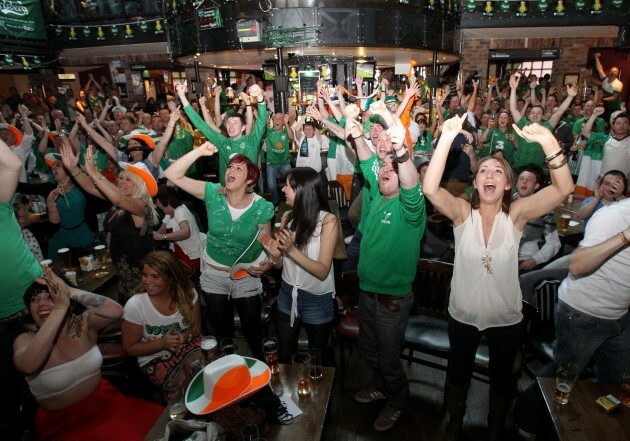 Ryan Byrne / INPHO Ryan Byrne / INPHO / INPHO
(Irish fans have been known to cheer on England's opponents with a fervour usually reserved for the national team)
With that in mind, why are Irish supporters continually shamed for not following England? Why should they be seen as different to the average football fan? Asking them to support England is effectively asking football fans to fundamentally change the way they think. 'Banter' has been a poor excuse for some of the most ignominious acts committed by those associated with the footballing world in recent years, but in this instance, perhaps it is justifiable to insist that Irish fans' behaviour is ultimately harmless.
The one counter-argument is that Irish supporters routinely cheer on many of the English players at club level, so surely suddenly turning against them is hypocritical. But this claim again ignores how football fans are inherently contradictory creatures that normally have little issue with being fickle.
When a player they have spent years unconditionally worshipping either starts losing his form or promptly decides to move to a rival team for a lucrative fee, they will have little hesitation in consequently viewing the footballer in question as public enemy number one. Of course, as with Ireland fans and their perpetual loathing of the English team, hatred of certain players simply because they wear a different jersey all of a sudden is — notwithstanding the odd lunatic — hardly indicative of genuine hatred. This 'hatred' is merely part of the pantomime nature of following the sport, immortalised in a satirical manner by Bill Shankly's famous and ingenious "football isn't a matter of life or death… it's much more important than that" quote.
So even for those who still find the idea of Irish fans deriving perverse pleasure from relentlessly cheering on anyone but England to be somewhat troubling, surely their issue is not truly with Irish supporters. Instead of lazily singling them out, perhaps deeper questions should be asked about the nature of football support writ large and whether it in anyway encourages prejudice or undue animosity. Irish fans, however, are no different from the average supporter, and therefore don't deserve to be patronised as if they somehow represent the exception rather than the rule.