MARIO BALOTELLI ONCE famously asked 'Why always me?', and based on Sunday's events, it seems a legitimate question.
The Italian international was accused of deliberately stamping on Tottenham's Scott Parker in an incident in which a definitive judgement seemed impossible to ascertain, barring an unlikely admission of guilt from Balotelli.
He has since been charged and City look set to accept any punishment.
It's easy to understand why people would suspect the player of wrongdoing.
When his name comes up in conversation, football fans are just as likely to snigger as they are to identify his unquestionable talent. And while there is no denying that Balotelli is partially to blame for his notoriety, to judge him solely on this reputation in every circumstance would be unfair.
Some people argue that that replays of the incident constitute sufficient proof that the stamp was deliberate. However, replays can be deceptive.
In slow-motion, the incident in question may seem somewhat sinister but in real time, it appears doubtful whether Balotelli would have the wherewithal and the time to orchestrate such a calculated movement.
Of course, it is not beyond the realms of possibility that the stamp was intentional, but without clear proof, any action taken by the FA would surely be misguided.
YouTube credit: Ste93NUFC
And despite the 'innocent until proven guilty' truism being a basic tenet of the law in most countries, people were practically queuing up to condemn Balotelli – a queue that was led, it must be said, by Spurs boss Harry Redknapp, who was adamant that the Italian sought to injure Parker.
And Redknapp was not the only one to make such claims. Following the incident, the Daily Mirror's Oliver Holt tweeted: "Find it hard to see how Balotelli can escape retrospective punishment for stamp on Parker."
Writing in The Guardian, meanwhile, Richard Williams wrote that Balotelli "should have been taking an early bath and contemplating a four-match suspension".
And yet what if it had been the other way around? If Parker had allegedly stamped on Balotelli, it seems unlikely that such vociferous criticism would emerge. Instead, football fans would doubtless be confronted with a barrage of platitudes, highlighting how Parker is 'not that sort of player'.
Double standards
So why does there appear to be one rule for Balotelli and another for others? It is not unreasonable to suggest that it was assumed Balotelli was guilty; as such an assumption fits the 'bad boy' narrative with which he seems irrevocably linked.
And while Parker deserves credit for having garnered so much respect over the years, the contrasting attitude with which Balotelli is associated does not mean he should be denied a fair hearing in this case, rather than a trial by media.
Moreover, there was another moment during the same game where City's Joleon Lescott planted what could be perceived as a deliberate elbow on his opponent. And yet this incident was not given nearly as much coverage, despite its uncanny similarity to Balotelli's supposed stamp.
The fact that Lescott does not have Balotelli's notoriety arguably explains the indifference with which his alleged indiscretion was treated. News, meanwhile, that the FA will charge Balotelli and not Lescott only reaffirms the evident lack of consistency that has been patently demonstrated on this occasion.
Similarly, there was not much commotion following Wayne Rooney's blatant dive against Arsenal at the weekend, and yet Roberto Mancini has been (rightly) criticised for calling on players to be sent off on more than one occasion. Is there really much difference between the two though?
In fact, Rooney's behaviour seems worse, given that not only is it unsportsmanlike, it is also outright cheating.
Consequently, the lack of consistency that seems apparent based on these differing reactions also fits another burgeoning theory: namely, that there is one rule for foreigners and another for English players in accordance with the different ways in which they are often treated.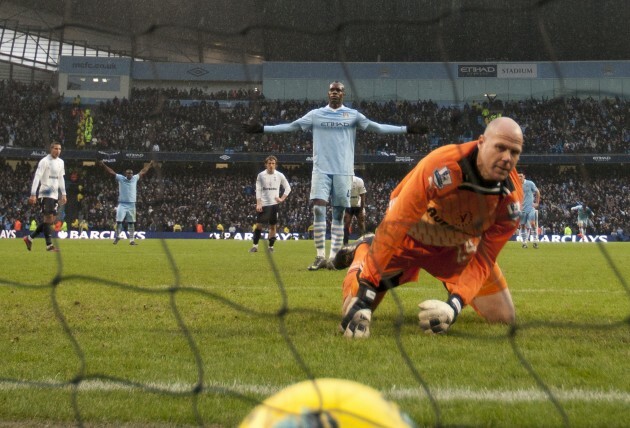 Balotelli celebrates after scoring a goal from the penalty sport as Tottenham Hotspur's goalkeeper Brad Friedel into the net. (AP Photo/Jon Super)
David Adams of the Irish Times is one commentator who has put forward this theory. He wrote an article inferring that the phenomenon was evinced by the different ways in which the media approached the Suarez and Terry racism incidents.
And while Adams' article received criticism of its own, on the basis of inaccuracies in his reporting, it also highlighted the growing sense of disillusionment among some onlookers at how foreign players are treated in English football.
For instance, earlier in the season, Gary Neville was outspoken in his criticism of Chelsea's David Luiz, after he suggested that the Brazilian looked as if he were "controlled by a 10-year-old on a Playstation".
The criticism of Luiz was undoubtedly merited, as he has looked inept on more than one occasion this season.
However, can you imagine Neville criticising Rio Ferdinand, his ex-teammate and friend, in as vigorous or witty a manner? There have been times this season where the England international has looked just as vulnerable as his Chelsea counterpart, but in contrast, his fallibility has hardly been well-documented.
Top job
This phenomenon is also evident in the way certain commentators (again, Harry Redknapp is a serial offender) insist an English manager should manage their national side. There is little evidence to suggest that foreigners are somehow less capable of managing an international team.
It is occasionally argued that English managers have more passion, or a better understanding of how to implement the famous British style of play. But little concrete evidence exists to support this argument. Indeed, Fabio Capello's managerial record holds up when compared with any previous England manager. Moreover, in this country, the most successful managers of the national side – Jack Charlton, Mick McCarthy and Giovanni Trapattoni – have all been born outside of Ireland.
All of which points to a worrying trend in English football, which highlights a basic lack of respect that is at times being afforded to people outside of the all-too-cosy English footballing establishment.
Surely therefore, a widespread change in attitude is required, starting with the Mario Balotelli case.