ON MATCH DAYS, a strange conundrum would sometimes be presented to the Cork ladies football team.
Ryan Byrne / INPHO Orla Finn and Orlagh Farmer after Cork's victory in the 2014 All-Ireland final. Ryan Byrne / INPHO / INPHO
It related to player-assigned gear and who it belonged to. Everyone had their own set with initials on the front and there were two players with 'OF' in the squad. Confusion was never far away.
The similarities extended further. Teammates with Cork since they were U14. Both added to the senior squad as emerging talents around the same time; one joining in 2010 and the other the year after.
They always sat next to each other on the team bus. Orla Finn beside the window while Orlagh Farmer took the aisle seat. That was their tradition and could never be broken at the risk of cursing their chances of a victory. The likeness between the two often resulted in their gear bags being found stacked together when the team bus arrived at the match venue.
"Finn or Farmer?" was the call when the players disembarked and the gear was distributed.
Finn and Farmer originally crossed paths as athletics rivals. Like many young talents who specialise in more than one sport, they both kept their interests going until a decision had to be made. When that time came, they both chose to put the spikes away and focus on football.
A combined 12 All-Ireland medals later, along with a bunch of league titles and All-Stars, Finn and Farmer are stepping off the Cork treadmill, both recently confirming their retirements.
Strangers to competitors to team-mates to friends.
"Myself and Orla have been friends nearly 20 years now," begins Orlagh Farmer.
"I always laugh when I think about it because the first time I met Orla was on the athletics field when we were running against each other.
"Little did we know that we'd be teammates and friends for years to come. She's given an incredible service to Cork over the years. She's so dedicated and extremely fit and skillful. I'm grateful to have shared those memories with her.
"We've always been shoulder to shoulder all the way from U14 up to senior. We started together and finished together as well. It's been a great journey."
****
Orla Finn was quite shy as a child. It's hard to reconcile that with the player who regularly tormented defenders with the Cork 15 shirt on her back. It's even difficult to see it in her younger self. In the aftermath of her recent inter-county retirement, clips of Finn playing in primary school matches began swirling online. The girl in the footage appeared to be a confident shooter with an eye for goals.
'It's the girl with the blonde ponytail'

Two-time All-Star & six-time All-Ireland winner Orla Finn has retired from @CorkLGFA after 12 glittering years, but here's how it all began, when she was in third class, scoring in a Sciath na Scol final. There was just no stopping her. pic.twitter.com/cvfnz61jL4

— Kieran McCarthy (@KieranMcC_SS) January 17, 2023
But behind that, Finn needed a push to get going. She credits her parents for their help with that, nudging her along to compete in trials for the Cork U13s.
"Only for Mam and Dad, I probably wouldn't be where I am today. They just encouraged me to go along and try my best. I'd be very nervous and shy going to the trials but I'm so glad I stuck with it.
"When you're playing, you just play the game and that's your stage really. Football helped me develop as a person massively."
In athletics, Finn was strong in several events. From cross country, to sprinting, hurdles and even the pentathlon, she could find success in any discipline. She reached high altitudes with her running career, going on to represent Ireland in the pentathlon at international schools' event and finishing in an impressive second place. But there were no backward glances. 
Finn has never regretted choosing football over athletics, and has a decorated career with Cork to back that up.
Still, she never lost her love of running. As news of her retirement spread last week, many of the tributes to her career included references to her high fitness levels. Finn never dropped the pace.
"In the off-season, I would run for enjoyment a few times a week and just get out," Finn says, explaining how she built up such an impressive engine over the years. "It wouldn't be really to push myself hard or anything.
"Even now that I'm retired, it's something that I'll still do."
Neither Finn nor Farmer will divulge information about who was the stronger runner. Their paths differed slightly in the categories they competed in.
"Orla was more into track and I was more into cross country." says Farmer.
"But Orla would often say that she used to be winning all around her in Cork and then saying, 'Who is this girl?'
"Orla went on to have a really successful athletics career in the hurdles and sprinting distances."
Farmer too was faced with a choice between athletics and ladies football while she was growing up. Her running career was blossoming, and after completing her Leaving Cert, she received word that there was a potential opportunity to prosper further in America.
It wasn't enough to tempt her though.
"When I came onto the panel in 2010, I was only 17 in school. I would have been on the verge of scholarships and stuff in America. I had to make a decision: either stay involved or go the athletics route? And I'm so glad that I stayed involved.
"I was lucky in one sense that I came into that winning momentum and the Éamonn Ryan set-up. To be playing with my role models, I was in awe, really. 
"I remember Éamonn always used to say: 'Enjoy this training session, you'll never train this session again.' He always used to ground us."
****
The first night training with Cork still stands out for Farmer – a dark, wet night in January. The Midleton forward was a fifth year student and before she could head out to meet her new team-mates in Watergrasshill, she had after school study.
The books didn't give her much relief from the excited thoughts about what lay ahead.
"Sure I did no more study now because I was so nervous going training.
"But I remember being paired up with Valerie Mulcahy for our strength and conditioning. We had to box each other and I thought she'd go handy on me as a young one, but she absolutely tore into me.
"But it was an absolute privilege and honour. Éamonn Ryan had a massive influence on me. The girls were like older sister figures.
"I always have that vivid memory of 2009 when Cork won their fifth All-Ireland in-a-row. I was up in Croke Park with my parents, and looking up to the likes of Briege Corkery, Rena Buckley, Bríd Stack and Juliet Murphy.
"I wanted to be them."
Juliet Murphy gets a mention from Finn too regarding her first introduction to the Cork squad. It was 2011 and the young Kinsale star was just 19 when she got the call from Ryan.
In 2010 the team had suffered a shock All-Ireland quarter-final defeat to Tyrone.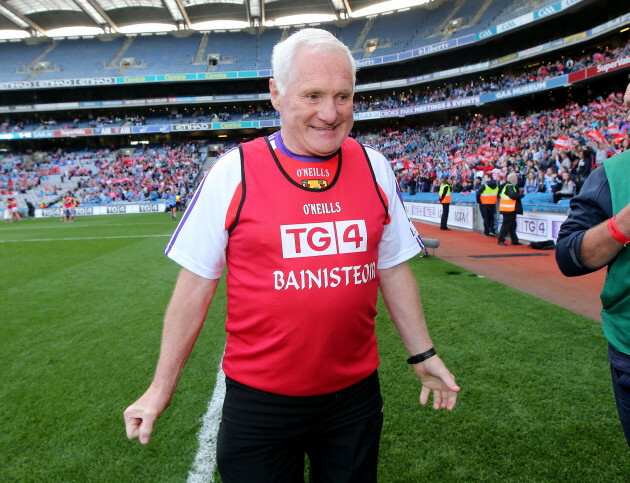 Ryan Byrne / INPHO Éamonn Ryan left a lasting impact on both Finn and Farmer. Ryan Byrne / INPHO / INPHO
Cork's resurrection came the following year when they edged out Monaghan in the All-Ireland final. That was Finn's first exposure to life with the Cork seniors.
"My memory is how welcoming and encouraging the girls were. Juliet was so nice and she probably knew how hard it was to come into the panel.
"I learned an awful lot from them as well. They had the winning mentality.
"When you're only 19 and you've never done a gym session before, you're paired with an older one who's pushing and pulling. It made me all the better for it. "
Finn made a strong impression that year, helping Cork rally from a six-point deficit against Dublin in the All-Ireland quarter-final to squeeze over the line. Introduced as a sub in the 46th minute, she kicked a vital score before Juliet Murphy grabbed the winner. Cork were alive again.
"I actually had an athletics championship in Tullamore the morning of the game. It was a teams event and I ran in a few events. My parents drove me from there down to the Dublin came.
"I came on for the last 20 or 25 minutes. That's a big memory for me and the All-Ireland final that year as well. I remember coming into Croke Park and being in awe looking around."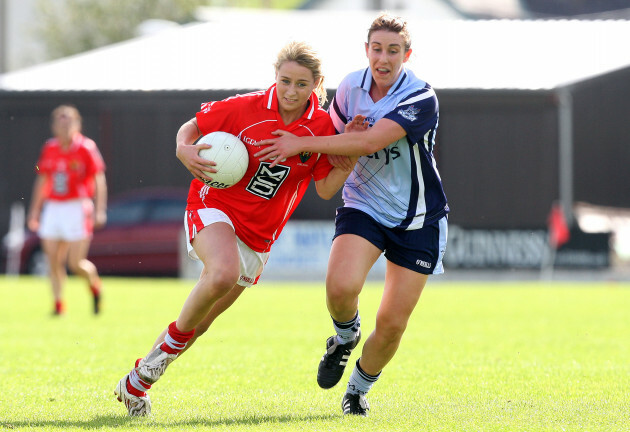 Ryan Byrne / INPHO Orla Finn in action against Dublin in the 2011 All-Ireland quarter-final. Ryan Byrne / INPHO / INPHO
****
Cork enjoyed a second period of dominance after that 2011 triumph, going on to complete six-in-a-row in 2016. 
The years that followed have been less fruitful for Cork. They reached the Croke Park showpiece twice more, losing the 2018 and 2020 finals to Dublin. The team was entering a new phase as many of the multi-All-Ireland winners stepped into retirement while  Ryan also departed as manager.
In 2019, under the guidance of Ephie Fitzgerald, Cork won their 12th league title after defeating Galway in the final. Both Finn and Farmer played their part in the victory as the switch into the leadership roles of the squad.
Farmer had an unusually long journey to complete for that game. She spent the week before in Canada presenting important research at a conference for her PhD, which focuses on the LGFA's Gaelic4Girls programme. Farmer's life work focuses on participation, coaching and athlete retention in women's sport.
"I wanted to play the final and I wanted to be in Canada as well. If there's a will, there's a way to do both. But I suppose looking at the bigger picture now, my career has always been there while playing football.
"You need to have something that you're passionate about and I'm excited now to go forward."
Farmer completed her PhD in 2021 and is now a part-time lecturer in Dundalk IT [DkIT] while also taking steps towards starting her own coaching business. 
She felt now was the time to conclude her inter-county career.
"We were fortunate coming into the winning set-up, so we weren't really used to taking the big hits on the big days. But as much as I'm grateful for all the wins, I think I've learnt a lot more from the losses. Even just the life skills of resilience and persistence. It forced us as the older girls to step up and show an example.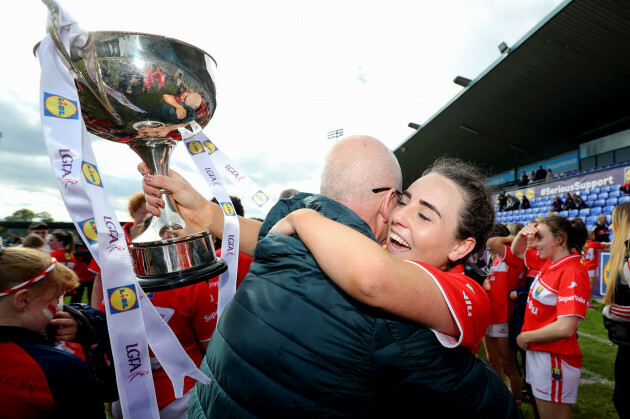 Bryan Keane / INPHO Farmer after winning the 2019 Division 1 final. Bryan Keane / INPHO / INPHO
"It's important to keep driving and not lose the hunger keep those values for some of the younger girls coming in."
For Finn, she felt the desire and hunger lessening. 12 years is a long time at top speed. She announced her departure from Cork to the Southern Star Sport podcast last week one month on from her wedding day where she married former Waterford hurler Brian O'Halloran. 
She will continue to kick football for her club Kinsale — as will Farmer with Midleton — but there's a bit more freedom now for other interests like holidays and travelling.
"Mentally more than anything, I just had had enough," says Finn.
"The hunger was going [away] for me a small bit, so that showed that it was time to pull away.
"I've made friends for life through football. You're going from seeing girls three or four times a week to meeting them every so often for a coffee. That will be strange but it was time to move on."
And just like her friend Farmer is striving to keep girls involved in sport, so too is Finn. It's just she didn't know it until now.
"I've had a few people say that younger girls have looked up to me when I was playing with Cork, I never would have seen myself as a role model.
"One person said that his daughter is playing and she still has a photo with me and now she's playing senior with her club, so it's lovely to hear that I can have that little bit of influence on people that I wouldn't have known about."
A fond farewell to the BEST 13 years with @CorkLGFA🏐

Memories & friendships that'll last a lifetime! Thanks to everyone who made it worthwhile! Looking forward to the next chapter - inspiring the younger generation to participate, stay involved & most importantly ENJOY sport🏐 pic.twitter.com/afEpIc4UTG

— Dr. Orlagh Farmer (@OrlaghFarmer) January 22, 2023
Farmer and Finn have been around for some of Cork's best days on the pitch, including their team's first time to play in Páirc Uí Chaoimh in 2019. They won big together and lost a bit too. And when game time eluded one of them or a match didn't unfold the way they wanted it to, the other OF would be there to provide support. 
And now they will end the journey together.
Side by side for 20 years, the OFs have been a tight pair through it all.
"We were each other's biggest supporters. It's just funny how we were competitors and then teammates and now we're friends."
Get instant updates on the Allianz Football and Hurling Leagues on The42 app. Brought to you by Allianz Insurance, proud sponsors of the Allianz Leagues for over 30 years.