AND THEY SAY that the dual player is a dying breed. Maybe even dead at this stage.
Dan Sheirdan / INPHO Tipperary's Orla O'Dwyer. Dan Sheirdan / INPHO / INPHO
In terms of ladies football and camogie, Rena Buckley and Briege Corkery were among those to fly the flag the highest over the past few years, lining out week after week religiously for both Cork sides.
In 2017, that changed though. Corkery stepped away from both codes and it's yet to be confirmed whether or not she'll return. Buckley on the other hand, stuck solely to camogie and led the Rebels to All-Ireland senior glory once again.
Smack bang in the middle of it all, a controversial scenario came to the fore and at the centre of it was an inter-county dual player. Her name was Libby Coppinger and she was facing the reality of togging out for both the Cork footballers and camogie team — or making a big decision — on Saturday, 19 August.
The All-Ireland senior football quarter-final against Galway was fixed for 12.30pm in Cusack Park, Mullingar, before the two camogie sides went head-to-head in the national semi-final at 7pm in Limerick. No alternative arrangements could be made due to TV commitments.
Corkery and James Masters were among those to voice their outrage to The42, before it was decided that Coppinger would focus solely on small ball for the day.
Around the time of that controversy, it was noted that significantly less players are committing to dual at inter-county level.
But if you were at the Littlewoods Ireland National Camogie Leagues 2018 launch on Tuesday afternoon, there was more than one to hand in the group of 10 players from across the country — Tipperary's Orla O'Dwyer among them.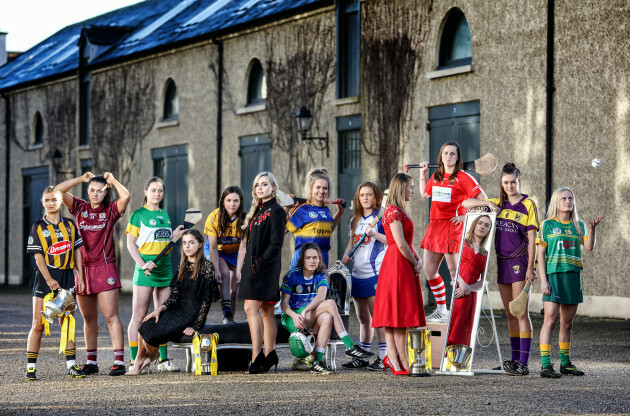 Dan Sheirdan / INPHO Players pictured at the launch of the Littlewoods Ireland National Camogie Leagues 2018. Dan Sheirdan / INPHO / INPHO
The 19-year-old's name is already a big one in Premier camogie and ladies football circles, and by committing to both folds again for 2018, she's ensured that her star is only going to continue to rise.
"I'm going to stay going with both," she tells The42. "I love the two of them so much.
"I love being able to play the two of them. I think they both benefit each other. As in football, you have to be so fit for it. When I train with the football, I feel like I'm really fit for the camogie. Then, camogie makes me really strong which is good for the football as well.
"I wouldn't be able to pick. I love the two of them, so I'm happy out."
Of course, there are still clashes, she adds. That's unavoidable. Training-wise, it's often a case of picking one or the other, but those in higher places call the shots, making it easier for the players.
"The management are very good, I have to give them that," she continues. "They're very good at communicating, telling us where to go. We don't have to choose and feel like we're letting down another team.
"I think that's very important. A lot of counties have dual players and it's important not to burn people out, especially this time of the year, but still also to let us know that we can do the two of them.
"I think both teams are great and the way the management work with it all helps. I'm very excited for the year ahead."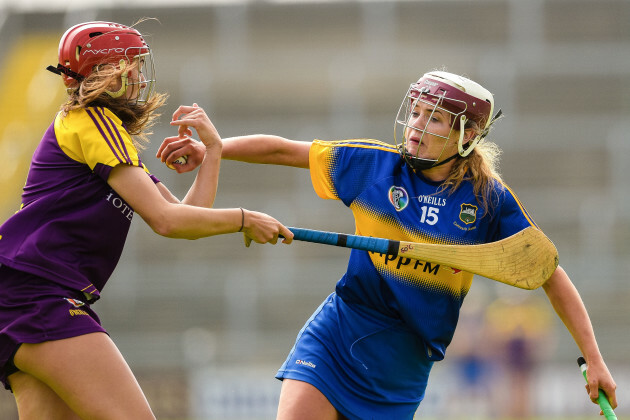 Tom Beary / INPHO In action against Wexford last year. Tom Beary / INPHO / INPHO
With dual players, it's often the case that it's all they've known their entire life. Through their childhood, it was always a balancing act between both codes. One may have come first but the other soon followed suit.
O'Dwyer lets out a quiet laugh when the question of which came first is put to her. She goes on to tell me that she didn't get properly involved with either until sixth class in primary school.
"I had no interest in sport, I was useless," she grins, recalling the very early days.
"I was 10-years-old and still playing U8, they wouldn't move me up! I was so, so, so bad. I played with the lads and I was afraid of the lads so much.
She avoided it and avoided it, until her sister started playing. She watched her, saw that she was 'really good' and wanted to be the same.
"I was like, 'I actually want to play properly'. I'll never forget the first time I went out to play a football match, I wanted to be a sub. I didn't want to play at all.
"Since U14, I've been playing the two of them. U16, I just played the camogie because of my Junior Cert. Last year, doing my Leaving Cert, I did the two of them and this year, I'm doing the two of them.
"I'm going to keep going with that as long as I can because I love them both. It's crazy how I didn't like it and now I love it so much."
It's been a whirlwind few months for the Cashel camogie star and Boherlahan footballer, one of the highlights coming in Croke Park last September.
Just weeks after finishing her Leaving Cert and starting college in University of Limerick (UL), she had an All-Ireland senior football medal in her back pocket. The perfect way to cap an unbeaten year.
Morgan Treacy / INPHO O'Dwyer (right) celebrates the footballers' All-Ireland win in Croke Park last September. Morgan Treacy / INPHO / INPHO
"It was such a good achievement," she smiles. "We knew we'd get far but we didn't think we'd actually win it.
"This year now going up to Division 2 and being senior, it will be a big change for us. We know we're going to get beaten by the better teams but we have a good chance. Even just to see how far we can get in championship will be very interesting. Hopefully we go far."
Her main focus at the minute though lies with the camogie side, as they kick off their Division 1 League campaign against Wexford later today (throw-in 2pm, The Ragg).
They showed well in the League last year, and were unlucky to miss out on a semi-final berth to eventual champions Kilkenny on score difference. In the championship then, they faced a quarter-final exit after defeat to Galway.
From speaking to O'Dwyer, there's a sense of freshness coming out of the Tipperary camp. Newport's Bill Mullaney has been appointed as the new manager and there's plenty of new names involved across the board.
"Instead of just having a team, everyone had to trial and show for their place," she explains.
"It wasn't just the same old. We have lots of new young ones in, lots of minors from last year and we have a few new faces coming back. It's good to see all of that new energy around instead of the same old, same routine.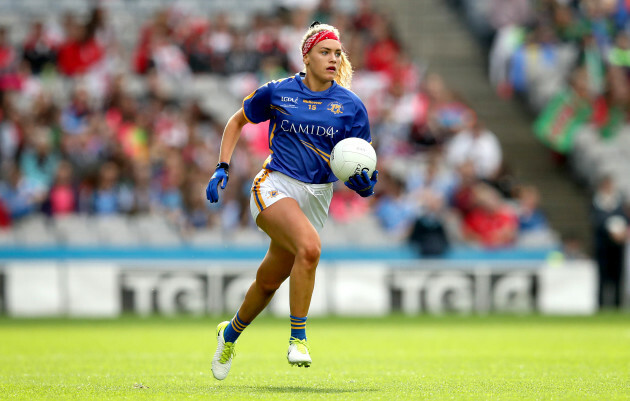 Ryan Byrne / INPHO In action for the footballers. Ryan Byrne / INPHO / INPHO
"This new set-up is a good way of approaching it. It's good to get us out of our comfort zone, which we need. We've been in the same era the last few years and we need a change.
"When we look back through the matches, we see that we're up there. I think it comes down to more individual performances, we need to play more as a team.
"We know, as a team, we're as good as the Corks and Kilkennys and this year, with new management and a new set-up, we hope to go further and be a big surprise in the League and championship."
As aforementioned, she's in college in UL and studying Physical Education (PE) and Irish teaching there. She's beaming from ear-to-ear as she speaks of playing both codes down there and tells tales of players she's met from other counties along the way.
O'Dwyer shares a house with Thurles Sarsfields duo Karen Kennedy and Nicola Loughnane, and the three are on the Tipp camogie panel together.
"It's good to have them because we're all at the same thing. We get up early to go training in the morning and then go again in the evening, and it's good to have people like that so you're not on your own. They make you feel very welcome as well.
She adds, on going home for training: "There's seven or eight of the Tipp girls down in UL so it's grand to car pool. We train in Thurles so it's only 50 minutes back.
"It's good being in the car with the other girls because you can have the craic and talk about whatever. Once you get to training, you've to focus then. It's grand with a good few of the other girls, no one's left on their own which is good.
Ken Sutton / INPHO On the ball against Limerick. Ken Sutton / INPHO / INPHO
"I actually enjoy going back to training with them in the car, we have good trips."
And there must be some craic in that house?
"Yeah," she laughs. "That has to stop now though!"
There's study to be done, but probably more importantly, sport to be played.
O'Dwyer will lead the troops as Tipperary open their 2018 campaign against Wexford today. It's early days, it must be said. They're not focusing on the opposition too much.
"This year with the League starting early, 14 January, we've only had really two pitch sessions, a challenge match and have done a bit of fitness ourselves.
"I think the big thing is just to see how we play together, and see would we be able to communicate out on the pitch and get momentum going. I know we won't have much skill done but just to get off a good pedal and give it our best, and see how far we can go."
There's a long year ahead to tackle.
The42 has just published its first book, Behind The Lines, a collection of some of the year's best sports stories. Pick up your copy in Eason's, or order it here today (€10):