12 MONTHS ON, and it's pretty much the same story.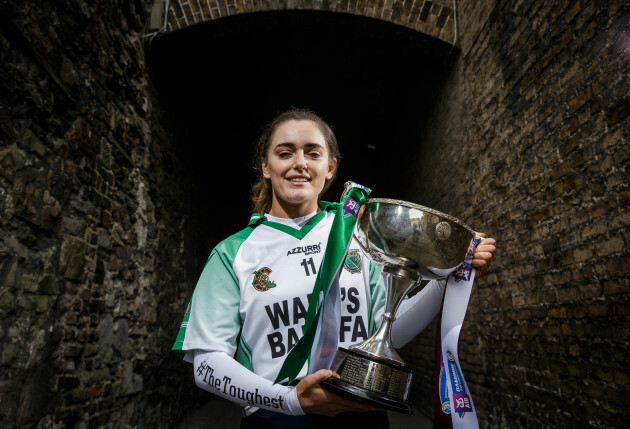 Ryan Byrne / INPHO Ryan Byrne / INPHO / INPHO
It's almost a sense of déjà vu as Orlaith McGrath walks into the room at the launch of the AIB All-Ireland club camogie finals.
She's captained Sarsfields to Croke Park once again and they're preparing to do battle with Derry kingpins Slaughtneil in a repeat of the 2017 decider.
"It's been a long year getting back here," she tells The42.
"Between trying to win the county final in the first place, it's a serious battle in Galway, and then trying to get over the semi-final. Being back in an All-Ireland final is what we want, it's where we wanted to be after the defeat last year so it's good to be back."
Another special family affair on the biggest stage in Gaelic games a little over 12 months later. The four sisters still involved and starting, with their father Michael — or more commonly known as 'Hopper' — at the helm.
"Still there, just the four of us!" the 22-year-old laughs, reminding me of each of her sister's names and ages.
The eldest, Niamh (25) lines out in midfield and Clodagh (23) marshals at centre-back, while Siobhán (17) joins Orlaith in the forward line.
"It's nice," she continues. "It's like playing with anybody else on the team.
"We've an awful lot of sets of sisters on the panel so it's the same for us all really. It's a group of sisters I suppose playing on the team really, it's the same for us all."
Working under her dad, who's a legendary county hurler and back-to-back All-Ireland club winner with Sarsfields in 1993 and 1994, and his backroom team is something McGrath has just become accustomed to and clearly appreciates.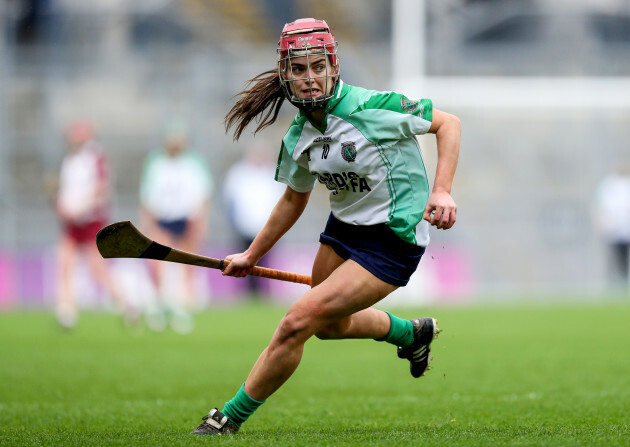 Tommy Dickson / INPHO Tommy Dickson / INPHO / INPHO
"It's fantastic," the UL graduate explains. "I suppose he has to maintain a professionalism as manager but it's nice to be able to try and get over the line for him, and for John and Olive, to try and get over the line for them.
"They put in such an amount of work with us, not even this year and last year, but throughout, we've come up from U8s so yeah, it'd be nice to do it for them."
The pain is evident from her voice as she speaks about it, but we must revisit last year's All-Ireland club camogie finals day. 5 March 2017, and that final whistle.
It was a close encounter, but Slaughtneil proved strongest on the home straight to win by two points and lift the Bill and Agnes Carroll Cup.
"Complete dejection, just heartache," she says, still hurt.
"Devastation that it came to fruit that we actually lost. Watching the Slaughtneil players celebrate, they couldn't have been happier while we were the complete opposite.
"It's just that fine line between winning and losing in sport. It's cruel but that's what it's all about, you want to be on the other side of it.
"It's a good motivating factor to try and get back there and push on."
Back then, as the dust settled on the heartbreaking loss and facing into a fresh campaign, did she ever imagine that 12 months on they'd be back where they were, in the top two clubs in the country?
Put simply: pretty much, yes.
"We pride ourselves in being a massively ambitious team. We're a very young team but were ambitious in the fact that we knew we didn't give a good account of ourselves last year. That's not taking away from Slaughtneil being a fantastic side, they deserved to win it.
"But we knew ourselves we did not fulfill our potential in Croke Park as a team, as a whole. We have so much more to give. To get to Croke Park and to get that stage is massive, to get over the county championship number one is massive.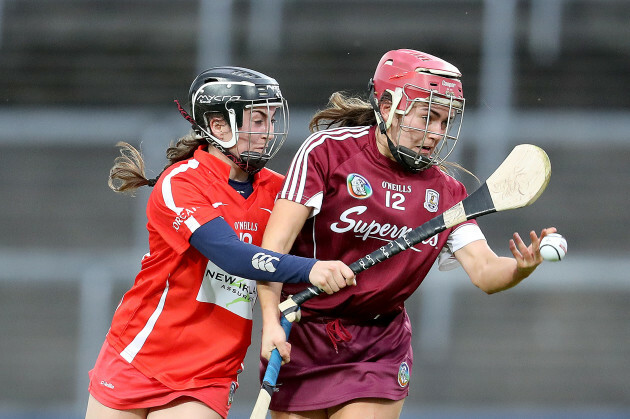 Bryan Keane / INPHO Bryan Keane / INPHO / INPHO
"But we kind of knew in the back of our minds that we wouldn't be happy if we never got back to that. It's great that we're back and we've a chance to go at it again. A second opportunity if you like."
With a repeat on the cards after the same four teams reached the semi-finals as last year, McGrath — a PE and Irish teacher in Kinvara — is pleased to prove that her side is 'no flash in the pan'.
She realises the enormity of the task that lies ahead too though, the quest for redemption and a first-ever All-Ireland senior title.
"We realise the enormity of the battle against Slaughtneil," she concludes.
"They're a fantastic side and they've only grown since last year with the addition of a few players. We realise completely that they're a serious side and we'll have it all to do against them.
She adds, of the buzz around the parish: "We don't really want to play into too much of the occasion of the final but have to get involved in that too.
"It's nice to see the green and white around the parish, it would spur you on that bit more really. When you're driving around and see green and white, it's nice to see that the community as such are behind you."
The42 is on Instagram! Tap the button below on your phone to follow us!