"IF YOU DON'T add value in elite sports, you're not kept around for very long." Dr Brian Moore has worked in sports science for long enough to appreciate that much.
So when Newcastle United announced last week that they are extending their collaboration with ORRECO, the bio-analytics company co-founded by Moore, it was another indication that things are moving in the right direction.
The company's website boasts testimonials from elite athletes past and present including Sonia O'Sullivan, Pádraig Harrington and Fionnuala Britton. English rugby giants Saracens are on board. In the run-up to London 2012, the Irish Institute of Sport enlisted them to help the Olympic squad reach their full potential.
At the heart of ORRECO's service is the belief, rooted in scientific data, that for athletes to hit their peak they need to strike the right balance between performance and recovery. For elite athletes that balance — and the vital edge it can provide — is too precious to be left up to chance.
Fortunately the human body is good at telling us when we've got it right and when we've got it wrong. Not only do ORRECO know which signs to look for, they believe they can spot them before they develop into illness or injury.
Performance
The story starts in the mid-1990s when Moore left his home in Renmore, Galway and moved to London. Sports mad, he wanted to become a PE teacher and applied for an undergraduate course in St Mary's, Strawberry Hill.
Little did he know it but he had stumbled across what he now describes as "the world hotbed of endurance runners."
"On my first day Moses Kiptanui, the world record holder, jogged past me. So I did what I think any sensible Irishman would do: I dropped my bag and started running after him.
I grew up watching the Golden League, the Zurich Weltklasse, the Bislett Games in Oslo and here you go, Moses Kiptanui has just jogged past me. I had to go and see the man in the flesh, watch him move and run.

Within six years of that day, I was in Moses Kiptanui's house testing his blood.
A passion for performance and endurance sports was born. The son of a biomedical scientist, Moore was driven by a desire to understand why some athletes thrive while others fall short.
It took him across the world from Australia to Kenya's legendary Rift Valley and eventually back to Britain where he started working alongside the GB Olympic sailing team in the run-up to the 2008 Olympics in Beijing.
The pieces began to fall into place.
"I really wasn't sure what value I could add but when I went down and spoke to them I realised they were having a lot of the same issues as people who were running 100 miles a week."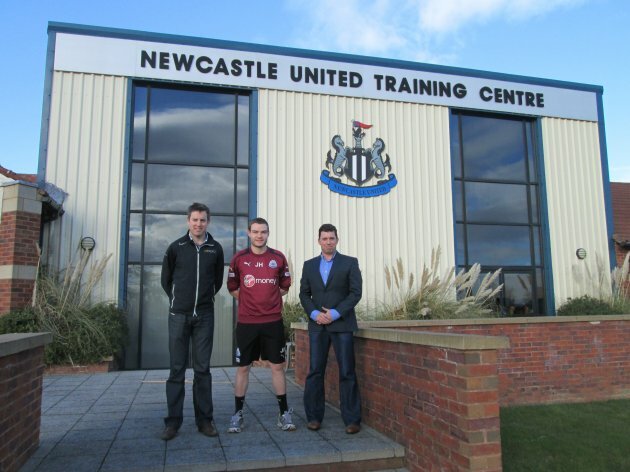 (L-R): ORRECO's lead physiologist Dr Charles Pedlar,  Newcastle United sport scientist Jamie Harley, and Moore.
The following year Moore co-founded ORRECO with Dr Andy Hodgson, helped by funding from Enterprise Ireland. Together the two now head up a six-man company based out of Sligo IT.
Exclusive Six
Nations Analysis
Get Murray Kinsella's exclusive analysis of Ireland's Six Nations campaign this spring
Become a Member
The name is a combination of "ór", the Gaelic word for gold, and "recovery". The colours of the company logo, gold and silver, represent the difference between first place and second, often decided by miniscule margins at the elite level.
Analysis
Powered by a global network of partner laboratories, ORRECO believe they have identified biological signs that correspond with peaks and troughs in performance. This is 'Big Data', Moore explains, matching the results of countless blood and saliva tests and using it to add an extra level of analysis to what coaches and athletes are seeing with their own two eyes.
In some areas the models are strong enough that ORRECO's analysts will spot potential red flags and advise athletes to change their training load or dietary plan.
The company's global team of consultants and collaborators include Dr Christian Cook, former speed and power consultant to New Zealand's All Blacks, Team GB Olympic nutritionist Nathan Lewis and former British athletics exercise physiologist Dr Charles Pedlar.
"I've created my own dream team of people with world-class expertise," Moore says.
After bringing Newcastle on board last week, the next step for ORRECO is to improve and expand their representation in professional sport.
But the science that the company is based on will be just as applicable to amateur sports men and women — the weekend warriors — down the line.
"People going out and running a marathon is great but one of the most scarce resource we have is time and you want to get the optimal return for your training. If you put in six month's training you want to make sure you're getting the best possible return for that time.
"By getting blood markers checked through the season you can make sure you're healthy and well, that your iron stores are adequate to support the training.
There's a very fine line. You've got to train hard to get better but if you train too hard, your performance starts to dip and then the law of diminishing marginal returns applies. That's the same whether you are a professional athlete or an amateur.
"People are so busy that it's a very fair request to say I'm putting a lot of time in, I want to get the fastest time possible.
"The learning that we're generating and the algorithms we're generating with our elites to help them better, our ambition is that we can apply that to the weekend warrior down the line."