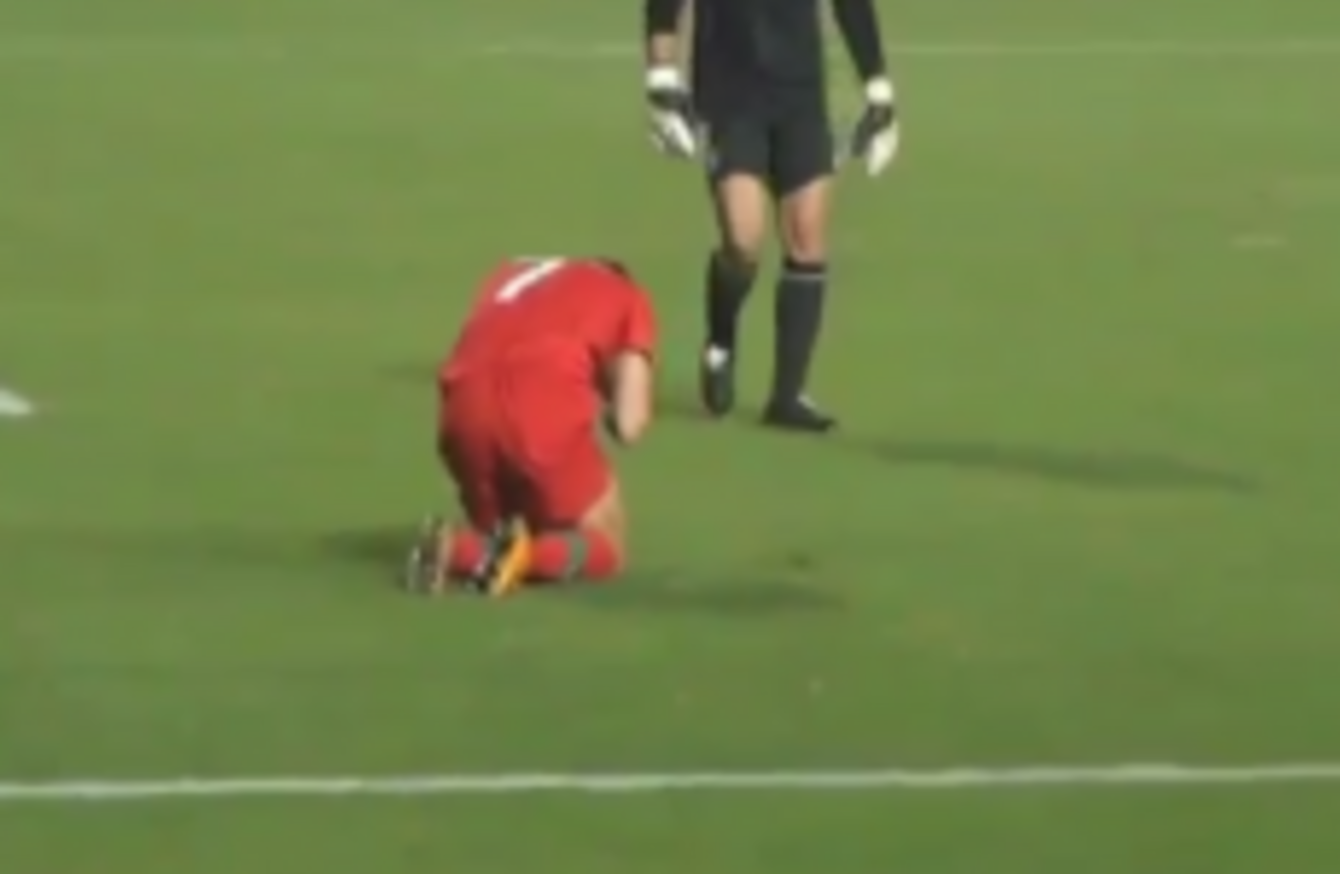 Image: YouTube screen grab
Image: YouTube screen grab
IT'S OSCAR NIGHT, but sport should never be about the acting.
We love sport because it is at its heart-wrenching best when the emotions are absolutely real.
Unfortunately, some of the main protagonists we watch lose track of this and begin to bypass the spirit of the game and think only about winning. That's not cool.
The dive, in any team sport is cheating. But referees and rulemakers are just as culpable as the players who con them – in football at least.
In the funny old game diving has become so prevalent that referees will rarely give a foul if the player stays on his feet. So unless a footballer dives he is, in effect, penalised. How do you expect them to stop?
Some, though are more guilty than others. Here are our top five outrageous dives.
The only proviso is that the referee or official must have been conned, otherwise we could pick any five from any Sunday league match.
The nominees for the Oscar are:
5. Peter Canavan:
Yes, simulation exists in the grand of game of the Gaels too. It happens every weekend, but we've gone for this high-profile incident. Canavan, that great Errigal man runs into Michael McCarthy in front of Hill 16.
McCarthy was doing little more than minding his own business, but with Canavan writhing on the ground the yellow card came out.

YouTube credit:  tallowmanirish
4. Cristiano Ronaldo:
This list couldn't really exist without Ronaldo, we all know that Robert Pires invented diving, but Ronaldo really perfected it.
Sure, at times he was actually fouled and received no free kicks, but that's what you get for hamming it up, isn't it?
There were more blatant dives he was guilty of, but we like his raw thespianism here playing against Cyrus (Cyprus? Why does he need to dive against Cyprus?).
We also like the fans hand-held camera which gives a lovely angle of the perfectly timed and pristinely clean tackle followed by our Oscar nominee rolling around clutching his face.

YouTube credit: UnknownGenius01
3. Emmanuel Thomas:
Now, diving in boxing is a touchy subject. Nobody likes to admit it happens, but nobody did it worse than Thomas.
With only seconds remaining in this bout in this 1999 bout against Denmark's Allen Vester, Thomas switches the lights off and drops backwards like some poor sod doing a trust exercise on a team building weekend.
Thomas later told ESPN of the controversy:
"Well, there wasn't a dive, it wasn't like someone paid me to do this. I just felt out of order, out of place.
"That was a mistake that I made early in my career because of me being stupid and big-headed," he added. "At that point, I was so stupid and backwards in boxing."
Mmm hmm.

YouTube credit: boodu2boo
2. Tom Williams:
Not strictly a dive, I suppose but the make-up department definitely deserve recognition from the academy.
Williams, his director of rugby, Dean Richards and Dr Wendy Champan were all in on the elaborate ruse designed to get Nick Evans back on the field to thwart Leinster's path to the Heineken Cup final.
Williams though, is not deserving of an Oscar, his wink gave the whole game away. That's just not method, Tom. You need a week with Daniel Day Lewis.

YouTube credit: hike6ones
1. Rivaldo:
This is the most despicable of them all for a number of reasons:
He's playing for Brazil in 2002, not a bad team and they shouldn't need any extra aid from the referee.
The opposition is Turkey in a group game and Rivaldo's Brazil are leading with time almost up. Again, no need for it.
… Well, see for yourself.
YouTube credit: TheDivingQueens