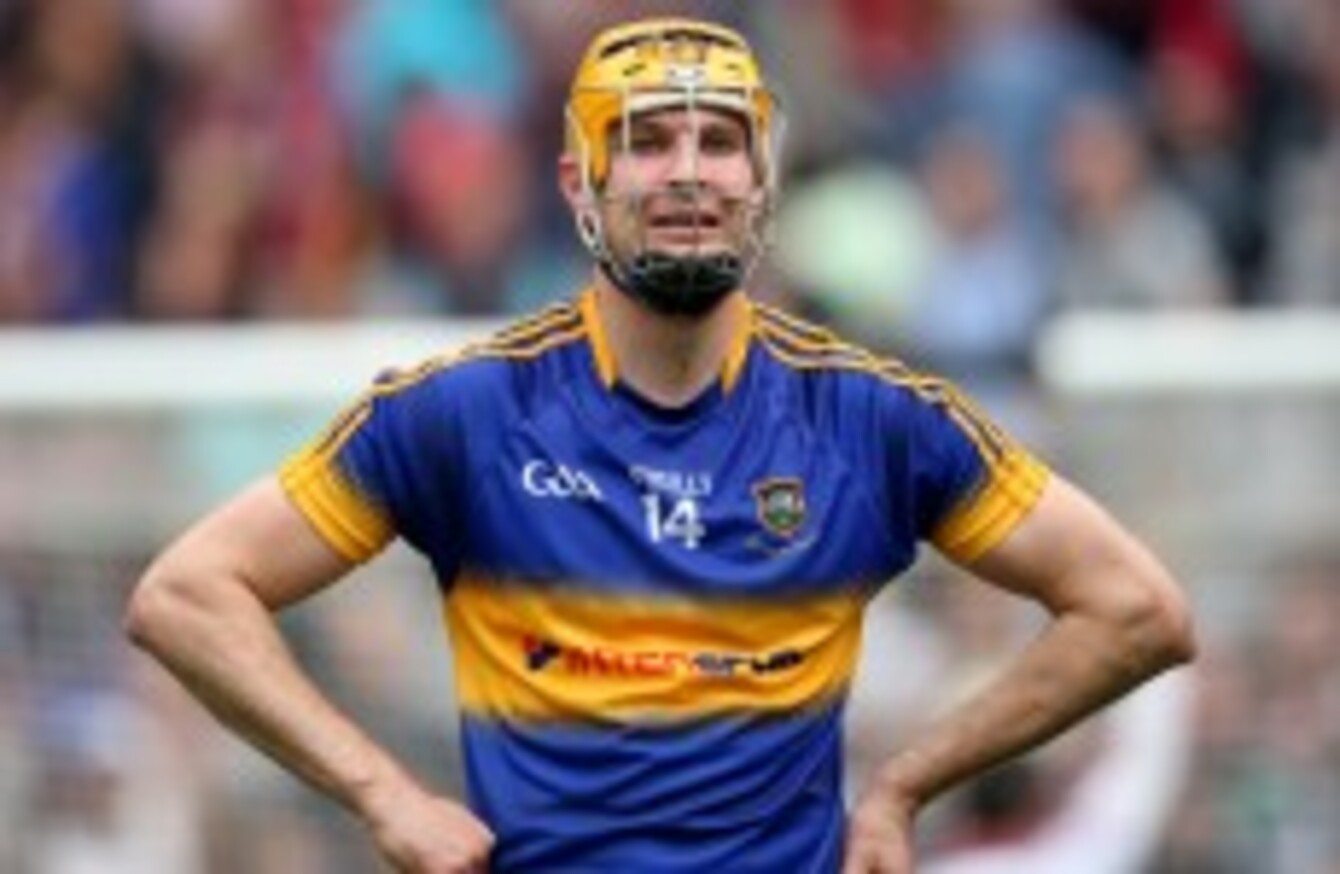 Tipperary full-forward Seamus Callanan.
Image: James Crombie/INPHO
Tipperary full-forward Seamus Callanan.
Image: James Crombie/INPHO
TIPPERARY'S ALL-IRELAND hopes ended yesterday but Seamus Callanan certainly wasn't to blame.
Despite contributing 3-9 to Tipp's final tally of 3-16, the outstanding full-forward finished on the losing side following a thrilling All-Ireland senior hurling semi-final against Galway at Croke Park.
Callanan picked up the man-of-the-match award for his efforts, having given Galway's Pádraig Mannion a torrid time on the edge of the square.
Many observers — including The42's hurling columnist John Gardiner – were surprised that Galway manager Anthony Cunningham didn't opt to change his approach to handling Callanan sooner.
After the Drom & Inch star found the net for the third time in the 53rd minute, Mannion eventually switched with John Hanbury. However, by that stage the damage had already been done, although centre-back Iarla Tannion did drop back in an attempt to curb Callanan's influence.
"He's probably unmarkable really, Seamus Callanan," Cunningham said after the game. "We tried very hard. Pádraig had a good enough game but the goals were killers for us. Every goal that we conceded, though, we got back one or two points, we showed great character.
"John [Hanbury] was carrying a knock and was cramping up, so he was in bother too. But in a lot of the other plays, Pádraig had one or two great blocks and won two or three balls in the first half and early in the second half. Tipperary are great to get goals, we saw that last year. We have loads to work on."
When asked if Pádraig Mannion should have been given more assistance in dealing with the threat posed by Callanan, Cunningham said: "It's hard, we wanted to keep three backs, it was man-to-man there today. After getting the [first] goal there wasn't much ball going in, then they got the second goal in the second half. That's the way they go.
"We'd be disappointed too that some of our bigger players were in hard luck for a couple of goals. It balances out."
Tipperary manager Eamon O'Shea also paid tribute to Callanan, describing his player as "very difficult to manage".
"I think that Seamus is a magnificent player," O'Shea said. "He is one of the top players that you will see. And sometimes you need to see that. I think he would have been a handful for anyone today. I knew he was really good for today during the week. He was spot on."