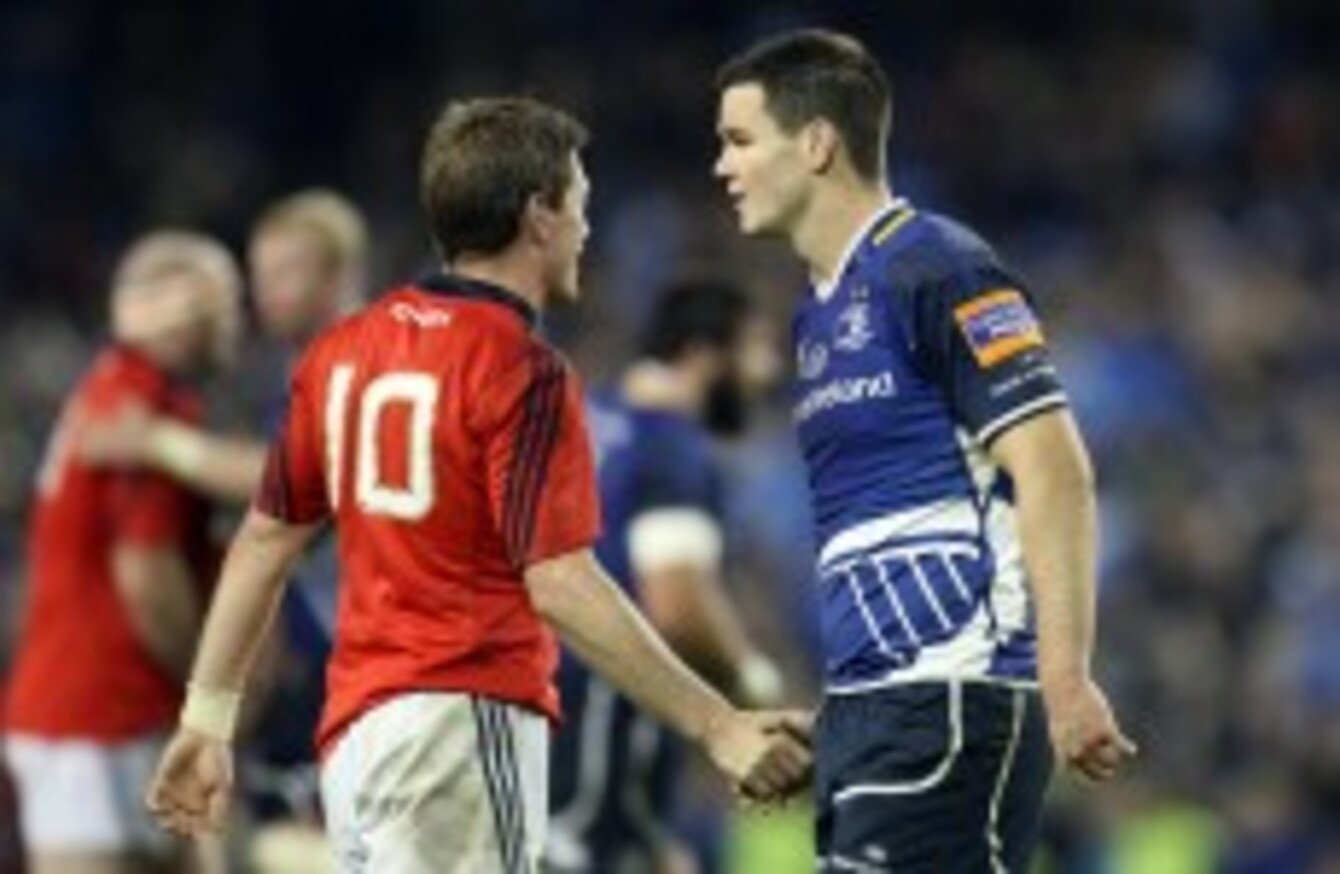 Leinster's Jonathan Sexton with Ronan O'Gara of Munster at the final whistle.
Image: INPHO/Dan Sheridan
Leinster's Jonathan Sexton with Ronan O'Gara of Munster at the final whistle.
Image: INPHO/Dan Sheridan
If this is to be the last Heineken Cup, as seems probable, it's worth looking back, at least over the past decade to discover what it takes to be European champions. The answer? I know it's broader than this, but it seems to be a dominant fly-half. Get yourself a good No10 and the job is half done.
The last 10 championships have revolved around guys like Ronan O'Gara, Jonathan Sexton, Frédérik Michalak and David Skrela with Toulouse and, of course, most recently Jonny Wilkinson of Toulon. About the only cup-winning fly-half not to dominate during that period was Alex King of Wasps, but how could anyone dominate a team which contained Lawrence Dallaglio?
However, King is still more than relevant to the argument because anyone who knew Wasps at the time understood the value they placed in their fly-half, almost to the point of saving him for the big European days of 2004 and 2007. Quietly and efficiently, King bossed the Wasps machine, very much the coach or the coach's representative on the field, who understood not just how to win games, but also what makes the Heineken tick.
It is a competition like no other and brilliant because of the tests it throws up over the course of a campaign. To win you have to beat massive French sides, overcome the intensity of the English, the fervour of the Irish and the skills of the Welsh. You start on the hard grounds of autumn, go through the plough of midwinter and finish in spring where on consecutive days there can be overcoat quarter-finals in Clermont followed by 20C, shirtsleeves and sunblock in Toulon.
The winners must win twice, once to get out of the pool stages – hopefully with enough points for a home quarter-final – before applying themselves to a whole new set of imperatives in the knockout rounds.
No surprise, then, when Clermont Auvergne snapped up King even though he was at the tail-end of his playing career. For the bulk of his time in the Massif Central, King was a coach in a setup which, cruelly, illustrates my point, even if it's the flip side of the fly-half argument. Arguably, Clermont have been the best side in Europe for the past five seasons, but are still to win the Heineken and the finger keeps pointing at the performances of Brock James. Being a good 10 is not enough on big European days.
To win the Heineken Cup it seems you first have to lose it and guys like O'Gara and Sexton have learned the difference between playing pool games away in England and France and losing, and losing but getting a point or two for later in the competition when qualification might depend on the smallest margins. They understand not just their role and not just the situation on the field, but the relevance of their game in the context of the pool.
How many times have we seen O'Gara stoke the Munster fires to get something from situations that appeared lost? Twice he and Munster have beaten me by a whisker in the final pool round to qualify for a quarter-final and last year he – with Paul O'Connell at his side – knew too much for Harlequins, even though Munster's form was poor, they were at The Stoop and conventional wisdom has it that quarter-final wins away from home are rare birds.
Likewise, only five months after leading that remarkable recovery against Northampton in the 2011 final, Sexton went to Montpellier for Leinster's first pool game, kicked a touchline penalty with the game clock in the red, earned his side a draw and with it the points needed to go on to another final. For Montpellier, it was a harsh first lesson from their first game in the Heineken. The second came a year later when they almost gave the game away at Toulon only to reverse that 16-37 defeat with a storming 23-3 win in the return to squeeze through.
Because their coach Fabien Galthié is too clever not to have learned those lessons and has an Italian side in his pool, and because I clearly rate the Montpellier fly-half, François Trinh-Duc, more highly than a succession of France coaches, I see them as outsiders, capable of causing a bit of a surprise this year, despite being 40-1 with the bookies. A lot will depend on the back-to-back games with Leicester, but with Treviso up first and then Ulster having to travel to France, Galthié could arrive at Welford Road with a bit of momentum.
He won't have to worry about his fly-half being overused either. Trinh-Duc isn't in Philippe Saint-André's training party for the autumn internationals and didn't make the squad which toured New Zealand in the summer. I can only guess why, because he stands flatter than any fly-half in Europe, asks questions of any defence and clearly has the nous to run games at the highest level.
In short heTrinh-Duc fits the Ryan bill for Heineken success, but then again so do two No10s who went head to head in last season's semi-final – Wilkinson for Toulon and Owen Farrell for Saracens. Wilkinson ran that game and also dominated the quarter-final against Leicester, and if he's playing less for Toulon this season, you sense – like King and Wasps – that he is being saved. Farrell has been away with the Lions and, judging from his form and composure this season, is acquiring the wherewithal to make a dominant fly-half. Last season's semi-final could easily become this season's final final.
This article titled "How to win the Heineken Cup: a smart fly-half is a good place to start" was written by Dean Ryan, for theguardian.com
© Guardian News & Media Limited 2014