MORE GIFTED PLAYERS may have graced the League of Ireland, but when it comes to drive and winning mentality, it is difficult to think of a player superior to Owen Heary down through the years.
Beside words like 'solid,' 'reliable' and 'leader' in the dictionary, there may as well be pictures of Heary.
Former Cork and St Pat's boss Pat Dolan went so far as to describe him as the League of Ireland's equivalent of Kilkenny GAA legend Henry Shefflin.
The numerous accolades that Heary earned over the course of a stellar career certainly back up the hype — they include seven League of Ireland titles and two FAI Cups.
The Shelbourne legend's love of football was cultivated from an early age in his native Cabra.
"In the estate we had a five-a-side tarmac pitch and we'd be constantly playing football on that every night for hours until the lights went off or you were called in," Heary tells The42.
Back then, all the lads around the estate wanted to be footballers. You'd have your Liverpool fans, your Man United fans, you'd have your road against the other road.
"You'd have teams battling against each other, the games would go on, they could be (level at) 10-10, it could be next goal the winner, it would then be 11-10 but they'd just keep going.
It was great and the ambition was always to become a footballer later on in life, possibly in England or Ireland."
Heary started off playing organised football for his local side in Cabra when he was "nine or 10″. His friend's father managed the team.
It was also part of a rigorous routine that the football-mad youngster embraced wholeheartedly.
You hear people saying players are 'overloaded' now," Heary says. "Years ago, you'd be out playing six, seven hours football a day and then going training that night.
"Then (there was) a match — you'd play two or three games in a weekend, and no one was ever talking about 'overloading' players.
That's why you say to yourself: 'How has it come down to coaching now more than natural ability?' The street footballer is sort of gone."
Heary spent a year playing for Rivermount and was not yet renowned as a tough-tackling full-back.
Because I had a bit of pace, they played me up front and with the school team it was the same," he says.
Aside from that one season, he "never really played schoolboy against the Home Farms and the Belvos".
Instead, Heary joined his father's team while still in his early teens.
I was playing in the Phoenix Park against men, which probably stood to me better," he recalls. "Playing against big physical lads is a lot different to playing against schoolboys.
"The one thing was I was able to run and they couldn't catch me, so that was the good part of it."
Donall Farmer / INPHO Heary cites former Shelbourne manager Dermot Keely as one of the biggest influences on his career. Donall Farmer / INPHO / INPHO
Moving to join a club in England was never really an option to Heary growing up, though "once or twice" there were offers on the table when he had become a senior player.
I remember Dermot Keely saying to me: 'Do you want to go to England or stay here at Shels and sign a new contract?' At the time, I was quite happy to stay at Shels, because we'd just won a trophy.
"There was another time where I signed a contract for him too. My son had just been born and it just wasn't the right time for me to move over.
Straight after the tribunal (with Shelbourne) finished I signed for Bohs (in January 2007) and Ollie (Byrne) comes to me and says: 'I'm going to sell you to QPR next week.' I said: 'It's a bit late, I've already signed for Bohs, you could have done that months ago, rather than bring me to a tribunal.'
"There were a few options (to go abroad) there, but it's something that I never regret, because I was always enjoying my football and that was the crucial thing."
One positive aspect of staying in Ireland was the fact that he broke into senior football far quicker than almost any youngster playing in England would have managed.
Heary was just 16 when he made his debut for Kilkenny City against Bray Wanderers in November 1993. In this challenging and uncompromising environment, the teenager held his own, though he admits it was quite the baptism of fire.
I remember going down, myself and another lad from the estate, (I was told to) wear a shirt, tie and trousers. I was only 16 years of age, I didn't have that, so I had to go down in my Da's (shirt), it was hanging off me.
"I went down on a mini-bus to watch the Kilkenny first team play Cardiff. Kilkenny beat them 3-2. At the time I was saying 'this looks good'. I was in the dressing room for one or two of the games and Jimmy Donnelly was sitting beside me. He'd taken his (false) teeth out, put them on the side and was putting in a gumshield.
I remember looking around and thinking: 'My god, these are men that are going out looking for a war more than anything else.' It was definitely an eye opener with the tackles and the elbows coming in.
"I played a game where I came on as a sub, the ball was coming to me, I sort of ducked (out of a challenge). I remember Johnny Reynor saying to me: 'If you keep doing that (you won't last long).'
That's when you knew you were in a man's team, you had to step up or you'd be moved on."
Heary impressed to the extent that he played 16 times during a season spent at the club, though not everyone was overly enamoured with the promising young footballer.
I know one or two of the players who were there at the time saw a 16-year-old taking a senior pro's position — I remember (one player in particular) wasn't too happy.
"But with the rest of the lads, I was encouraged by them pushing me on. It was a good experience."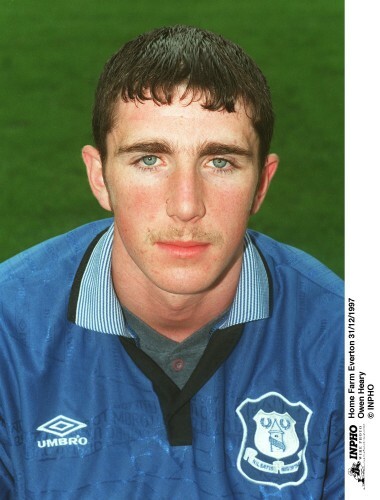 © INPHO Heary made over 100 appearances for Home Farm between 1994 and 1998. © INPHO
Heary's brief spell at Kilkenny ended in 1994, when Liam Tuohy persuaded him to join Home Farm.
Kilkenny let all the Dublin lads go and I was the only one asked to stay. I had no way of getting up and down (to games), so Home Farm was the best option for me then.
"It was a good experience. I was training there doing a FÁS course during the day and then (football) training at night.
It was like a full time set-up for me, you had Stephen McGuinness there, Martin Daly, who became manager as well. It was a learning curve.
"It was a good pitch, and I was playing week in week out. The managers from the Premier Division clubs would come down and watch, because we'd be playing on the Sunday. It was a good stage to show off the talents that you had."
After four years and over 100 appearances for Home Farm, Heary was ready to play at a higher level. The defender had impressed to the extent that, in 1998, he earned a move to Shelbourne, who were one of the best sides in the country at the time.
I remember Dermot (Keely) actually asked me to sign for Finn Harps when he was manager there when I was at Home Farm. I didn't go, it was too far.
"Then he became manager of Home Farm, and I thought, that's it, I'm going to be out on my ear here. But he was great, he actually showed me how to defend. He played me as an outside right for Home Farm.
When he went to Shels, he didn't take me at the start. He took Stephen Gifford at right full. Two or three weeks later, he said: 'Look Owen, would you be interested in coming down? I want you to put pressure on Dessie Baker as an outside right.' I said 'no problem,' I agreed and signed for him."
Heary joined Shelbourne on the back of one of their most memorable and ultimately anti-climactic seasons. Having looked in strong contention for the treble, the season ended in bitterly disappointing circumstances. They lost the league to St Pat's by a single point and went down to Cork City 1-0 after a closely fought FAI Cup final was replayed.
retroloi / YouTube
The young Dubliner's arrival coincided with a downturn in the team's fortunes. Though they finished third, just one place worse off than the previous campaign, league winners St Pat's finished a full 26 points ahead of them.
As a result of this loss of form, Heary was among those whose very presence at the club was questioned. A lesser player might have wilted in these circumstances, yet the youngster stood up for himself.
Things didn't go well at the start," he recalls. "They were losing a lot of games. I remember Pat Fenlon stepping up when we had a players' meeting.
"He said: 'You Home Farm lads aren't good enough to be here.' I was the only one playing at the time and I answered him back saying we hadn't had a chance to impress and to show what we could do. To cut a long story short, the other lads were released and I eventually got in (to the team on a regular basis). Nine years later, I was still there."
It was an exceptionally talented side by League of Ireland standards. The Shelbourne team of that era included Tony Sheridan, Greg Costello, Mick Neville, Tommy McCarthy, Pat Scully, Declan Geoghegan, Stephen Geoghegan, Pat Fenlon, Dessie Baker, Richie Baker and Steve Williams.
But big changes were on the way. The gifted Sheridan, who had previously shown great promise for Coventry City and had even been linked with a move to Liverpool during the Graeme Souness era, was ruthlessly cast aside and allowed to join Portadown ahead of the 1999-2000 campaign.
Paul Doolin, who was by then a veteran in his mid-30s, joined the club. Heary cites his influence on proceedings as crucial to the club's subsequent success in winning the league and cup double. As well as improving the team immeasurably, the future Ireland underage boss had a significant impact on Heary personally, and helped cultivate the winning mentality that the defender ultimately became irrevocably associated with.
It wasn't until we brought in Paul Doolin that we really kicked on the following (1999-2000) season. He brought in that experience and drive. Paul said to me: 'You had a good season this year, but can you better it next year?' That was always the drive then.
"I used to talk to Doolin and to Mick Neville and you'd see that they had six league titles. That was the ambition then to say: 'Hopefully I can get one or two.' And then as I got closer (to their records), there was a drive to overtake them."
While older players such as Doolin didn't stick around for long, Shelbourne would still dominate the League of Ireland for years in a manner similar to the way Dundalk have managed in recent seasons, notwithstanding the latter's poor form lately.
Between 1999 and 2006, Heary and his teammates won a phenomenal five league titles. The defender acknowledges that he played the best football of his career at Tolka Park, gaining recognition from his peers as he was rewarded with the PFAI Players' Player of the Year accolade amid the culmination of the 2000-01 campaign.
INPHO Wes Hoolahan of Shels and Drogheda's Lee Jones in 2003. INPHO
The emergence of new young players was also key to Shels' continued success, and one of these individuals in question went by the name of Wes Hoolahan. Joining as a teenager, he would spend four years with the League of Ireland side before eventually going on to star with Norwich in the Premier League and the Irish team at international level.
When he came in he was a young player," Heary remembers. "We were all young, but he was 18 or something like that. You could see that talent that he had. David Crawley once said that myself and himself used to take turns trying to kick him (in training), but we couldn't catch him.
"He was a great street footballer. He was able to keep the ball close to him, he was able to beat you. He had a bit of pace. People didn't think he had pace, but he did. As for the physical attributes, his upper body was strong.
I was more surprised with the fact that he went to Scotland (joining Livingstone) before he went to England. If you look at him when he played against Deportivo in the European games, he was just built for that stage. He could keep the ball, he could pass the ball, he always wanted the ball under pressure.
"You could see the ability that he had. He should have been playing at a higher level a lot earlier than he did."
The aforementioned Deportivo matches are still remembered fondly to this day, more than 13 years later. The Spanish side were at the time widely regarded as one of the best teams in Europe. Just a couple of months previously, they had reached the Champions League semi-finals — bowing out after a narrow 1-0 aggregate loss to the eventual winners: a Jose Mourinho-managed Porto outfit.
Pat Fenlon's men were well prepared for the match, however, having earned hard-fought victories over Icelandic side KR and Hadjuk Split of Croatia in previous qualifying rounds.
The Deportivo game was a different level altogether," Heary recalls. "You're talking about top, top players. In the build-up to it, Nutsy (Pat Fenlon) said: 'I don't think (Albert) Luque will be travelling — Real Madrid put in an £18m bid for him.' That just sums up the whole thing, that Real Madrid are looking to buy a player off Deportivo.
"Then Pat goes to me 'he's on the travel list, so he'll definitely be playing'. That's when the nerves are kicking in and you're thinking about it. But what an experience for us and for everyone involved in it. Even for (non-Shebourne supporters) that just followed the league, it was a great experience for them."
retroloi / YouTube
Shelbourne ultimately emerged from the two games with great credit, despite having nowhere near the type of resources that Deportivo benefited from. They managed to earn a 0-0 draw against the Spanish side at Lansdowne Road, while the 3-0 result in the second leg was harsh on the Irish team, who had seriously tested their more esteemed opponents.
barbarian981 / YouTube
Had their feat come in more modern times, they would have qualified for the Europa League group stages and enjoyed a substantial financial windfall similar to what Dundalk accrued in the wake of their European heroics last year.
LewisQ / YouTube
Instead, the League of Ireland's reigning champions were subsequently dumped out of the Uefa Cup, losing 4-2 on aggregate to a talented Lille side. But again, Shels had performed admirably, drawing the first leg 2-2 in Dublin against the French team, whose line-up included internationals such as Tony Sylva, who had starred for Senegal in the World Cup two years previously, and ex-Tottenham player Milenko Acimovic, while a teenage Kevin Mirallas — now of Everton — was on the bench.
By this point, Heary was captaining the side and was an invaluable asset to the club both on and off the pitch, having been tasked with the responsibility of controlling the dressing room.
"I had to learn from the likes of Nutsy and Doolin," he says.
You had to deal with the chairman, the board. And in terms of controlling the dressing room, there's a lot of problems that go on in dressing rooms that players have. The last thing you need to be doing is giving them to the manager. We didn't need to be going to the manager with every problem.
"We'd have games where we were getting beaten at half-time and all of a sudden, there'd be a row. Matches in training could be the same. If there are certain things to be sorted out, the players can do it ourselves, shake hands and get on with it. You just make sure that every player is at it and no one is stepping out of line."
This system worked well, with Heary a much-admired figure who led the club to success after success during that era. Then, suddenly, it all came to an end.
Incredibly, two years after Shels had given one of the best sides in Europe a serious scare, they were in financial turmoil. The players went months without being paid and miraculously still managed to pip Derry City to the 2006 league title amid this backdrop of uncertainty.
Owing to the club's financial improprieties, several of Shels' top players including Heary were made free agents, and the team were relegated to the First Division. Ever since, they have never fully recovered and the Dublin side are no longer the force they once were in Irish football.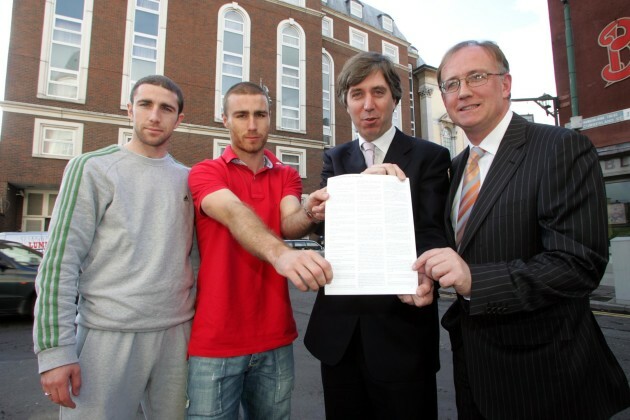 Morgan Treacy / INPHO Shelbourne's Owen Heary, Sean Dillon, FAI Chief Executive John Delaney and Fran Gavin (PFAI Chief Executive) with a players contract in 2006. Morgan Treacy / INPHO / INPHO
Heary subsequently joined Bohs in January 2007. Under normal circumstances, even a player of his legendary standing might have expected flak from Shels supporters after joining another Dublin club. But given how shoddily the experienced defender and his teammates had been treated by their previous club, few could complain about his decision.
Our fans totally understood it and there was never a bad word said to me about it," he adds. "The fact is it was down the road and I supported them as a young lad growing up, so it made sense to go there."
Sean Connor, currently serving a six-month prison sentence for driving without a license, was manager at the time, and Heary was not impressed with how the club was being run upon his arrival there, describing how a lack of "professionalism" was hampering the team's progress.
The first season didn't go well," he explains. "We finished third. We had a very good team at the time but needed a bit more to put us in the right direction.
"We were a full-time team but we weren't training as a full-time team.
We'd be due to go training, then all of a sudden training would be cancelled. There were little things that were going on that were hard to fathom when you were trying to get yourself ready for games."
The following season, however, the situation changed for the better. Pat Fenlon took over as manager and the club consequently won the league by a record 19 points. In total, they lost just two and won 27 of their 33 games, all of which was achieved with virtually the same side as the year before.
It shows that we did have a good team, we did have a good set-up. We just needed someone to be more professional and bring us in the right direction.
"It's an achievement that really stands up there with them. (The goalkeeper who now plays for Cardiff) Brian Murphy should have won Player of the Year that year. We won the league by 19 points and we didn't have a player that won Player of the Year. It was a strange one.
"But for us as players, it was a great feeling. The fact that I went to Bohs to win trophies and I managed to win the league in my second season there (was great)."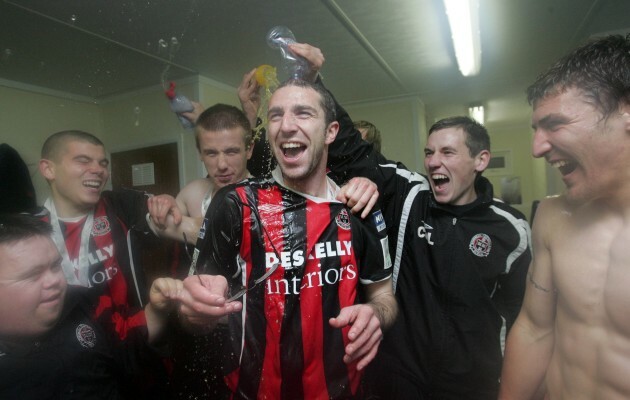 Donall Farmer / INPHO Heary and teammates celebrate winning the league. Donall Farmer / INPHO / INPHO
Heary and his teammates would go on to emulate this feat the following season, this time winning it ahead of second-place Shamrock Rovers by four points.
Nevertheless, neither the club nor the player have tasted silverware since, losing out to Rovers on goal difference in 2010. And sadly, there was a degree of deja vu for Heary ultimately, as Bohs like Shels before them began to suffer serious financial problems.
A number of their top players left for England and elsewhere, but Heary admirably chose to stay and revert to how he had started out in football — playing as an amateur.
The last thing I wanted was for Bohs to go down or be relegated or something like that," he explains. "I was given offers to go to other clubs. I thought: 'If I go part-time here, I can stay with the club and still work for the club in other areas off the field and help promote it.' For me, it was a no-brainer.
"I know the money was great and it would be great earning a few more quid. But I didn't want that. I wanted to help Bohs and give them as much time as I could to stay on the pitch and keep playing. I was captain of the club so (it was a matter of pride for me as well )."
Heary would spend a further three years at the club before announcing his retirement at the age of 37, having agreed to replace Aaron Callaghan, taking over as caretaker manager.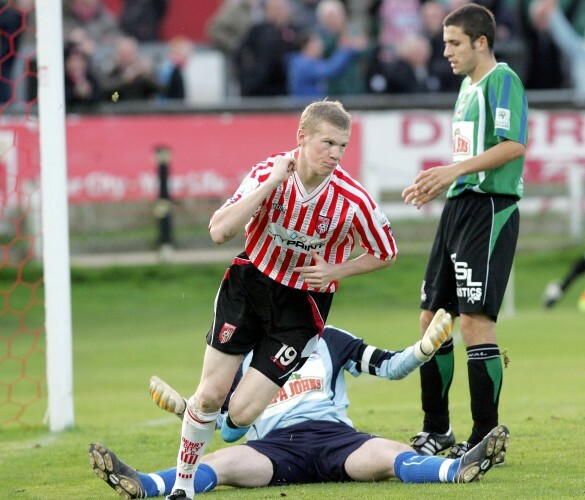 Margaret McLaughlin / INPHO Derry City's James McClean wheels away after scoring against Galway in 2009. Margaret McLaughlin / INPHO / INPHO
Coming up against one outstanding player in particular made the difficult decision to hang up his boots that little bit easier.
In terms of players, there's been a few good ones (I've faced) throughout the years. I was thinking the other day when I was coming towards the end of my career, (James) McClean, he was only starting out (with Derry) and he was flying at the time. We played him in Dalymount and he was a rocket. I don't know whether it was me coming to the end that I was that slow or the fact that he was so quick, but he was the toughest I played towards the end of my career definitely.
"He reminded me of Roy O'Donovan at Cork. He was a similar player: loved a tackle, good pace, a tough opponent and you knew you were in a game — he gave as good as he got."
With the FAI rejecting calls to give Heary a testimonial on account of his amateur status at the time, Bohs arranged a tribute match for the veteran defender instead as he bowed out of football as a player.
While many footballers in the League of Ireland and elsewhere tend to be somewhat caught off guard by the end of their playing career and find themselves unprepared for life thereafter, Heary was able to make a smooth transition into coaching.
I speak to players who, once they retire, depression kicks in and things like that," he says. "I was coaching the reserves (at Bohs), managing the reserves, the 19s. I kept doing my (coaching) badges and kept learning. It was the one thing I wanted to do — to stay in football after I finished playing.
"Unfortunately, I finished earlier than I possibly should have. I was 37 but I had a chance to manage Bohs. I didn't think you could (play and manage)."
Having served as caretaker at Bohs, Heary then took charge of Sligo Rovers ahead of 2015 season.
At Bohs, I had been at the club so long that I knew the players who were there. I knew the mentality of the players we had in the dressing room. I had a chance of full-time football up in Sligo. So I definitely wanted to take it.
"My eyes were opened, because I was going into an unknown area. I didn't have my staff with me. My family were (in Dublin). So going up, you're trying to find out what the club is about. You find out what the players are about."
Yet this bold move into unfamiliar territory failed to pay dividends. By June 2015, less than a year after his appointment, Heary and Sligo parted ways, with news of his departure coming in bizarre circumstances.
eir Sport / YouTube
Heary initially had been told by the club that his services were no longer required only for him to be reinstated the following day. Sligo then released a statement confirming his sacking while Heary was in the middle of doing analysis as part of Setanta Ireland's coverage of St Patrick's Athletic's 3-0 win over Longford Town, with the announcement leaving him utterly bewildered on live TV.
Nonetheless, despite this embarrassing incident, Heary insists he holds no ill feeling towards the Bit o' Red.
It was just all up in the air," he remembers. "The lads read out the statement on the telly. I was baffled by it. They never contacted me to say: 'Owen, this is what we're putting out, this is the way it is,' or anything like it. They sort of caught me off guard a little bit.
"But there are no grudges — it's football, you move on. I see another manager is gone from them again (recently), so they've obviously gone through a lot over the last couple of years. I think they need to stick to a manager for a while and try to settle down."
Just days after his departure from the Showgrounds, Heary received an offer from Bray to become their manager, but turned it down as "my head was all over the place because of what happened at Sligo".
Instead, he gradually rediscovered the joys of coaching with local side Tolka Rovers and subsequently, the Shelbourne Ladies team.
Eventually, last June, he got the offer to return to Shelbourne as manager of the men's team. With the club third from bottom when he took over, there was little pressure on him to work instant miracles, and the Dublin side finished the campaign in the same position Heary found them.
This season, there have been signs of gradual improvement, with the Heary's team currently fifth in the First Division, eight points behind league leaders Cobh following their loss to them on Friday night.
With only one team going up and some of their rivals having better resources, Heary admits promotion to the top flight this year is a "big ask," but the optimist in him still believes it could happen.
Look at the money Waterford invested, the money Longford invested, Cobh and UCD have settled teams that were just short of the playoff last year," he says. "But one team has to win it and the pressure is on the team standing at the summit, so if you can stay there or thereabouts come the last few games of the season, then who knows? We've seen surprises over the last few years of (unfancied) teams doing so well — Leicester City being the prime example."
And while he remains as devoted to the game as ever, Heary currently has a job away from the toils of football management as well.
"A mate of mine was involved in a delivery service and going back a while, he asked was there any chance I could drive a van for him. It was a big company.
I said 'yeah, I'll give you a dig out,' and I've been doing that for the last year and a bit, having originally been told they only needed me for a month. But it's the usual, where one month leads to two.
"We don't train until six o'clock or seven o'clock in the evening, so it's a chance to kill a bit of time during the day. I start about half five in the morning and finish at half two. It sort of suits me in a way, there's no weekend work, it doesn't interfere with the football, so I'm enjoying it.
"I don't have to go looking for time off or leave work early to head to training.
We start early but we finish early. When I'm home, I can have dinner and I can relax before we go training. It's a big plus to get a job like that."
Indeed, it's hard to imagine the Shels icon's life without football. For an individual with his ferocious drive to succeed, competing is less a choice and more a necessity.
The42 is on Instagram! Tap the button below on your phone to follow us!