IT'S THE THING I'm most remembered for, but what happened in Croke Park that afternoon is a bit of a blur to me. Nothing was going right for me inside, so I came out the field a bit.
We broke down a Dublin attack in front of the Hill and Ricey mopped up, lobbing a loopy fist pass to McGuigan. He kicked it long to Stevie, who couldn't pick it up at the first attempt.
Paul Griffin kicked the ball along the ground and looked to have cleared the danger, but Stevie was really persistent and won it back. He kicked it in and I ran on to the ball, my back to goal, and let it bounce once straight into my chest.
I was almost out as far as the forty-five metre line by the time I'd stopped running. I turned sharply, leaving Paddy Christie on the ground and out of the game.
I looked up and there was loads of space in front of me. I soloed the ball and threw the first fist dummy on Stephen O'Shaughnessy. I felt I got past him and no more. Still loads of space.
I bounced the ball and took another solo, spying Paul Casey coming towards me. This man is not gonna be expecting this dummy again. I threw it again. And, by God, did he not fall for it.
Suddenly, the goal opened up wide. I could hear the crowd … 'GOOOOO … OOONNN … GOOOOO … OOONNN.' The noise was like waves spilling down from the stands. Growing louder and louder, and louder. Canavan and McGinley were steaming in and I was going to square it.
I thought of my da's words to me: 'You're passing the buck, why are you passing the ball so much when you're in a good position? Why don't you go on yourself? You can finish, for God's sake, you're one of the best finishers on the team.'
I put my laces through the ball. The ball flew into the roof of the net. If Cluxton had stayed where he was, he might have got to it but I think he saw the two boys coming in and had moved slightly to his right.
I might have side-footed it, but because the ball hit the roof of the net it made the goal look so spectacular. It felt so good I didn't know how to celebrate. McGuigan then McGinley and Canavan came over to me, all smiling and laughing.
It was similar to the goal I'd scored against Dublin in Omagh in the League six months earlier, only better. Two dummies, instead of one. And this time it was in front of over 78,000 people.
When you're in a situation like that, instinct takes over. People said I must have known after throwing the first dummy what I was going to do, because of the goal in Omagh, but it doesn't work like that. I wasn't thinking about anything. It was as big a surprise to me as everyone else.
YouTube: GAA Archive
I felt the confidence surging through me. It was like somebody had injected me with something. You know what? I told myself, Let's do this, let's hit the dance floor. I had felt under so much pressure because I was playing shit, and I was having a shit season.
Now I felt so light on my feet. It was like someone had lifted a big weight off my back. Balls started sticking to me, whereas a couple of minutes before they were bouncing off me.
The goal only brought us level, but it changed things. Dublin's big lead was gone and you could see their players were deflated. If either team was going to win it now, it was us. We should have won it, too.
We had the momentum but only led by a point as the game slipped into stoppage time. Dublin were awarded a soft free and Mossy Quinn converted. We were going to have to do it all over again.
I couldn't wait to get out of the dressing room. I had felt like a spare wheel for weeks when I couldn't get on the team and I certainly didn't want to be the centre of attention now.
I got showered quickly and organised a lift home and was well up the road before the team bus was even pulling out of Croke Park. Mickey tried to ring me, over and over again, as I was on my way home, he was melting my phone but I wouldn't answer.
You have hardly spoken to me in three months, I thought to myself. Why are you ringing me now? I switched the phone off when I got home and went to a quiet bar across the road from my house to have a few beers.
All the wee old men in the bar were coming over and shaking my hand, which surprised me. These men saw me all the time and they'd never reacted like this before. I didn't think the goal was that big a deal. It felt really, really good at the time because I was having such a shit game, but I'd scored goals like that before for the club and at underage level.
I thought maybe it was because it was against Dublin that it was turning into a bit of a circus. I watched The Sunday Game in the bar and saw the goal for the first time. Was that me? I couldn't remember half of what happened.
I knew it was pretty special when they showed the goal over and over again. I couldn't hear a lot of what was being said by the RTÉ pundits but there was a debate about whether I had fouled the ball. That pissed me off, no way had I fouled the ball, and I was happy to see Anthony Tohill stick up for me on the panel.
Mickey came straight over to me at training the next Tuesday night in Omagh. 'You didn't answer your phone to me … I was ringing you the whole night. There were journalists there waiting to talk to you after the match.'
'They'll be all right, Mickey,' I said. 'They didn't want to talk to me three months ago or last week for that matter.' I could have been saying it about him, never mind the media.
'I don't think you realise what you've done here,' he said. 'You've scored the best goal ever seen in Croke Park. If that doesn't catapult your season, I don't know what will.' 'Yeah, well, I'm feeling good. Hopefully I'll get the start the next day.' He smiled at that.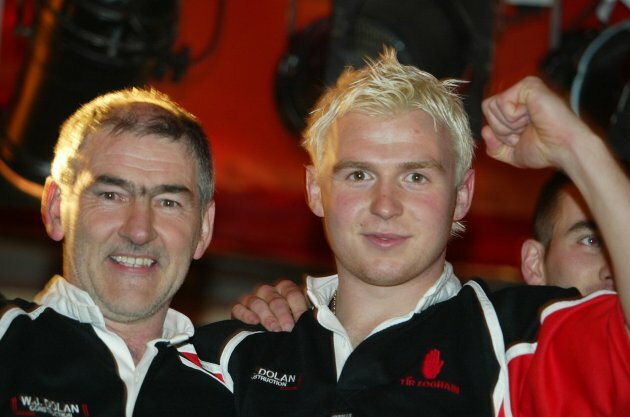 Mickey Harte and Owen Mulligan after the 2003 All-Ireland final win
Pic: INPHO/Andrew Paton
Mickey showed a lot of faith in me to start me against Monaghan and Dublin when I wasn't playing well, but I was still upset he hadn't being showing me much attention.
I was out of form and wasn't enjoying my football. I was missing sessions and it was nobody's fault but my own. But I needed an arm around the shoulder rather than the cold shoulder.
Even though I was annoyed with him, I knew I still owed him, big time. Most managers would have taken me off against Dublin, the way I was playing. Only for the fact he still had faith in me, I wouldn't have even been on the pitch to score that goal. I was determined to repay him by helping us beat Dublin the next day.
Mickey's superb record in replays is no coincidence. We prepared for the replay against Dublin totally convinced we were going to win the game. We watched the highlights of the drawn match, starting as usual with the things we did wrong. I was starring in the 'video nasty'.
Clip after clip I was losing the ball, I wasn't tracking back, I was a shambles. Then we moved on to the good bits. Mickey praised us for the way we came back at Dublin in the second half, we were a different side after half time.
My goal was the last thing shown. All the boys started clapping and laughing. Mark Harte was jumping about the place. 'That is unreal, Mugsy, just unreal!' he said.
I was starting to hear stories back from family and friends about where they were or what they were doing as the goal went in. It was nearly becoming a 'JFK moment'.
My ma would never have said to people sitting next to her at matches that I was her son, even if they slagging me or any of the other boys off – but she made an exception that day. She and my da were sitting in the Premium Level of the Upper Cusack with friends of theirs, Seamus McAleer and Kate Lennon.
When the goal went in, she jumped up and started shouting at the top of her voice, 'Oh my God! That's my son! THAT'S MY SON!' Years ago, a fortune teller in Portrush told her that one of her children was going to be famous and would be surrounded by thousands of people standing and clapping.
She wondered would it be Michelle, because she was good at piano, but thought it was probably just a load of nonsense. When I scored the goal, she thought maybe the fortune-teller had been right after all.
My best mate, Barry Devine, phoned me from Australia. 'Lad, you don't know how good that was sitting in that bar. You were getting slated so much. There was a pile of Dubs in the bar slagging you off, and you just did that. I was in tears.'
It wasn't just the Dubs who had been slating me, apparently. Our club chairman, Adrian Gilmore, who has always stood up for me through thick and thin, was sitting with a pile of Ardboe men around him. They were shaking their heads and shouting, 'Get that Mulligan man off to hell, Mickey.'
When the goal went in, he went mental. He started roaring, 'Get who off did you say? Who do you want off now?' I couldn't walk up the town but people were stopping me. Journalists were ringing all the time, leaving messages and texts wanting to speak to me. At club training it was all anybody wanted to talk about.
Pic: INPHO/Tom Honan
One of the few calls I took that week was from my old pal in Dublin, John McCarthy. He was delighted for me. 'You absolute bastard, what did I give you that talk for? That was amazing, absolutely amazing what you just did. Youse will win it now, youse are flying.'
It was dawning on me this had been no ordinary goal. My brother Stephen and I were chatting about it in the house a few days later. As usual, he was challenging me.
We were both agreed there was only one thing wrong with the goal – it hadn't been in front of the Hill. 'Can you imagine scoring a goal in front of that Hill, Mugsy? That'd be the best yet,' he said. 'You have to do something special again'. I couldn't wait for the replay.
When I was growing up I always loved the Dubs. We lived in Castleknock on the west side of the city when I was two or three years of age, though I don't remember it. We moved back to Cookstown after that.
If we had stayed there, who knows what might have happened? Maybe I would have played for the Dubs. I wouldn't have minded that one bit. I love the whole professionalism, the soccer-type chanting.
The Hill reminds me of the Kop, another place I love. The Dublin colours are the same as my own club, Cookstown Fr Rocks'. There is just so much I can relate to when it comes to Dublin.
A few days before the replay I was watching Sky Sports News and they were showing an old clip of Eric Cantona scoring the famous chip against Sunderland, where he just turns around with his collar up and arms outstretched as if to say, 'How good was that folks?'
I'm no Man United fan but I thought it was a class celebration. I made my mind up that, if I scored again, I was going to do that. It all came together for my goal against Dublin in the replay.
Sean Cavanagh caught a Dublin kickout and surged forward. It looked like he was going to fall but, just as he stumbled and the defender came in for the kill, he managed to get the ball away to me, just like we'd practised so many times.
I rolled the defender like a tackle bag and stuck it away with my left foot under Cluxton in front of the Hill, just like I'd been dreaming about all week.I didn't put my arms out but I stood still, like Cantona. No way was I going to disrespect the Hill, the way I'd seen other players do.
Go to 0.51
YouTube: johndevlin14
I looked into the crowd, straight into the eyes on the Hill. Brilliant. Thousands of pairs of eyes stared back at me, thousands of Dubs just standing there with their arms folded. I could hear the Tyrone fans cheering in the stands behind me but there was total silence where I was. Just me and a packed blue Hill sharing a moment. Them hating me, me loving them.
I enjoyed that goal far more than the one everyone remembers me for. Maybe that's because I had half-planned it.  I finished the game with 1-7, with 1-5 from play, as we hammered Dublin by seven points. People are always dying to slag the Dubs off but I clapped
them after every match, including that one.
My da got a bit carried away. Michelle told me he started a soccer chant as he walked out of the ground and down Clonliffe Road, 'He scored one-oseven … he scored one-o-seven, one-o-seven, he scored one-o-seven.' The Dubs must have thought he was mad.
Tonight on TheScore.ie: Owen Mulligan on the fallout from the All-Ireland IFC club final against Finuge.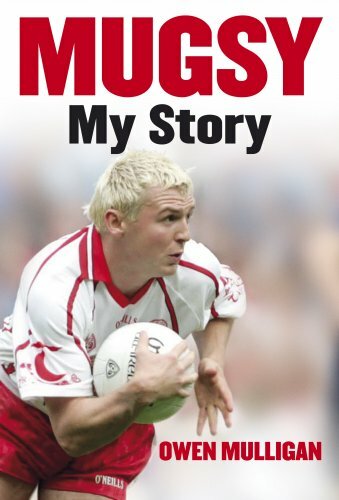 Mugsy – My Story by Owen Mulligan with Orla Bannon – Irish Sports Publishing
More details can be found here