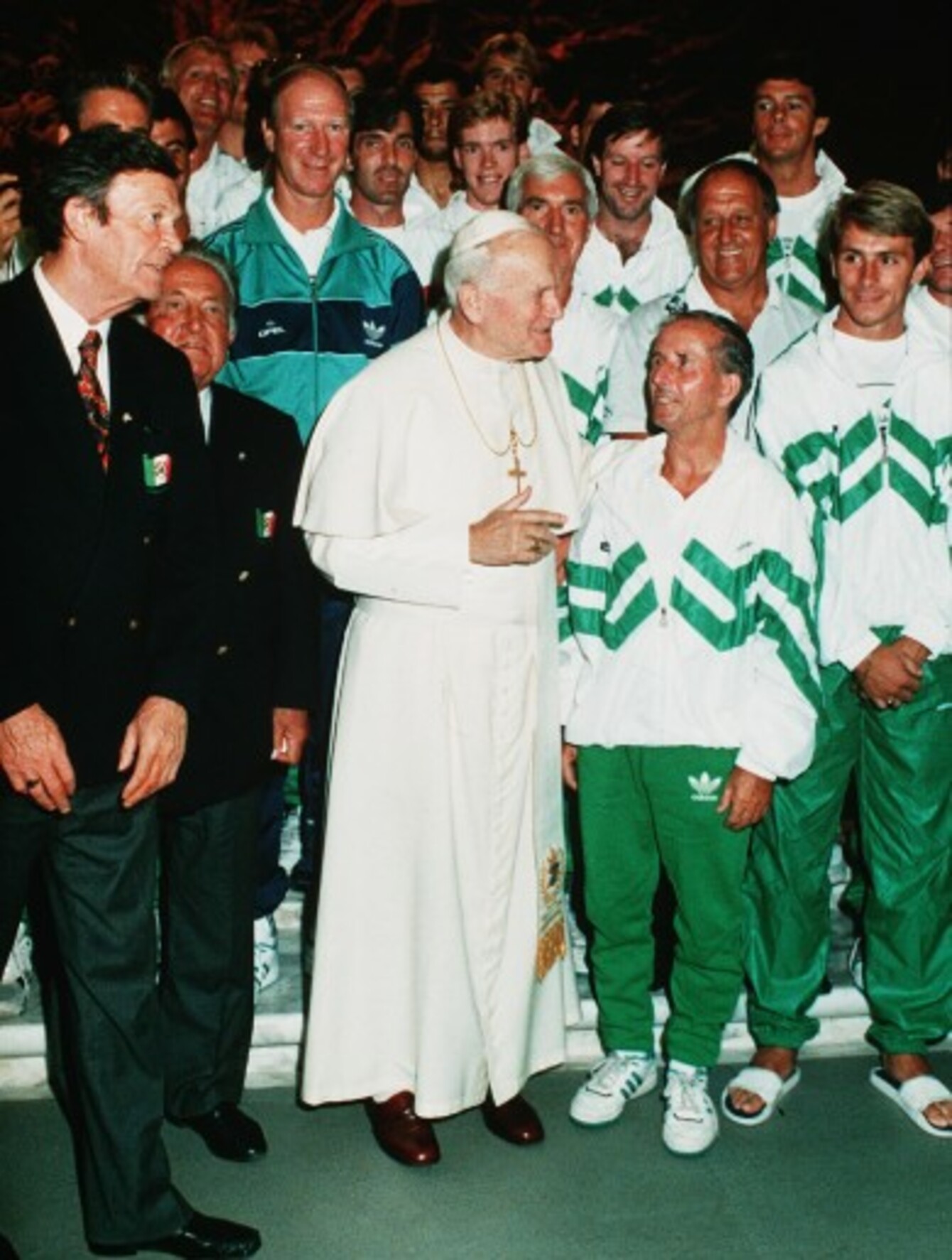 Ireland team kit man Charlie O'Leary meets Pope John Paul II with the rest of the squad.
Image: INPHO
Ireland team kit man Charlie O'Leary meets Pope John Paul II with the rest of the squad.
Image: INPHO
MICK BYRNE HAD always said to Jack as we prepared for the World Cup that he should take us all to have an audience with the Pope – as you do!
Big Jack had gone along with this because he thought that the only way we would be in Rome was if we made it to the final itself and, with the best will in the world, that was an outside bet.
'Aye, Mick. Of course I'll take you all to see the Pope.' When he realised we were scheduled to play in Rome after Romania, Mick stepped up his campaign along with Charlie O'Leary and another member of the backroom boys, Eddie Cochran, our liaison officer. They started in on Jack again:  'Ah, come on, Jack. You promised us! You promised us!'
As soon as Jack gave the green light, Eddie, with the help of Monsignor Liam, took a hand in events. Liam was in touch with Bishop Anthony Farquhar of Belfast and Father Sean Brady who would become the Primate of All-Ireland a few years later.
'Bishop Tony', as he was known, was a keen football supporter whose club allegiance centred on Dundee United, funnily enough. Anyway, it would appear that, between the four of them, an audience was set up with the Holy Father.
A private papal audience usually accommodates about 2000 of a congregation and some of the rooms we were taken into in the Vatican as a group were incredible as well with huge Michelangelo paintings hanging on the walls. We felt that we were getting into areas of the building that very few people ever got to see.
Eventually, we were shown into a vast room where the rest of the audience were and we took our seats expectantly. The Pope doesn't arrive immediately, of course, and so for about an hour and a half we sat and waited.
Every once in a while someone (not from our group) would get up and sing a psalm or recite a prayer before a choir got to their feet and launched into a hymn and that all contributed to a very serene, contented atmosphere.
Big Jack had a major worry, though, and that was the presence of the media. He instructed Mick Byrne, who would be sitting beside him 'Don't let me fall asleep!!'
Then, without much pomp and circumstance, the Pope suddenly shuffled into the room and started to address the crowd.
It was mostly in Italian but when he got to the bit concerning us, he broke into English, talking about the Irish national football team and then giving a nod of approval to our progress during the World Cup.
Then the bishops or cardinals repeated his sermon in different languages and the Pope would bless the audience after each one finished. This went on a while and Jack tells the story of him nodding off during some of the sermons, only to be woken up as the Pope would be giving his blessing.
SEE SPORT
DIFFERENTLY
Get closer to the stories that matter with exclusive analysis, insight and debate in The42 Membership.
Become a Member
Thinking that the Holy Father was waving at him, he would wave back!
Well, it was good manners.
At the conclusion of the public spectacle, we were called up to meet the Pope. Mick, Jack and Charlie presented him with an Irish jersey and a football and, once again, His Holiness nodded his approval.
And then came the moment that will live with me forever. I was pushed towards the front of the group and was introduced to the Holy Father.
Remarkably, he placed his hand on my shoulder, leant in and in broken English told me that he too had been a 'bramkarz', 'portiere', a goalkeeper, back in his youth. Pope John Paul II knew who I was, how I earned my living and what had happened against Romania! The moment lasted only seconds but what a moment it was and I was transfixed by his presence.
The TV cameras and media were obviously all over it and a picture with me and the Pope appeared in just about every Irish newspaper in the country the following day.
As a group, we were all elated and I remember that David O'Leary was quite animated about the whole thing. We all knew that something quite special had just occurred.
For me, a practising Catholic, reared in the bosom of the Church and nurtured by a faith that sustained me throughout those times of insecurity and fear that we all experience, it was an emotional and uplifting event.
Pope John Paul II was a famously charismatic individual who broke with tradition to travel the world and spread the gospel. I remember the excitement of the papal visits to both Ireland in 1979 and then Britain in 1982 but I could never have envisaged an occurrence that would end up with me standing smiling at His Holiness, the Pope, as he reminded me that before the priesthood there was football and there's him with his hand, a hand with the assured grip of a former aspiring goalkeeper, holding fast to Packie Bonner's shoulder!
It was another reminder to me, if one was required, that the game has afforded me some fantastic privileges both on and off the field of play.
This is an extract from The Last Line from Packie Bonnar, which is published by Ebury Press.