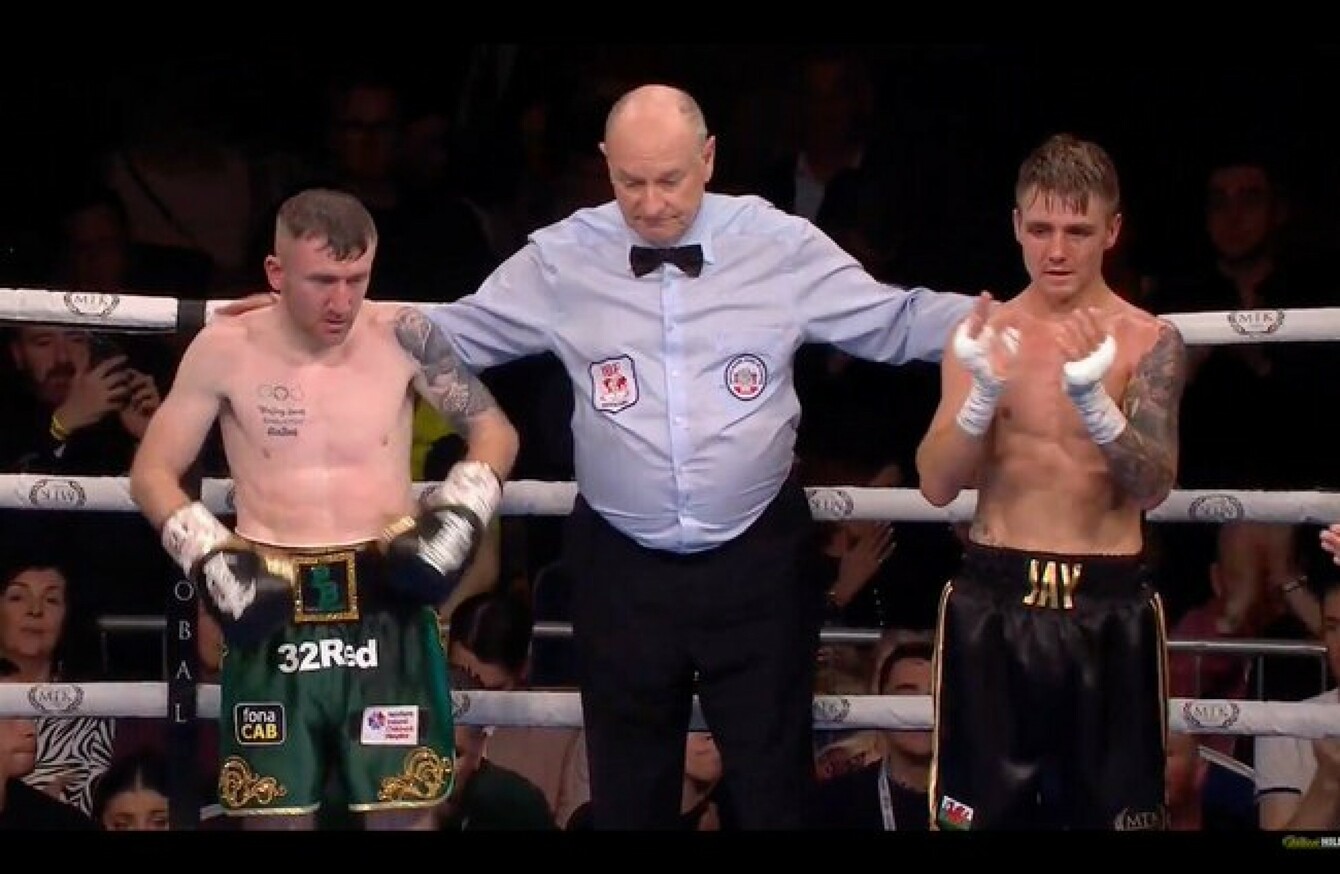 Barnes was outgunned and outclassed by the supreme Swansea man.
Barnes was outgunned and outclassed by the supreme Swansea man.
Updated Oct 12th 2019, 1:10 AM
PADDY BARNES LEFT nothing in the ring but was outgunned and outclassed in his Ulster Hall headliner with Jay Harris on Friday night.
The three-time Irish Olympian was dropped twice to the body and counted out in the fourth round of a memorable battle with the European flyweight champ.
It will likely be the 32-year-old's final outing in the squared circle, his record now 6-3 and his professional career in No Man's Land following a third defeat in four contests.
Victory here would have surely pointed it back in the right direction, but there was a prevailing sense of inevitability even within the iconic arena that this crossroads clash would transpire in favour of the younger, physically bigger Harris.
Still, the place was rocking for Barnes' last stand. His close friend Sean McComb, a blue-chip light-welterweight prospect and former Irish amateur standout, had put the home crowd through the ringer moments before: 'The Public Nuisance' survived a fourth-round body-shot decking at the hands of Argentina's Emiliano Dominguez Rodriguez –23-5(9KOs) beforehand — to improve his own record to 9-0(4KOs), and the energy of that thriller, complete with hearty Olé Olés, seeped into the main event.
Margin wide and unfair on the visitor but Sean McComb a worthy winner in a mini war pic.twitter.com/HdBVoMscli

— Kevin Byrne (@KevByrneBox) October 11, 2019
Barnes appeared to feed off it, starting sharply and aggressively, but he was nearly removed from his senses by a thunderous overhand right heading towards the final minute of a back-and-forth opener. Remarkably, he responded by unleashing a furious fusillade in Harris' direction, almost taking the roof off the storied Belfast venue in the process.
The hometown hero continued to rally early doors but it was Harris whose right hand was landing the more conspicuous blows, the Welshman swallowing a couple of jabs here and there in order to inflict more significant damage. Barnes' head was regularly snapped backwards, his face reddened. A clash of bonces created a bloodbath — Barnes cut on the top of his head, Harris above his right eye — but the real carnage hadn't yet begun.
An extraordinary third round see-sawed once more but it finished 10-8 in favour of the visitor: Barnes waged war and bore his soul, but a crippling Harris left hook to his rib cage crumpled him to the canvas.
The Irish boxing icon, willed on by a crowd best described by this juncture as feral, rose at the count of eight and soaked up more punishment to make it into the fourth by the skin of his teeth. It was a rousing display of something guttural, but the writing was on the wall.
Harris never lost his composure even during Barnes' occasional onslaughts, most of which were largely parried and did little other than invite the majority of the crowd to go ape in support of their man.
The Swansea native seized full control in the fourth and working behind a solid jab, felled Barnes once more to the body — helping him on his way to the canvas with a blow to the top of the head.
It was noticeable how, on this occasion, the cries for Barnes to return to his feet were somewhat muffled and half-hearted. Most probably knew they'd be futile. Some probably didn't want to see their man ship any more damage. In any case, the wretching former Olympian was physically incapable of returning to his feet.
Head bowed towards the canvas, he was counted out, and the gnawing quiet that descended upon the arena was punctured only by the wild celebrations of a handful of Welsh fans on the balcony.
Be part
of the team
Access exclusive podcasts, interviews and analysis with a monthly or annual membership.
Become a Member
Barnes was rightly given a hearty ovation when he finally rose. Following a legendary but long amateur career, his skills have faded in the professional ranks; a few poor career calls may have accelerated that process. It was his fighting spirit which captivated this particular audience, though.
He went out on his shield, perhaps for the final time.
There was no confirmation post-fight as to whether or not he intends to hang up the gloves but considering he flirted with the idea following his defeat to a journeyman up at bantamweight in New York in the summer, it seems likely that an even more comprehensive loss at European level will edge him closer towards calling it a day.
The professional leg of his boxing journey has proven fruitless on the major title front but his legacy within an Irish sporting context has been long since secured. One can only hope he realises as much.