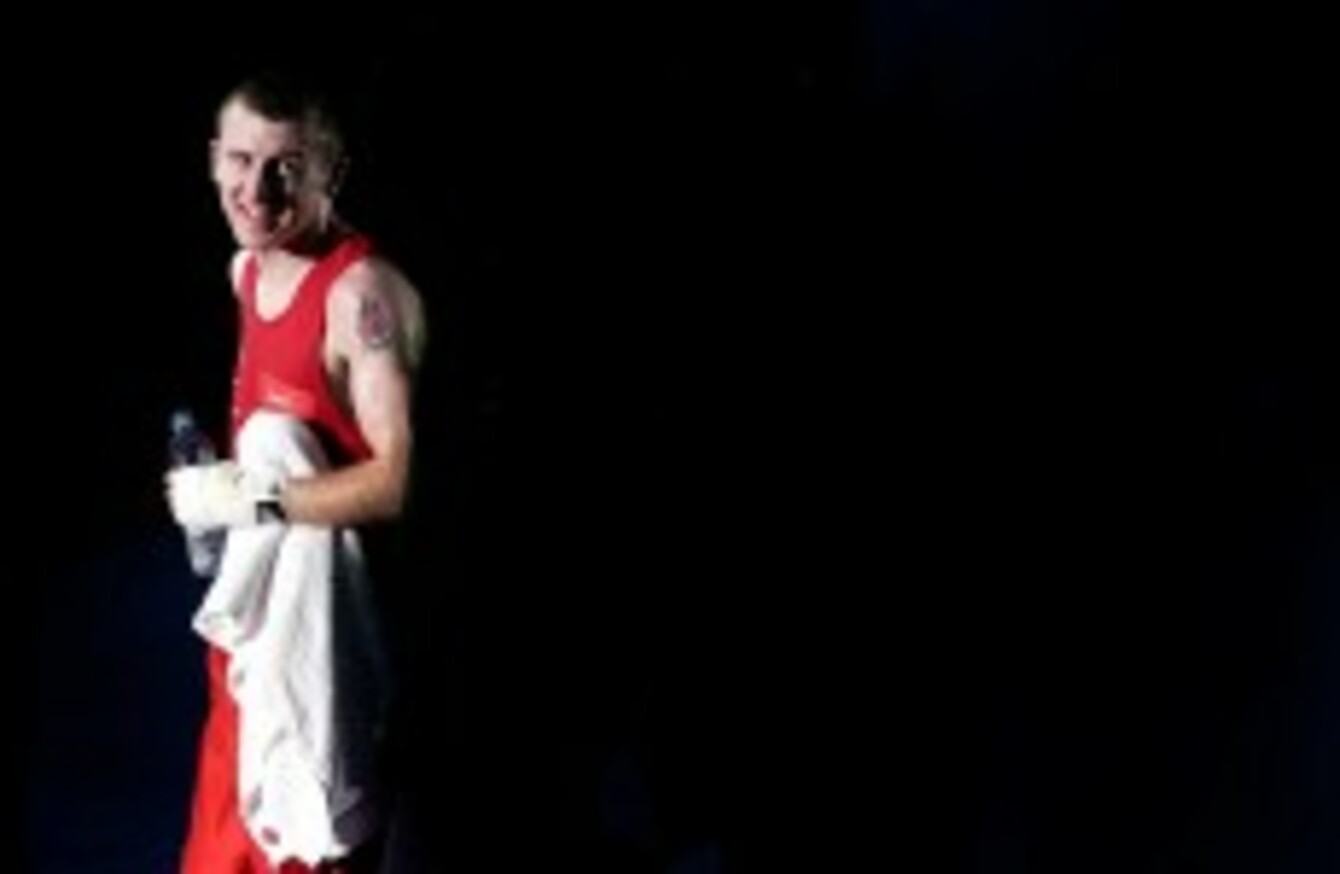 Image: ©INPHO/Dan Sheridan
Image: ©INPHO/Dan Sheridan
PADDY BARNES WALKED like a champion as he stepped out of the darkness and into the London light in the ExCeL Arena on Saturday afternoon.
Aiming to become the first Irish athlete to medal at two successive Olympics since Pat O'Callaghan in 1932, Barnes opened his campaign with a solid 15-10 win against Cameroon's Thomas Essomba.
It took until day eight of the Games for the Belfast light-flyweight to get his first taste of Olympic action thanks to a bye which saw him straight through to the last 16.
Now Barnes is three three-minute rounds away from a place in the 49kg semi-finals and at a minimum, another bronze medal to go with his one from Beijing four years ago.
He will now meet India's Devendro Singh Laishram on Wednesday. Laishram beat Serdamba Purevdorj of Mongolia 16-11 in their last 16 bout.
"I was itching to get in," Barnes told TheScore.ie afterwards. "I finally had my chance today and I won, which is even better. I boxed a tough fighter and I won."
Essomba made it clear from the off that he would be no pushover, looking to hurt Barnes with a searching left hook.
The Irishman's defence was solid though and seizing his own opportunities, he won all three rounds on the judges' scorecards — 5-3, 6-4 and 4-3.
"A bit sloppy at times but I still got them going and I caught him with a few, so I'm happy with that," he told Will Downing.
"I got the decision and that's all that matters. If I become an Olympic champion boxing bad, nobody's going to remember me for the way I box. They remember you for winning an Olympics."
Barnes's win leaves four Irish fighters on the brink of a medal with John Joe Nevin, Michael Conlan and Katie Taylor all one bout away from Olympic honours.
Team Ireland head coach Billy Walsh warned that the hardest part is yet to come.
"Converting these top eights into medals is the hard part so we've lots of work to do over the next few days. This is the business end of the job. We've got to get them over the line.
"We've got four million people with lots of fight; they've the fight of 250 million people in them. We're looking forward to the next days but this is the difficult piece.
"We've got to up our ante again. The stakes are going to be higher."