BEST CASE SCENARIO?
That a team might do a Michael Bond on it and overcome a manager leaving their post by delivering silverware.
These situations are never identical, but can be relatable. Michael Bond became a name that blazed through the summer of 1998 once he took over from Babs Keating in Offaly.
Looking back now 25 years later, things couldn't have been as bad as they felt. Offaly hurlers had beaten Wexford in Leinster. Most of their squad was in their prime and had All-Ireland medals to back up their belief.
But then came a five-point defeat to Kilkenny and Keating's quotes that his players were like "sheep in a heap". The comment was effectively his resignation letter. Trust was lost. Keating had to go.
Bond watched the Kilkenny game from a barstool in New York. A few days later his phone rang. The Offaly county board. Would he like to come for a chat?
The year finished with Offaly's fourth All-Ireland but before that, Bond needed to set a certain tone the first time he met the players.
"Right lads, I'm Michael Bond, school principal, 550 students," he said.
"I don't believe in losing. Ye're the best hurlers in Ireland. Ye've ten weeks now, ye're going to win the All-Ireland. It's back to basics."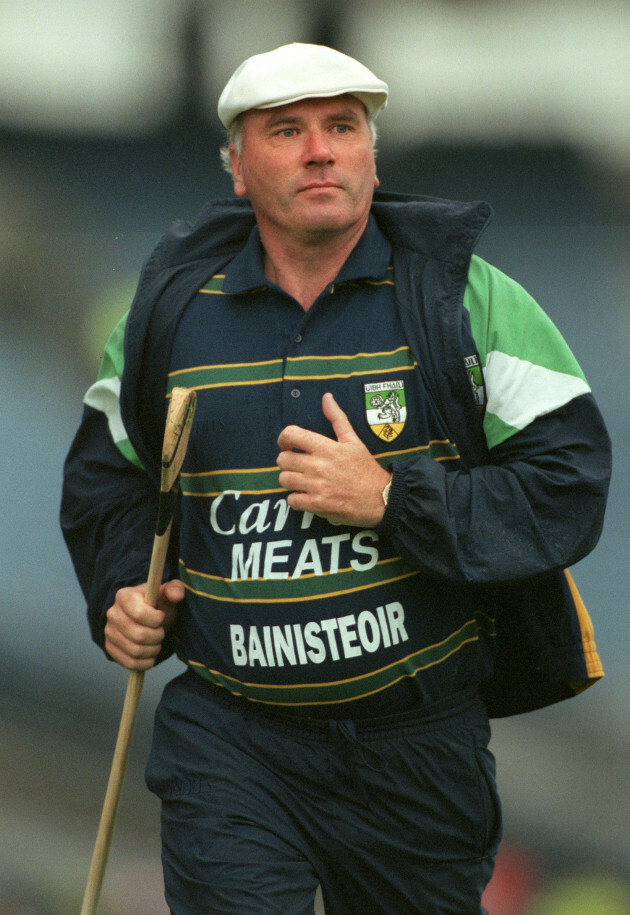 Patrick Bolger / INPHO Michael Bond. Patrick Bolger / INPHO / INPHO
To heave, or not to heave? That is the question for intercounty panels that have lost faith in their management.
The immediacy of the split season, with no time to waste for players, has brought a wreckage of Bainisteoir bibs. The first flare went up in the middle of February when Clare native Francis O'Halloran walked away from the Roscommon hurlers after a draw with Mayo and a loss to Louth in Division 3A.
A statement from O'Halloran explained that "the commitment and efforts shown by the management team have not been matched in recent times by the playing members of the panel despite our best efforts".
Seamus Qualter took over within the week. The players responded and they got an immediate bounce. They eked out a draw against Fermanagh before beating Armagh by 20 points and Monaghan by eight. In the 3A final, they beat Armagh by seven points to earn promotion.
Next up was Ray Dempsey leaving the Limerick footballers. There had been whispers of player unrest in the county after they lost their opening games to Derry (12 points), Dublin (9), Louth (2) and Cork (24).
A draw against Meath was not enough to stem the flow of bad blood and he stepped down to be replaced by the team coach, Mark Fitzgerald of Kerry.
Asked about his promotion to manager at the recent Munster championship launch, Fitzgerald was terse at times but did admit, "I think morale is fine now at the moment because obviously it is what it is.
"The league is done and dusted, we've drawn a line on the sand and tried to move on. The beauty of it is that you've a free shot here."
Finally, the meeting of Donegal manager Paddy Carr with team captain Paddy McBrearty, Hugh McFadden and Eoghan Bán Gallagher in Monaghan in late March after relegation was confirmed led to Carr stepping down.
The names of that trio were identified at a county board meeting. While it might not have been nice for them to have been named in that fashion, Donegal player Daire Ó Baoill admitted this week that they went into that grisly task with their eyes open.
"The three lads knew they had the backing of the squad," he stated.
"It was a decision we had to make and in terms of what happens outside of that, we knew the minute it was going to be released there was going to be a backlash, people were not going to be happy.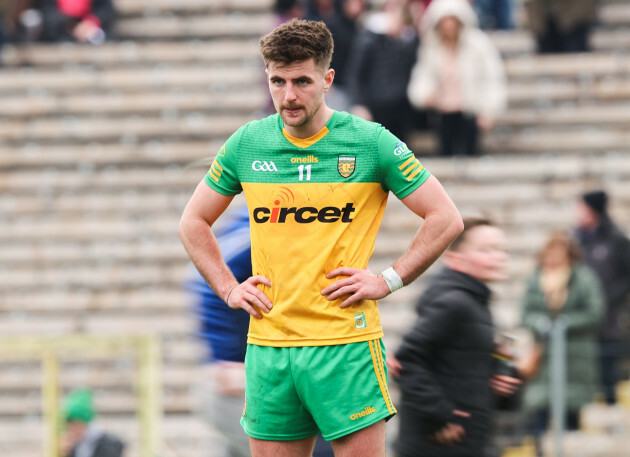 Tom Maher / INPHO Daire Ó Baoill. Tom Maher / INPHO / INPHO
"At the end of the day, it is a lot of noise outside of it. We have plenty of experience on the team. The older boys who have been around a long time know it is not the end of the world, it never is until championship comes, and we have full belief in Aidan (O'Rourke) and Paddy (Bradley) and the work that has been done the last few weeks."
In that week of the changeover, O'Rourke admitted he had been speaking to Carr three or four times a day. Ultimately, Carr encouraged himself and Bradley to take on the role and the board – by then besieged on all sides with the estrangement of Karl Lacey as Head of the Donegal Academy – agreed.
Cultural theorists will point to a more educated playing base, putting in a far greater commitment, demanding more, and being aware through shared resources and information what other sides are up to.
Managerial heaves don't always go to plan. Before O'Rourke made his way onto the Armagh panel, the senior team met on a Friday night before the 2000 All-Ireland final after they had lost to Kerry after a semi-final replay.
A majority of players wanted the managerial team of Brian McAlinden and Brian Canavan to step down. Captain Kieran McGeeney, vice-captain Paul McGrane and Tony McEntee were sent to relay the news.
But the management dug in. They met with the squad and had a full and frank exchange of views.
"We were all very disappointed to lose to Kerry but pointing the finger at one another won't solve anything," said McAlinden at the time.
"Armagh had seven goal chances which weren't taken in the two games against Kerry and you can hardly blame Brian and me for that.
"We're not blaming the players either but there is no doubting the truth of the old saying 'players win games and managers lose them'. When a side loses, the manager is always to blame, it seems."
It would have felt that way to Liam Austin in January of 1999. After two wins and one defeat in the National League, the then-Cavan manager, along with selectors Hugo Clerkin, Michael Reilly, Martin Lynch and Barry Tierney, resigned en masse.
A press conference at the plush Cabra Castle was called to outline their position.
Austin and his selectors were unanimous in stressing that they had never received any complaints from a single player, regarding training or anything else, until after their defeat by Fermanagh in late November, and only then when Austin called a players' meeting.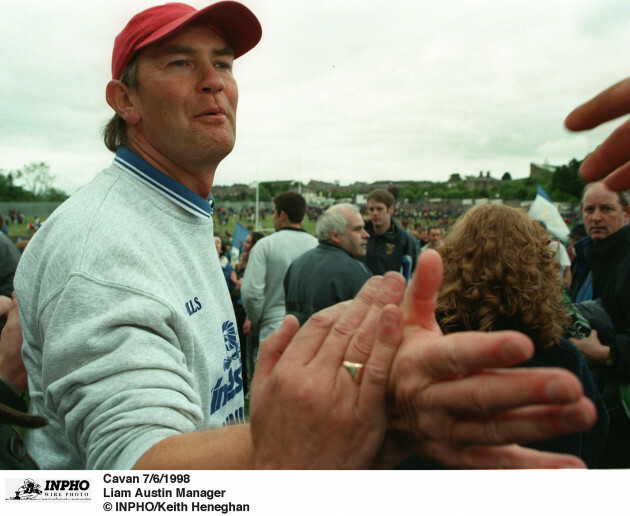 Keith Heneghan / INPHO Liam Austin. Keith Heneghan / INPHO / INPHO
Austin expressed the opinion that he was the victim of a deliberate plot to oust him, led by a certain section of the panel (whom he would not name) but mainly orchestrated by the County Board chairman Brendan Keaney.
"They tried to shaft me on three occasions," Austin claimed. "I think it's too much. All I want to do is restore the integrity of myself and these men beside me."
His replacement was Val Andrews. The sting in the tail was that after Andrews finished in 2001, he was back as manager a decade later; midway through his second season in 2012, a players' meeting was called and effectively led to him stepping down.
The track record of player heaves are mixed; sometimes they have a positive effect. After Waterford and Justin McCarthy parted ways in 2008, they finished that year managed by Davy Fitzgerald and marching behind the band in Croke Park for All-Ireland final day,  before Kilkenny annihilated them.
For Ó Baoill and others on the Donegal squad, their course of action was not simple. They knew the human cost.
"Paddy Carr," he explained, "you knew with the way he spoke, the love he had for Donegal from day one. He understood at the end that, for the benefit of the team to go in the right direction, there was tough decisions to be made and he stood by it.
"And ultimately, we pushed on now from it and we closed that door when it happened. We knew that we had to close it pretty quickly and not let things linger. What more can you say on it?"
Only a win against Down in Newry on Sunday can justify it.
Get instant updates on the Allianz Football and Hurling Leagues on The42 app. Brought to you by Allianz Insurance, proud sponsors of the Allianz Leagues for over 30 years.