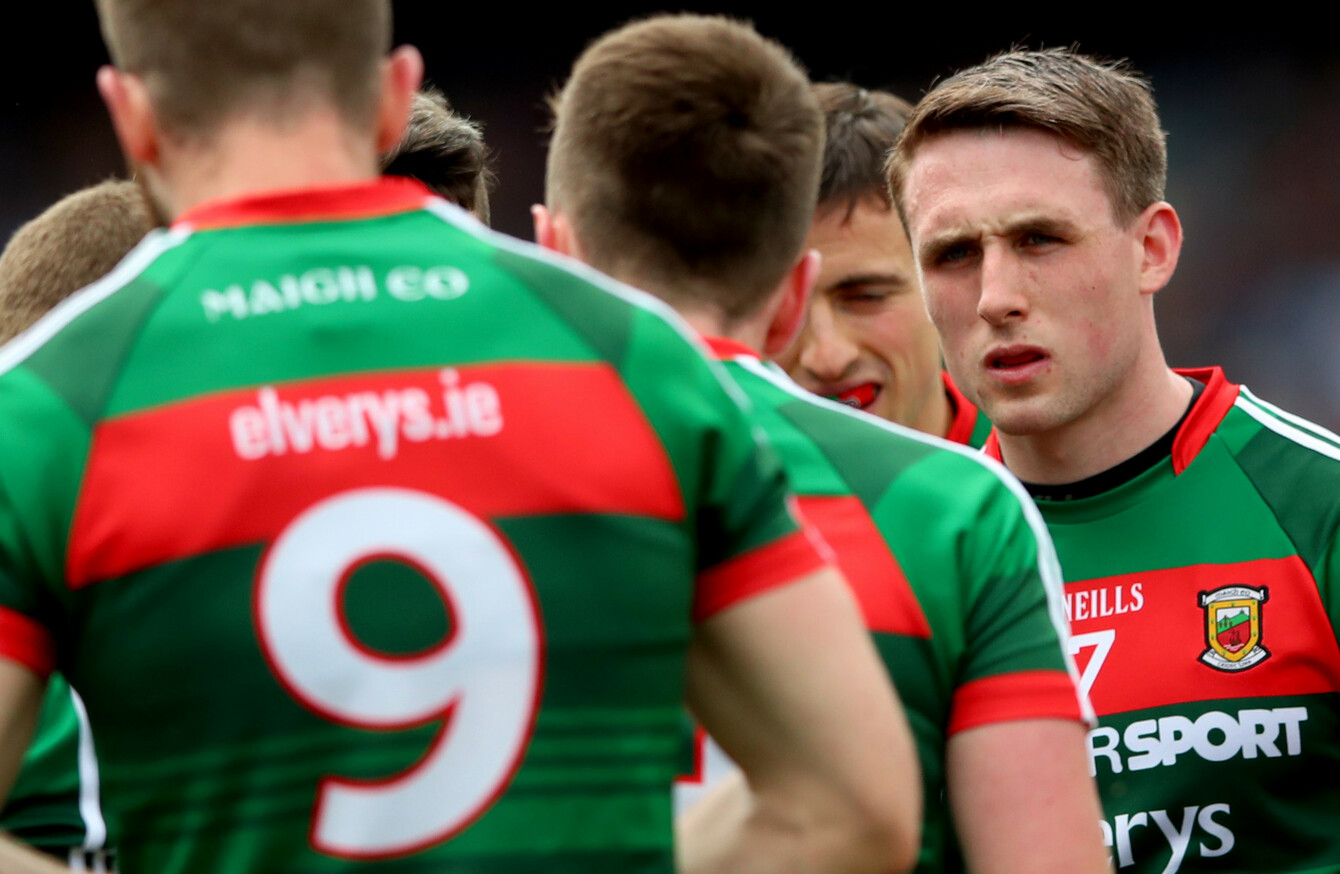 Image: James Crombie/INPHO
Image: James Crombie/INPHO
PADDY DURCAN BELIEVES that Mayo's supporters have hauled them back from the brink on more than one occasion during this year's Championship, and says he and his team-mates 'have a responsibility' to do them justice during Sunday's All-Ireland semi-final.
Speaking to Angelina Nugent on Mid West Radio, the Castlebar Mitchells defender reflected on one of the most tumultuous and yet transfixing qualifier runs since the advent of the back door, and why Mayo were able to improve so drastically upon their drawn quarter-final with neighbours Roscommon in their replay.
"We were a bit disappointed with ourselves, after the first game, but the performance the second day was a lot more consistent. We sustained a bit better over the course of the 70 minutes.
I suppose the qualifiers, they're just very difficult, like. The games – each of them possess their own challenges. We were just trying to get through them as best we could, so to sustain our performance the last day was pleasing.
"But the level is going to go up again now against Kerry, and we're definitely aware of that."
And so back to Croke Park Mayo will journey, their borderline maniacal fans in tow, half-prepared for more heartbreak, but travelling, still, in expectation.
Come throw-in at half-past-three on Sunday, all memories of that two-game epic in 2014 will have long since dissipated. For a player of Durcan's age, though, such woes were experienced through the prism of fandom as opposed to many of his team-mates who endured them on the field at the Gaelic Grounds.
"Any time Mayo and Kerry [play], it's a huge test," he says. "They have been going very well this year especially, and we're going in aware of that, and we know the test that it's going to possess.
"But we just need to perform. We're going to try and prepare as best we can now with the remaining days until the game, and just look forward to it. It's exactly where you want to be – you want to be in the semi-final at this time of year, and we're one of four teams there. We're intent on doing our best.
"To be honest, I was only involved in 2015, so I wouldn't be as aware of it, maybe, as the lads. I looked from the outside, which I suppose was different too. But they were two massive games, they were tough, and it could be similar in terms of the close nature of it this year.
It's a different year. They went on to win the All-Ireland that year, and we're here in 2017 now. It's a different set of players, and whoever performs better at Croke Park is going to be the team in the final.
The supporters, Durcan maintains, could make all the difference – as they have so often in the past, and particularly this year, when their fervent backing has garnered plaudits in numerous musings from pundits and journalists alike.
Be part
of the team
Access exclusive podcasts, interviews and analysis with a monthly or annual membership.
Become a Member
"We have a responsibility to our supporters... we are aware of that" @MayoGAA ace Paddy Durcan on the support the team has received in 2017 pic.twitter.com/1cWysRxgls

— Mid West Radio (@radiomidwest) August 16, 2017
"I suppose as a group of players, we're certainly aware of the support that we have – we're conscious of that," Durcan says of the swathes that will flock to HQ once more this weekend.
"We're going out there to try and represent the county as best as we can. The people who have supported us, that's the least they deserve – that we put our best foot forward.
"I can promise them that we're doing everything we can to give ourselves the best chance, and we're definitely appreciative of the support we've got up to date.
Throughout the qualifiers we had some close games, notably down in the Gaelic Grounds against Cork, and the support that day was un-believable. As it has been throughout the year, to be honest. But as I said, we have a responsibility to our supporters after the time and effort and cost factor that they've put in so far this year and in previous years.
"We're aware of that. We have an obligation to do our best and we're doing that."
Subscribe to The42 podcasts here: