SAVE FOR HAVING to pick the ball out of his net once, Meath goalkeeper Paddy O'Rourke had very little to do in the first half with his side utterly dominating neighbours Westmeath in their Leinster senior football championship semi-final.
However, O'Rourke may never be allowed forget the game after his, eh, interesting pre-match portrait for RTÉ's Sunday Game coverage.
The Skyrne clubman looks stunned to have his photograph taken: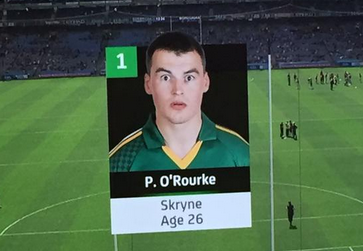 RTÉ RTÉ
Here in The42 we can empathise with the 26-year old. It's not easy having your picture taken, I mean look at the state of my own at the bottom.
After his dismissal late in the game, O'Rourke probably wont have to worry about posing for Meath's Qualifier.