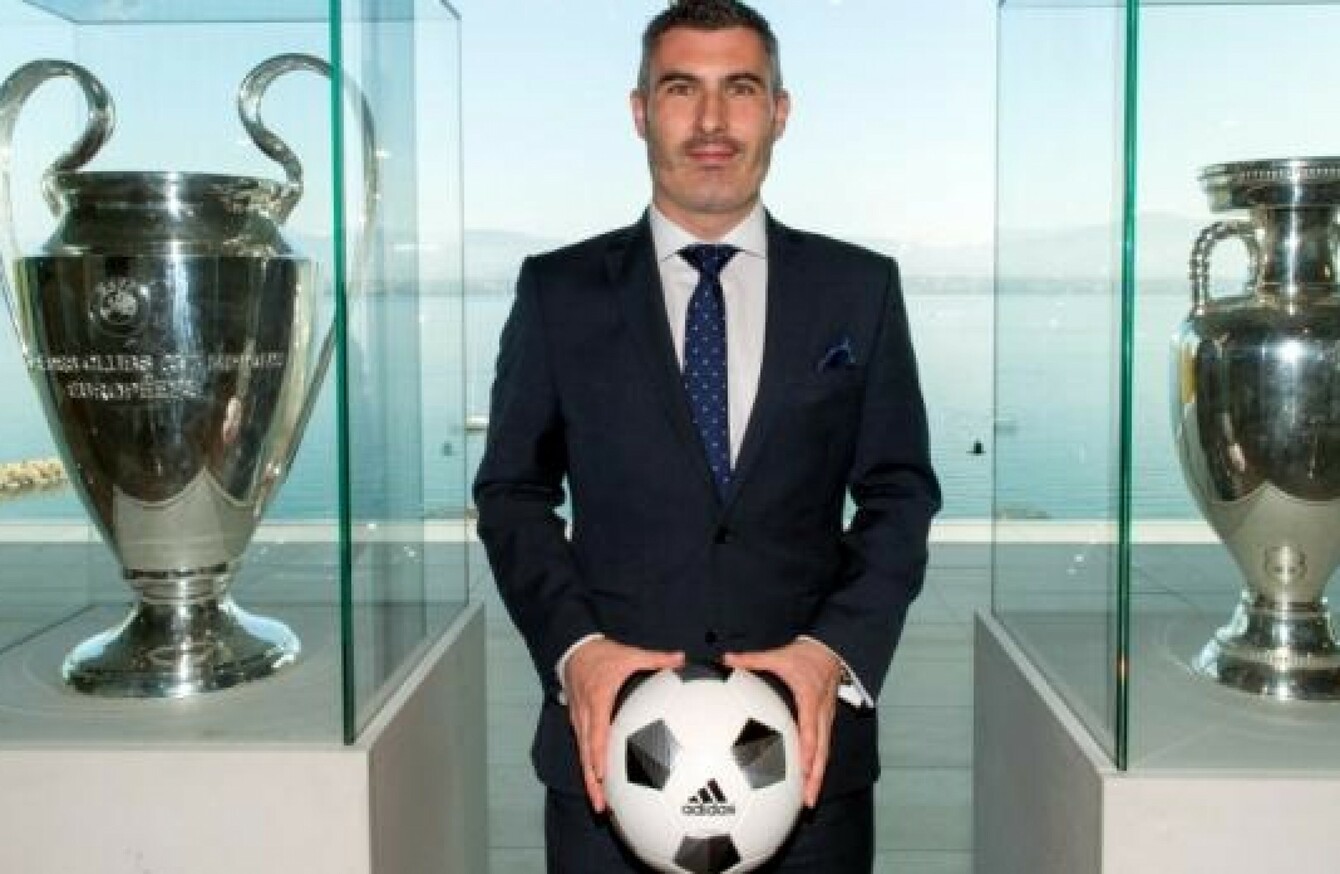 PADRAIG SMITH HAS just been a panelist at MIT's much-vaunted Sloan Sports Analytics Conference when we chat.
He was part of a group discussion entitled Juggling Expectations: The Emergence of Soccer Analytics. Alongside him were Ted Knutson – the owner and founder of Statsbomb and a former Head of Player Analytics at Brentford and Midtjylland – and Hendrik Almstadt, ex-Arsenal and Aston Villa and now Player Relations Director at the PGA European Tour.
The big leagues.
"A lot of smart people", Smith says.
"A lot of good, stimulating conversation".
It was his debut as a contributor and he'll certainly be invited back. Smith, in a very short time immersed in the North American sports landscape, is busily making a name for himself.
In November 2014, the Meath native was hired by Major League Soccer side Colorado Rapids as their Sporting Director having previously spent three years with Uefa's Financial Analysis Group and, before that, a similar stint with the FAI as Internal Compliance Office.
"I had known Tim Hinchey (Rapids' president) for some time – ever since his days with Derby County", he says.
"He would've been aware that I was interested in moving to MLS at some point. He knew I was doing a lot of work from an analytics perspective. The initial call was that they were looking at bringing someone in as Sporting Director and had some different skills – experience with negotiations, analytics, the business side. Initially I was asked to come over and give an assessment and provide a report. That was July 2014 and then it progressed quickly. Weekly phone-calls with the club to try and prepare for what was happening but it was still very loose. I went back again in the August and was pretty much offered the position. I went back over again in December and was up and running in January 2015. So it happened pretty quickly. The big thing for me was, having known Tim so long, I had a lot of faith in what he was going to build. When he talked to me about the long-term plan, it was something I was very excited about. I had always been interested in this side of the business and it was like the perfect storm – everything came together really nicely. I'm thrilled with the decision. I've been back to Europe quite a few times and it's never really tempted me that much, to be honest. It's an exciting time to be part of soccer in the US".
Smith has a wide, intimidating remit. He's responsible for the soccer operations of a club from top-to-bottom. There's the development of the academy. There's the senior MLS squad. The coaching staff. The scouting staff. The science and analytics department. He admits it can be very challenging, owing to the volume of work across various aspects of an elite sports organisation. But there's also the wholly unique Major League Soccer environment.
Unfairly, the league is constantly compared to other . But it's a complex place – still in its infancy, developing an identity and with a mesmerising litany of quirks and idiosyncrasies. Firstly, MLS is single-entity: the league – not the clubs – controls player registrations and contracts. There is a salary-cap. But there are three Designated Players per team who are exceptions to it. There is a draft for younger players, as per other US sports. There is no promotion or relegation. And there are no 'transfers', as such. Any trade that happens is done under the supervision of the league and can involve some relentlessly confusing MLS-specific jargon like 'allocation money', 'TAM' or Generation Adidas. No player deal is ever as straightforward as 'X signs for Y for Z million'. Even for seasoned MLS reporters, the finer details of the business side of the league are as clear as mud.
So, when Smith arrived in MLS, he did so in the off-season – when squad turnover is at its peak, contracts need fresh negotiation and finalising recruitment is a pre-requisite. He needed a crash course in the local language.
"There's a lot going on here", he says.
The understatement leads to inevitable laughter.
"It's a very, very interesting and challenging system. But my background has helped. In Ireland I introduced the Salary Cost Protocol as part of my role with the FAI and had done a lot of investigations into salary caps in various parts of the world as part of that. I followed that up by working on Financial Fair Play with Uefa so I had a very good idea of what was going on and had been following the American system anyway. But it's only when you get inside and really see the complexity that it all comes into focus. It's a challenge but a wonderful opportunity too. In salary cap system, theoretically, everyone has the same amount of money to invest. Yes, there are the DPs and certain variants there but, for the most part, we're all playing on a relatively even foothold. But you have to know where you can gain certain advantages".
One area the Rapids have pinpointed in their search for advantages is analytics. Smith has a long-held fascination with it but acknowledges that it's just another part of a process. Ignoring everything else and merely focusing on crunching data will end in tears. Still, he's a numbers nerd, hence the invite from Sloan. And the recent numbers have been good for Colorado.
In Smith's debut season, they endured a dismal campaign. They were the worst team in the Western Conference and second-worst overall. A baptism of fire, certainly.
But, in 2016, there was a complete turnaround. They missed out on the top spot in the West by just two points. They had the best defensive record in the league. They knocked out the LA Galaxy in the conference semi-finals only to lose to eventual MLS Cup winners Seattle in the decider.
Data certainly played its part in the Rapids' upturn.
"My interest in it stems from baseball", Smith says.
"I was over in Cape Cod in 1999 on a J1 visa and started to follow the Red Sox. But when you come back to Ireland, the only way you can follow them is in the box scores. Then I started to wonder if it could be translated to soccer. At the time, it couldn't because there wasn't enough data but as the whole Moneyball explosion came, people started to understand there was potential there to reap benefits from having more information about what was happening on the field.
At the Sloan conference, our panel was discussing what the next big stat will be and when we're going to get it. The next big metric. And I don't believe that metric is coming. In baseball, they have a stat called WAR which enables all players to be compared regardless of position. It's a very easy, nice, all-encompassing number that allows you to compare players. But that's not going to happen in soccer. The key for us is to use analytics as a tool – as part of how we go out and identify players and what players can fit our system best. That comes from having an over-arching philosophy, a game-model, a clear understanding of what the coaches want players to exhibit in each position and then an ability to determine what metrics most closely correlate with success in those attributes. It's still at the very, very early stages and has to be used in the right way. If you think data is everything, I'm not sure you're going to get the best use out of it.
One risk is gauging how a player deals with transitioning from one league to another. A former Premier League sporting director once told me about signing a goalkeeper whose numbers were incredibly impressive. But, in a better league, he faced less quantity of shots but more quality. Inevitably, he conceded more goals and made fewer saves. The original numbers were a reflection of a specific environment. So, they were essentially redundant when placed in the context of a different league.
Inevitably, the software has moved on since. And such an issue is well-known these days.
"From a data perspective, we're looking at building comparability models", Smith says.
"It's not an exact science yet. You need a far deeper pool of players who have played across multiple leagues so you can really extrapolate and get a better understanding of how that transition will go. There's still trial and error with this and that's where the value of subjective scouting becomes so important and understanding the differences in leagues. Certain leagues will exhibit a tactical flavour that's different from MLS. The Norwegian league is different from the Dutch league which is different from the Belgian league. They all have their own tendencies. So, it's understanding what you're looking for. For us, it's understanding what Pablo (Mastroeni, the Rapids' manager) wants, understanding what players best fit what he wants and then identify the subjective attributes we see when we scout and the objective performance metrics we can analyse with data and then find and build a profile of a player we think will excel in the system Pablo plays.
We're developing our own proprietary player evaluation system, that's also a scouting tool. So it looks to combine both objective and subjective measures. And we're developing an algorithm that will give us a ranking on that basis. We obtain information from a lot of different sources and it's about refining that and building your own model that allows you to best use that information".
The Rapids are owned by Stan Kroenke, who has a wide portfolio of sporting interests as part of his KSE group. What that means is that Smith and his colleagues have a litany of resources at their disposal and a litany of brains to pick.
"We're part of such a large sporting group with Arsenal in the Premier League, the Colorado Avalanche in the NHL, the Denver Nuggets in the NBA, we have the Mammoth who play in the lacrosse league", he says.
"In our headquarters downtown, we have a KSE analytics department. We have a full-time analyst with the Rapids but also have this access to a level of expertise that no other club in MLS has, in my opinion. We can bounce ideas off these guys. We can take models they've built – particularly in the comparability area – where they've investigated how a player can translate from the Canadian amateur league to the NHL. It may not be completely appropriate but it gives us a starting point that's very useful. And it's great to sit with these guys and think about things in a different way and not be focused on the prevailing wisdom in soccer. We like to try and think outside the box and examine different areas to see if we can gain marginal advantages we think will be hugely beneficial to us".
It's all a reminder of where MLS is and how far its come.
The perception is of a hokey, half-hearted place filled with fading veterans well past their sell-by date and with the majority of squads made up by a litany of well-intentioned but very limited players. Certainly, the league has had its misguided moments. But in recent seasons, it has emerged as a solid, dependable product.
In the past four years, there have been four different champions. The bulk of the US and Canadian national teams now ply their trade in MLS. Some expensive high-profile talent have struggled – namely Steven Gerrard and Frank Lampard – and were quickly cut. The fanbase has grown smarter and is now acutely aware that the sprinkling of stardust is not a tangible long-term strategy.
For years, experience was crucial to MLS teams and they were regularly flooded with players in the twilight of their careers. But there has been a shift. Supporters are now more excited at the prospect of young, exciting talent like Jordan Morris and Jack Harrison than some bloated, ageing import. And so are the franchises.
"If you look at the average age of the teams now, it's well below 30″, Smith says.
"We're in a space now where, outside of the top-5 leagues in the world, we can compete financially with anyone else. There's an attractiveness for players to come over here that's really helping us identify and recruit better talent. The league has grown immeasurably. The TV deals have exposed other players around the world to what's going on in MLS. And that entices more to come over. And for younger players, they're now saying, 'This is a league of choice for me  - this is where I want to be'. This season will be exciting because of that young talent".
So, is MLS now an attractive proposition for young players? Do they feel their game can genuinely develop in North America? Or does it remain a hard sell? Would they rather toil in England's lower leagues because it's expected?
"MLS is a viable option", Smith says.
"It's something players will look at more and more and start to understand that they can develop here, particularly as the coaching has improved. MLS and US Soccer have done a great job in ensuring there are Pro-Licence courses for the coaches and by introducing minimum standards for coaches. That's been tremendous and there are some fantastic coaches in the MLS structure – and the development academy structure as well.
There's real merit in looking at the collegiate route here as well. It gives players the chance to come through into a professional environment – maybe not at the MLS level but the emergence of the USL has been a real boost. One of the key things I learned at Uefa is the number of players who often go unpaid. And that's another very attractive thing in the US: there's certainty of wage. That's something that not all professional footballers in Europe can say. There's also the lifestyle element – it's a wonderful place to live – and all of that put together will make it increasingly attractive for young players to move here".
Still, it's a challenging place. Certain off-field factors can throw even the most seasoned veteran.
"The travel and the climate are the ones that get you the most", Smith says.
"During this season, we'll play a game here in Colorado on a Saturday, travel to Chicago to play on a Wednesday, then travel to Philadelphia to play the following Saturday. You're crossing two different time-zones. You're dealing with different climates in both areas. There's a possibility you can be playing in what's known as 'The Oven' – that's Houston – in the middle of July with 100% humidity. Here in Colorado, we're a mile above sea level – that's an incredible challenge for players to walk into. We believe it takes about a year for a player to come over and truly integrate into US football. Some guys, like Nicolas Lodeiro with Seattle, can come in and hit the ground running – that will happen too. But in general, if you want to judge a player over here who's coming in from Europe particularly, it's only fair to give them time – whether that's six months, 12 months – they need to acclimatise".
Smith has been in Major League Soccer for two years now. It's a place that has had its difficulties but struggled on, found a strong identity and now continues to develop each year.
Could the League of Ireland learn anything from the MLS approach?
"I think about it all the time", he admits.
"I'm a big Drogheda United supporter and still follow the league. It's challenging. It takes a lot of time and a real long-term vision to build what they've built here. It takes a group of people who are willing to take losses in the beginning because they're trying to grow the overall capital value of their teams. They're not looking for immediate success that's then going to flame out. They understand how to build these things long-term. But there are huge benefits from a commercial perspective. In the city of Denver, there are more than enough businesses that are willing to come in as partners of the clubs that enable us to become part of the community and generate the finances that's required to run a professional club in the right way.
There's a much more holistic approach over here. We employ more people selling tickets than we do in any other side of the business. We have partnership marketing groups. They're not out there looking for someone to just give them money – they're looking to create long-term strategic partnerships. That doesn't happen back home. I think it's still about surviving. Now, there are a number of tremendous people working very, very hard to drive the league – I know that.
I still believe the best bet is to go down a similar road to domestic rugby. I think Ireland can absolutely support four really top teams playing in a North Atlantic league or whatever it would be. That would be a very good system. Then have the regional academies under that that would lead to a national academy which I know the FAI have undertaken. But it requires people to realise it takes time and that you need to build the facilities. You need to build the development academy. You need to build the communities. It requires upfront investment and the return on the investment would be some years down the line. It is possible. It's more challenging than it is here. A lot of the ownership groups over here are involved in multiple sports. Maybe it will take a commitment from a group of individuals who are willing to invest, with an understanding of it being a vision, that it's the path to get there and when their return on investment will arrive".
Smith has had offers from both clubs and organisations to move back to Europe. But he says his focus is the US. On Saturday, the Rapids got their new season off to a good start with a 1-0 win over New England.
With Smith behind the scenes, it should be another eye-catching campaign for them.